Did Frog Spawn Croak As Spring Turned A Tad Polar?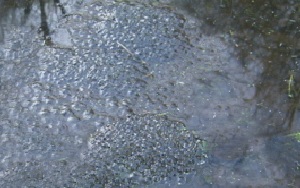 THIS year's spring started out early, but as quick as it came it changed back to chilly weather. With nearly 2,000 frog spawn sites frozen in a week, has the first of this year's frog spawn been frozen as the weather conditions turned arctic, asks the Woodland Trust?
For those tadpoles that survived or missed the freeze, there may be worse news ahead as the droughts predicted for later this year could further devastate the population. This will not just affect the frogs, but also Sefton Sand Dunes population of Natterjack Toads! The warning comes as already diminished numbers of frog spawn sightings have been reported, compared with this time in last year's Springwatch Survey that has been conducted by and run by the BBC in association with the Woodland Trust.

The first frog spawn reports have been appearing in reduced numbers all over the south west of England, due to the cold winter. As well as the initial devastation, the arctic start to March could also delay frog and toad spawning for the rest of the country.

Jill Attenborough from the Woodland Trust says:- "We need more people to tell us when they first see some frog spawn this year. You can tell us through the web at www.bbc.co.uk/springwatch or by postcard or even by just texting "spring frogspawn" to 63399 so that our computers can log the time and rough location of your sighting."

Five Fab Froggy facts:-

1• Frogs can leap over twenty times their body length.

2• Frogs drink and breathe through their skin.

3• The earliest frogs appeared over 190 million years ago in the Jurassic era.

4• Frogs can mate under ice.

5• A frog's tongue is attached to its lower lip and lies backwards down its throat. It can be whipped out in an instant and has a sticky end to catch prey.
Peter Brown Craven Minor League Results Week Ending 5 March 06
Under 16/15/13/11
All Games Postponed

Under 14 - Maric Trophy
Barlows Juniors 1-3 Town Green
Redgate Rovers 4-3 Formby JSC

Under 12 - Division 1
Southport Trinity 1-6 Thornton Youth

Under 12 - Division 2
Hesketh Colts 0-2 Ormskirk West End
Formby JSC B 3-5 Ainsdale
Halsall B 5-2 Southport FC Juniors
Winsfield 5-1 Burscough FC Juniors

Under 10 – Wilf Jenkinson Cup
Formby JSC A 5-2 Redgate Rovers A
Redgate Rovers C 2-1 Southport FC Juniors B

Under 10 – Hawks
Hesketh Bank 5-4 Southport FC Juniors A

Under 9 – Leopards
Birkdale United 3-1 Burscough FC Juniors
Redgate Rovers A 0-0 Formby JSC A
Formby JSC B 3-1 Southport FC Juniors A

Under 9 – Panthers
Kingsford 0-3 Redgate Rovers B
Redgate Rovers C 2-1 Southport FC Juniors B

Under 8
Town Green C 1-4 Southport FC Juniors
WORLD WAR 1 SOLDIERS' DEATH RECORDS FOR LIVERPOOL ONLINE
OVER 11000 soldiers, born in Liverpool, died in WWI (World War One). Now a new searchable index on www.1837online.com, the UK's leading family history website, has made it possible to search for those born in Liverpool who died in the Great War and discover online a soldier's, place of residence and where they enlisted. Other details, such as regiment and army number, date of death, and theatre of war allow you to follow up the story of the soldier's last days, in war diaries and trench maps.

The indexes should be able to help anyone looking for a relative who died whilst serving for the British army in WWI. From the cause of death as specified by the regiment, more than two thirds (66%) of soldiers were described as 'killed in action', with a further 21% as 'died from wounds' and 13% registering as simply 'died', usually due to illness or an accident.

The online records detail a number of regiments into which many Liverpudlians would have enlisted, such as the King's Liverpool Regiment and the Prince of Wales' Volunteers South Lancashire Regiment. It also includes every rank from soldiers to officers as well as listing support staff, such as doctors and cooks, to the more unusual roles of 'nags men', tailors and musicians. Although these men usually enlisted as non-fighting men, they sometimes became stretcher-bearers, facing the brutalities of the front line.

Elaine Collins, Business Development Manager, 1837online.com says:- "So many families from Liverpool lost relatives in WWI and many might well wonder what happened to their ancestors. Placing these records online is a great boon for the many people searching for a relative who died in the Great War. They can now see where their ancestor enlisted and which regiment they joined which means they can now pinpoint exactly where the battalion was fighting on the day their ancestor died."

It wasn't just the frontline troops that were killed during the war. 37,000 officers were also killed, including the two most senior officers in the armed forces, Field Marshall Lord Kitchener, who effectively led the war campaign, and Field Marshall Frederick Sleigh Roberts.
STATE OF THE CITIES… THE NORTHERN WAY RESPONSE
THE Northern Way, on 7 March 06, welcomed the independent report commissioned by Government, the State of the English Cities, which reinforces its case that the cities and city regions will be central to advancing economic growth in the North.

The report notes that whilst our northern cities are doing better than in previous years, there is still a long way to go for them to achieve their full potential. It therefore recommends that Government increases its support, across all departments, for developing a truly urban focus to economic development.

The Northern Way has been in the forefront in recognising cities and city regions will be the fundamental in transforming the North's economy.

Commenting on the report, new Chairman Neville Chamberlain CBE, said:- "We welcome this report. In not only appreciating the momentum gained and the early wins secured by The Northern Way but it also supports our case that all Government departments should have an urban and a northern specific approach. These are exciting times for cities and city regions and The Northern Way is delighted to be leading the way.

We are doing things differently in the North, but it is also vital that the Northern Way has the full support of all Government departments, in addition to that already gained within the Office of the Deputy Prime Minister (ODPM), Treasury and the Department of Trade & Industry, aligning what they spend and how they spend it in the North to maximise our continued economic growth. Specifically, this is about setting the right conditions for private sector growth."

Vince Taylor, Director of Implementation, added:- "Successful cities and city regions will drive the continued revival of the North's economy. This report defines successful cities as being those that bring together social cohesion, quality of life and economic competitiveness.

This echoes what we have set out in our Growth Strategy and Business Plan that the North's eight city regions, working together, will be fundamental in accelerating growth in the North. We have led the field in terms of the cities and city region agenda - but in order for them to continue to move forwards successfully we need national policies that have been adapted to reflect the North's specific requirements."