DAVID BECKHAM AND CHARLOTTE CHURCH MAKE THE TOP 5, but ROYAL FAMILY DOMINATE TOP TEN
THE infamous 'Camillagate' tape of the amorous telephone call between Prince Charles and his then mistress Camilla Parker-Bowles has topped a poll of the most notorious phone incidents of all time.

The poll of 3000, 18 to 25 year olds was specially commissioned by student mobile phone service Dot Mobile to celebrate the 130th anniversary of Alexander Graham Bell's patent of the telephone on 7 March 1876.

It found that The Royal Family dominate the top ten, yes, it was the Princess Diana's indiscretions in the "Squidgygate" tapes that got the attention... It featured alongside a radio episode in 1995 when, the Queen was hoaxed by a DJ, into believing she was speaking to the Canadian Prime Minister Jean Chretien.

David Beckham's alleged text sex with his PA Rebecca Loos took second place, with the call between Peter Foster and his mother about his involvement in Cherie Blair's purchase of two flats in Bristol, in third. Come on people, you can do better than that! The poll also put Charlotte Church's topless picture message, Watergate and the obscenity strewn 'Saturday Superstore' TV phone-in with pop band Matt Bianco, in the top ten.

Other incidents which just missed making the list include Linda Tripp's secretly taped conversations featuring Monica Lewinsky bragging about her sexual exploits with Bill Clinton! Joan Collins' infamous appearance on risqué UK, Channel 4 TV show So Graham Norton, when she was coerced into calling Keith, a glove fetishist who appeared to be pleasuring himself while on the phone. Strange how they never made number one!

The moment when Jennifer Aniston allegedly overheard Brad Pitt have a steamy phone conversation with Angelina Jolie also just failed to make the grade. Sob... Sob...

Freddie Shirley from Dot Mobile comments, "the telephone may be 130 years old, but people still get caught out with these classic gaffes!"

The Top Ten Most Notorious Phone Incidents of All Time now follow:-

At number 1. I bet you cannot wait to find out… it is... Prince Charles and Camilla Parker-Bowles... If you did not know, in 1993, The Sun (a UK National 'Paper') printed a transcript of a telephone conversation between Prince Charles and Camilla Parker-Bowles in which Charles is heard saying "I love you" and famously fantasises about being reincarnated as Camilla's tampon.

At number 2. Just for all you football fans was David Beckham and Rebecca Loos! A quick recap... His alleged text sex with PA Rebecca Loos caused a huge media stir in April 2004.

At number 3 was Peter Foster. Ok, now what could that be? Well, it was a tapped telephone call between convicted fraudster Peter Foster and his mother, which landed Cherie Blair in hot water over his involvement in her purchase of two flats in Bristol in 2002.

In at number 4, and it should have been higher was... Watergate. Just in case you forgot the call... President Nixon resigned after tape recordings of telephone conversations between himself and administrations officials implicated him in the 1972 political scandal Watergate.

At the half way point at number 5 came Charlotte Church. The picture of the star topless that had been sent to boyfriend Gavin Henson, was offered to a national newspaper, just after Henson misplaced his phone on a boozy night out in 2005.

It was Sharon Osbourne at number 6. According to Kelly Osbourne, Sharon Osbourne dialled up Robbie Williams mistaking him for her rocker husband Ozzy. How? Well, she accidentally came close to having phone sex with him!

At 7 is HM Queen Elizabeth II, the royals are back in the lists again! This time it was a hoax call to Buckingham Palace made in 1995, by Canadian DJ Pierre Brassard. He was pretending to be Canadian Prime Minister Jean Chretien. This resulted in a 15 minute chat with the Queen live on air and the promise that she would try to influence Quebec's referendum on proposals to break away from Canada.

In at 8 we see. Princess Diana... A tape recording of a telephone conversation between the Princess and her friend James Gilbey made the front page of The Sun, back in 1993. This was after she spoke of her unhappiness, comparing her situation to that of a character in EastEnders, and expressing concern that she might be pregnant.

At 9. Tony Blair... To the joy of most of the nation, back in 1998, Capital Radio's DJ Steve Penk pretended to be opposition leader, William Hague. He managed to penetrate the strict Downing Street switchboard security system and speak to Tony Blair, who "played along in good humour." Ummmm, "played along?"

At 10. Now who could forget this one? Saturday Superstore, a UK TV show... This was the time when a caller from a viewer's phone in had to be quickly cut off after he called pop band, Matt Bianco a "bunch of w**kers" live on air! Yes live on a BBC kids show on Saturday morning!

* Dot Mobile surveyed 3000 mobile phone users aged between 18 and 25 years old in January 06.
MERSEYSIDE CHILDREN INVITED TO PUT THEIR FAMILIES IN THE FRAME WITH BBC NORTH WEST TONIGHT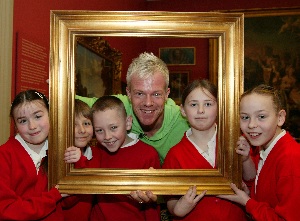 THE launch of a huge North West children's art competition was last week as the region's top art galleries and museums including Lady Lever Art Gallery in Port Sunlight team up with BBC North West Tonight and Manchester Art Gallery for Put Your Family in the Frame.

Open to all children under 16 living in the North West of England, Put Your Family in the Frame asks entrants to paint, draw or make a collage of a member of their close or extended family or carer. Whether it be of mum, dad, brother, step-sister or even great-great grandad, children are encouraged to let their imaginations run wild as entries can be any shape, size or style.

Along with winners from each of the areas, Merseyside, Greater Manchester, Lancashire and Cheshire, the overall Put Your Family in the Frame winner will receive a once-in-a-lifetime prize; a visit to their school by every child's favourite artist, CBBC's SMart presenter Mark Speight. Armed with arts materials, Mark will spend the day with the winner's class to produce an exclusive piece of artwork for the school. It's not just the winner that gets a treat, as a selection of short listed entries will be displayed on the walls and websites of the six participating galleries.

Zoe Renilson, Family Programmes Manager of headline gallery Manchester Art Gallery, comments:- "Put Your Family in the Frame is going to be fantastic and we want schools, community groups and individuals to put their families in the frame. Children can be as imaginative, original or traditional as they like: we just want them to enjoy themselves.

Children can create their piece of art at home, school or even at the participating galleries, which are all running portrait workshops throughout the competition. Keep your eyes peeled for dates as they are due to start any time now."

Cerys Griffiths, Output Editor of North West Tonight, said:- "I've always loved seeing young people's art and there's always a fantastic response whenever we ask viewers to the programme to do anything creative. The whole team are looking forward to taking delivery of some fantastic works of art and seeing the results on show in galleries is going to be something very special."

Put Your Family in the Frame entry rules:-

* The competition is open to all children under 16 living in the North West of England.

* The children have to produce a portrait of one of their relatives. It can be any medium and any size. It should be sent to North West Tonight (see address below) before 24 April 06. The address to send entries to is:--

Put Your Family in the Frame, BBC North West Tonight, New Broadcasting House, Oxford Rd, Manchester, M60 1SJ.

* NOTE! All portraits should have the winner's name, age and school or home address printed clearly on the reverse. If the child is making a sculpted model, they should package it with the details on a separate piece of paper. Each child should also state somewhere on the entry (front or back) the relation they have chosen to portray,

Participating galleries...

* Manchester Art Gallery (Manchester)

* Bolton Museum (Bolton)

* Lady Lever Art Gallery (Port Sunlight)

* Grosvenor Museum (Chester)

* Judges' Lodgings (Lancaster)

* Harris Museum and Art Gallery (Preston)
'THE STAR OF SHORT FILMS IS RISING'
THE Future Shorts' March Program has the usual eclectic mix of the very best of short films and music videos from round the world. There is a decidedly musical edge to the proceedings this month with the beautiful 'La Apertura' that explores friendship, love and tango. The seriously quirky ' The Lounge Bar' from New Zealand, the evocative and stylish 'Hock Hiap Leong' from Singapore and much more. See and feel different cinema. Short film is where it's at. More info at www.futureshorts.com Since its inception in 2003, Future Shorts has created a vast network enabling filmmakers to have their work seen on the largest platform in Europe. This March will see the Hyde Park Picturehouse LEEDS, Duke Of Yorks Picturehouse BRIGHTON and Phoenix Cinema FINCHLEY LONDON added to the list of monthly screening platforms for new British and International filmmaking talent. These screenings are attended by the public, students, filmmakers and film-lovers alike, offering the audience a chance to experience films that otherwise, they would have never had access to. Future Shorts exposes them to an original, diverse and quality slate of shorts. Future Shorts also supports New Directors, giving local filmmakers the opportunity to screen their work alongside our programmes. Picturehouse @ FACT Thursday 16 March 06 at 8:30pm Box Office:- 0151 707 4450