Sarah's memory lives on in new school
THE memory of an 11 year old girl is to live on in a new school named after her. Building work has started on the brand new Springwood Primary school in Woolton, which is being renamed Springwood Heath Primary School, following the tragic death of disabled youngster Sarah Heath.

Sarah was a special needs pupil who was the first at the school to be included in mainstream education.

She started attending on a part time basis from Harold Magnay Special School when she was six years old. She eventually became full time, but sadly died in 1999 from complications caused by her condition, a muscle wasting disease called spinal muscular atrophy, which had left her wheelchair bound.

The new school, which replaces the ageing 75 year old building, will be Liverpool's first purpose built all inclusive school, able to accept youngsters who have physical disabilities as well as mainstream pupils.

Sarah's mum, Pauline and other family members officially started the work on the new school building on Wednesday 8 March 06, in a special sod cutting ceremony. The spade had been specially inscribed and will be displayed in the school when it opens, as a constant reminder of Sarah.

Pauline Heath said:- "Sarah absolutely loved attending Springwood. It made her feel as if she was the same as everybody else. All of her friends were able bodied and they treated her as an equal.

The teachers were absolutely marvellous and gave her lots of support. She died just before her SATS exams and was expected to get top marks.

I am really proud that the school has chosen to remember her in this way. It shows how much of an impression she made during her time at Springwood and highlights the fact that youngsters with disabilities can flourish in mainstream schools providing they are given the right support."

Councillor Paul Clein, executive member for Children's Services, said:- "Sarah was a shining example of the benefits of including special needs youngsters in mainstream education, and it is fitting that this new all inclusive school is named after her.

The new school will be a fantastic learning environment for youngsters, available to all children."

Headteacher Phil Daniels said:- "Sarah was a wonderful child. Nothing ever fazed her and if there was something to be done, then she did it.

The new school will give children space to be with whoever they wish. Facilities will be readily available which give all children a confidence that their particular needs are being catered for.

All staff have worked very hard to create one school out of two different schools, and are looking forward to putting into practice many of the ideas they've developed over the past three to four years.

An all inclusive school gives everyone an understanding of their own abilities and what they can achieve by working with each other."

The new school building will open early in 2007.
Sefton Mayor at Casino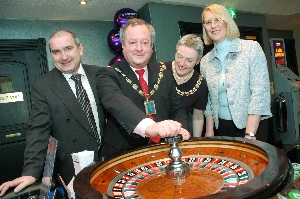 SOUTHPORT'S Stanley Casinos on Lord Street was delighted to announce the completion of an extensive rolling refurbishment programme. Casino Manager, Angie Dorman, held a spectacular party night to celebrate the completion of the refurbishment and unveiled the new look facilities to customers for the first time. The Lord Mayor of Sefton, Councillor John Walker, was also on hand to make the first spin of the roulette wheel and declare the casino fully open.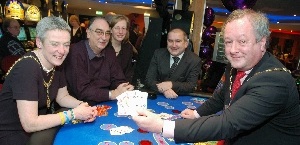 Customers can now take advantage of enhanced and luxurious facilities as the casino boasts a new look gaming floor, more spacious restaurant with a new menu, and an updated bar. The latest in electronic gaming technology has also been introduced and the changes ensure that the people of Southport continue to benefit from a state of the art casino, a fantastic environment in which to relax and a venue that complements the current nightlife in the town.

The UK's leading Casino operator currently owns 44 casinos across the country, including four in the Merseyside area. An on-going programme of refurbishments is currently underway at a selection of its casinos to ensure its customers enjoy state of the art facilities and the very best environment in which to relax and socialise.

Speaking after the event Casino Manager, Angie Dorman, commented:- "The refurbishment is finally complete and I was delighted to be able to finally show off the results to our members. The party night was our way of unveiling the new look Casino and thanking everyone for their patience while work was underway. We've already had lots of positive feedback and I'm sure the new look will prove to be a winner with our members."
The Lord Mayor of Sefton, Councillor John Walker, was joined by the Lady Mayoress, Casino Manager Angie Dorman, and Bobby McGhee, Managing Director of Stanley's Provincial Casinos, as he marked the first spin of
the roulette wheel.

The Lord Mayor, Councillor John Walker, deals the first hand to the Lady Mayoress, Bobby McGhee, Managing Director of Stanley's Provincial Casinos and two Stanley Casino's customers.