DEAR EDITOR:- "Corruption allegations."
"ECENTLY or not too long ago a ballot took place asking council house tenants to vote on whether they wished the local authority to continue to run the housing stock on the authorities' books. The vote originally showed that tenants wanted to stay with the local authority. The authority claimed that abuses where committed and they decided that they would re-run the ballot. The original ballot that took place included postal ballots. The second ballot however did not include the right to vote via a postal ballot. I know that a lot of people voted using the postal ballot and voted to retain the status quo with the local authority.
It would seem that Sefton wanted rid of the responsibility for reasons known only to them and refused to accept the original vote made democratically by Sefton council tenants. Those people who voted using the postal system where not given the same opportunity the second time around. This is something I truly believe that Sefton Council were relying on to turn the vote in favour of handing the properties over to be run and maintained by another consortium.
I honestly believe this was always the original intention and that Sefton were determined that no matter what the voters wanted the council were never going to agree; democracy means nothing here in Sefton. This is an Authority who has continuously misused and abused the power given to it by voters over the years. Money has been badly spent on projects even when the Authority received personal warnings from other authorities. Projects such as where Morrison's now stands originally supposed to be the new Winter Gardens, The development on the Promenade was and is a shambles, no matter what the Authority says about it publicly. It was never the development that Southport residents wanted, but which was eventually forced upon it. The Strand in Bootle on which huge overspends occurred, that cost the council tax payers.
What I find so puzzling about what goes on here in Sefton is simply that not one of the media sources, has ever investigated the actions of this Authority or its chief executive, some one, who people have asked time and time for his resignation for his misdeeds. You would have thought that someone in the media would have asked the question about what goes on behind closed doors here in Sefton. You would have thought that someone in the media could have smelled a rat somewhere in all what goes on with this Authority.
Democracy needs a redefinition which will explain what the word means today in the modern world of dirty politics. One thing is sure something very strange goes on in this borough and you wonder whether it is with the blessings of those that we think represent us all. I suppose the only people they really represent are themselves and the gain they now receive in the benefits they claim year on year. One thing is sure they certainly earn a lot more than the average earner here in Southport and the expenses they claim are unwarranted and undeserved. They certainly do not balance with any kind of expense I can think of. They just claim as much as they can and the rules they claim it by are the only justification they need.
Why is no news paper or TV media investigating the actions of those civil servants and councillors that cost the borough so much money, when it seems blatantly obvious that there is something not quite right with what goes on in a so called democratic Authority." A concerned Southport resident. Name and contact information supplied.
News Room Answer:- "One problem I see with questioning the councils activities, is that whenever it does happen there are people in the Authority just as vocal as you are that do not want any bad publicity shone on the area, because it might affect tourism. So you cannot have it both ways either we report everything good or bad, or we only report the good stuff and leave all the corruption down in the dark, and let the council continue the abuses for which it is accused."
ASSAULT- NEVILL, STREET, SOUTHPORT
Merseyside Police are appealing for witnesses to an assault in Southport.

At about 3.20am on Sunday 19 March a man, believed to be in his mid to late 20s was walking along Nevill Street in the direction Lord Street.

He was chased by a group of 5 men and at the junction of Stanley Street and Nevill Street was assaulted by one of them.

He was taken to hospital with serious head injuries where his condition is described as critical.

It is believed that the victim was with a friend at the time and detectives are appealing for him to come forward.

The identity of the man is not known at present however it is believed that he may be Polish. He is described as being white, 5' 10" to 6ft tall, of medium build, in his mid to late 20's with black collar length hair and a goatie beard. He was wearing dark clothing.

It is believed that his friend is of similar appearance.

Detectives are also appealing to anyone in the Polish community who may know they identity of the man or who knows who is responsible for the
assault to come forward.

Anyone with information is asked to contact Crimestoppers on 0800 555 111 or Southport CID on 0151 777 3405.

The victim has been identified as a 29 year old Polish national who lives in Southport. The friend he was with has also been identified and detectives are talking to him. Detectives are treating this incident as racially motivated.
The victim is a bricklayer who has only been in Southport for 2 weeks. The group of 5 are believed to be 16 to 18yrs old.

The victim's condition is described as serious but stable. Detectives on 20 March 2006 where following up a number of positive leads, but are still appealing for anyone who has information to come forward.

Five men were arrested on the morning of 22 March 2006 on suspicion of committing grievous bodily harm. Two 17 year olds and one 16 year old from Maghull, along with a 17 year old and a 16 year old from Skelmersdale, are being interviewed the 22 March 2006.
Liverpool 8 Anti-Gun Crime Initiative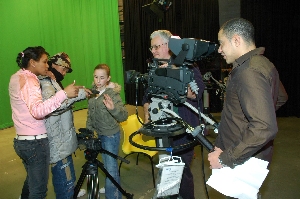 A GROUP of 60 young people from Dingle, Granby and Toxteth (Liverpool 8) are playing an integral part in a 6 month pilot project launched by an environmental regeneration group to help reduce levels of gun crime in the city. Groundwork St Helens, Knowsley, Sefton and Liverpool, in partnership with Include, Merseyside Police, Youth Offending Team, the City Council and Youth Service, has been running the anti-gun crime initiative with the help of volunteer members from local youth groups in L8.

Crime figures involving gun crime from Merseyside Police across Liverpool reveal 1 murder by shooting in 2005, compared to 6 in 2004, and attempted murders by shooting, down from 12 to 4 over the same period. And, in terms of Section 1 firearm injuries, there were 25 reported incidents in 2004, compared to 21 in 2005.

Neighbourhood police inspector for Princes, Picton and Wavertree, Ian Black, said:- "This initiative is positive in the way it raises awareness among young people about the devastating effects and consequences that gun crime has on local communities and the families of the victims and offenders. The initiative is part of the wider Merseyside Police commitment to decrease gun crime on Merseyside. And education is a key component within the Force strategy to tackle firearms related issues."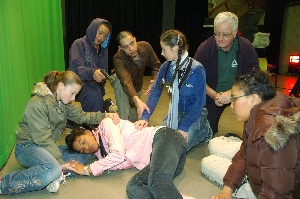 Added Groundwork's Include Young Voices project co-ordinator, Becky Elliott:- "This is a collective approach involving a number of partners with a vested interest in tackling what is a serious problem for Liverpool. With the help and co-operation of young people, the project is addressing attitudes around gun culture through interactive drama-based workshops. The city council's Youth Offending Team and local police representatives are also taking a very hands-on approach to help young people understand the issues and outcomes of gun crime within their local community."

The anti-gun crime initiative follows recent Groundwork community research across L8, asking what young people liked, disliked and wanted to change. Their overriding concern was fear of guns, gun culture and rival street gangs. Said Becky Elliott:- "By bringing these fears into the open, and creating a forum for young people to voice their concerns and desires for a safer place to live, this action is helping to alleviate the problem at a local level. The programme continues to raise awareness, whilst challenging the attitudes and perceptions around the subject of gun culture. Our hope is to roll out the programme city-wide in due course."
The workshops are being led by Josh Terry, head of locally based drama group L8 Create, at centres around Liverpool: Unity Youth Club, Granby; 468 Youth Club, Dingle; St John's Youth Club, Dingle; the David Lewis Youth Centre, Toxteth; the Methodist Centre, Toxteth; St Michael's Youth Community Centre, Lark Lane, and at Liverpool's Youth Offending Team.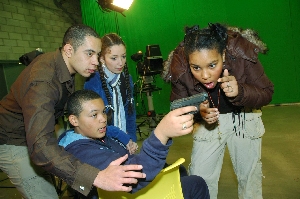 "Workshops are focused around the young people themselves," said Josh Terry. "The sessions are open, honest and very interactive, with a distinct creative element. Thanks to Toxteth TV, the kids are even producing their own DVD to help promote the project to others. We've been exploring the issues surrounding gun crime through drama and dance, looking at non-violent conflict resolution and anger management. Feedback from both participants and partners is very encouraging."

Activity has been based around 3 core programme elements: Creative, led by Josh, Informative and Recreational.

"With support from Merseyside Police and the City Council's Youth Offending Team, factual and statistical information, debate and exploratory sessions around the issue of gun crime and conflict have been incredibly informative for all participants," said Becky Elliott. "And, through real life stories from victims of gun crime, we also explored the consequences. The programme has been interspersed with recreational activities chosen by the young people, helping to break down the territorial barriers within the L8 community by integrated group activities."

The project will culminate in a conference being organised by partner, Toxteth Educational Trust at the Lace Centre from 10am-4pm on 5 April 2006. Guest speakers from partner and funding organisations, including City Safe, youth and community groups will be joined by the workshop young people themselves who will stage poetry, dance and drama presentations.
Project co-ordinator, Danielle Shaw from the Trust believes the event will provide an excellent opportunity for agencies to come together to address the effects of gun crime on both families and the community:- "The whole project has enabled us to work in partnership with a number of organisations and engage with a cross section of young people to establish realistic understanding and views on gun crime."
The project's young participants will also be awarded a formal accreditation from Merseyside Open College Network in communication and interpersonal skills.

Fiona Mount, senior development worker, Area 4, with Liverpool Youth Service concluded:- "Sadly, more and more young people we work with are affected by gun crime, perhaps through the direct loss of a family member or sibling, or just being plain frightened within their own local area due to the threat of gangs and guns. There has been no shortage of young people wanting to get involved in this project, all hoping to make a positive change within their community and Liverpool itself. Working collectively, we have broken down many barriers by bringing together youngsters who wouldn't normally meet, and who perhaps have more in common than they originally thought."