THIEVES REPEATEDLY TARGET ANIMAL CHARITY
DOGS Trust Rehoming Centre in Huyton was burgled for the fourth time in one year. Staff entered the Dogs Trust Rehoming Centre in Huyton this morning to begin their work, only to find the Centre had been the target of yet another break in. IT equipment and essential veterinary medication for the dogs had been stolen from the centre during the night.

The centre, which cares for and re-homes hundreds of stray and abandoned dogs every year, has been repeatedly targeted by thieves in the area, costing the charity both money, time and resources which are vitally needed to care for the dogs. The charity receives no Government finding and relies completely on generous donations from the public.

Dogs Trust Merseyside Rehoming Centre Manager, Georgina Lowry, comments:- "I can't believe this has happened again. We all very demoralised that thieves would continue to target Dogs Trust like this. Our primary concern is for the welfare of the dogs and we are happy to report they have not been hurt; but the continued break-ins are costly and very worrying. What kind of person steals from a charity?"

Hard drives, printers, veterinary medication and an entire computer system which had just been purchased were stolen during the break-in. Local police are currently investigating the crime, but are urging anyone who thinks they might have any information that could help bring the perpetrators to justice to call Crimestoppers on 0800 555 111 or the Crime Management Unit at Huyton Police Station on 0151 777 6286.

Dogs Trust is the UK's largest dog welfare charity and cares for over 13,500 stray and abandoned dogs each year through its network of 16 Rehoming Centres across the UK.
For further information on the charity's work, to adopt a dog or make a donation, please visit the charity website or call 0207 837 0006.
ABSOLUTELY ANIMAL EXHIBITION
Hilton Hotel, St Helens
OVER 20 artists many of whom are international and nationally recognised are due to stage a unique exhibition at one of St Helen's most stylish hotels. The Absolutely Animal exhibition will feature original paintings and prints by artists from the North West to coincide with the Grand National Meeting at Aintree in April. The Hilton St Helens is hosting this prestigious exhibition within their striking glass atrium and will welcome visitors who wish to sample their delicious contemporary food whilst enjoying the art on view. The hotel has a lively and informal atmosphere and the perfect place to enjoy a relaxing drink in the Britisserie Bar or a meal in the Britisserie Restaurant.
Visitors are welcome to the exhibition which is open from 8am to 10pm, the artists exhibiting include acclaimed painters such as Elisabeth Scrivener, Peter Worswick, Alison Ashton and Michael Miller as well as American contemporary artist Kate Eggleston-Wirtz and illustrators and cartoonists Diane Breeze and Nicola Moore (Nik) who design for publications such as Horse and Hound and the British Horse Society.
With a basic equestrian, animal and wildlife theme, paintings will include oils, watercolours and mixed media and is one of a series of Absolutely Animal events to be staged in the area for 2006. The exhibition runs from the 1 April 06 to 29 April 06. For further information please log on to the website.
Young budding chefs cook up a healthy alternative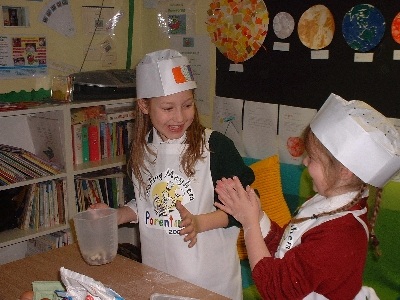 THE Family Support Group Parenting 2000 decided to put home cooking sessions on the local menu when it realised many parents in the borough relied on convenience food and microwave meals, and were unable to prepare nutritious dinners.

Using £400 from the Community Foundation for Merseyside's Community Fund for Healthy Eating, the group cooked up 'Making Mayhem', an after school club to encourage parents and children to prepare and eat healthier meals.

Armed with utensils and food, funded by the grant, the families have been busy experimenting with pasta dishes, homemade pizzas and healthy biscuit recipes. As well as choosing and preparing the meals, club members are also enjoying sampling the results and compiling a recipe book to use in their own kitchens.

Anne-Marie Morrison of Parenting 2000, which has bases in Southport, Litherland and Orrell, is delighted with the impact the sessions have had.

She explains:- "We found that many parents throughout the Sefton area lacked the knowledge to prepare simple healthy meals and relied on convenience food. Making Mayhem has given them food for thought and parents are now going home and experimenting with food and different, more healthy dishes."

Joan Ford, Community Foundation Grants Officer, adds:- "The Making Mayhem sessions are an excellent way for children to learn more about and enjoy healthy food.

Parents are also benefiting by becoming more adventurous in their cooking and not relying on processed meals. This is a great example of the kind of proactive projects that the Community Foundation is keen to support."

Grants of between £50 and £400 are available from the Healthy Eating Fund to voluntary and community groups in Sefton developing projects that relate to food and nutrition. The fund, supported by South Sefton and Southport and Formby Primary Care Trusts, Alliance & Leicester and Neighbourhood Renewal Fund, is targeted at groups that wish to set up or continue to provide ways of healthy eating.
For further information please visit this website.