'Fame' 2006 Search For A Star 2nd Semi Final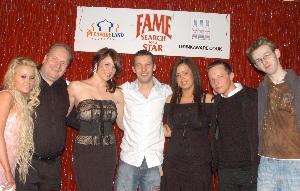 ON Thursday 23 March 2006, the second of the three Semi finals for the Pleasureland 'Fame' Search For A Star 2006, took place at Casablanca's. The event generated 14 acts, all singing two songs each, in front of two judges from Dune FM, Dave Turley and Paul Tasker. The tension in this semi final was electrifying and I did not envy the task of the judges and I really did not fancy being on the competitors' side either. The standard was one of the highest I have seen at this level of the competition for years and I dread to think what next week's Semi final will be like on Thursday 30 March 2006. I would recommend anyone who likes to hear and see real Stars in the making to come down and take a look… Congratulations to all who have got through to the Finals from this Semi final. To all who did not make it, 'Well Done' to you too. You have all been stunning and it is a shame that only 5 from each semi final can progress to the final. If you did not make it, but want another crack of the whip, do not forget to enter next year. Or you might wish to apply to enter the British Resorts Search For A Star North West Heats 2006, at the Southport Art's Centre… for more information visit ABD Productions website for more information.
Contestents on stage at Semi Final 2 where as follows:- January Woodhead, Paula Edwards, Marcus Colins, Ellen Mckay, Amylea Swatton, Jenny Bradbury, Craig Davies, Jeanette Boyhan, Helen Bench, Rose Ward, Amy Diamond, Sophie Way, Niki Spofforth and James Lacey.
To see Semi Final 1 click here.
Page 1 of 4
If the green box above does not show, you must download a new edition of Java. To get it just use this link:- java.com/en/index.jsp