LADIES NEEDED TO RUN IN RACE FOR A CURE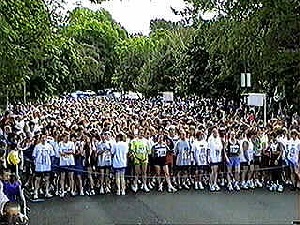 EVERY week, 3 children in the UK will die from the muscle wasting condition of muscular dystrophy. Now the race is on to find local ladies prepared to run in next month's Liverpool Women's 10k race and raise funds for a charity which is searching for a cure for this disease.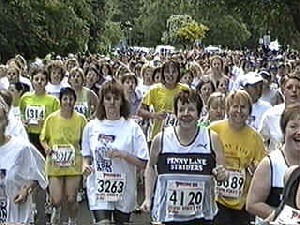 As part of its 2006 'Every Second Counts' appeal, the Regional Office of the Muscular Dystrophy Campaign is asking women to enter the event and to get sponsored for running. In return, everyone who raises funds can claim some
great sportswear rewards and will also be sent an 'Every Second Counts' running vest to show their support for the charity.

Says Charles Horton, Muscular Dystrophy Campaign Regional Fundraising Manager:- "We need as many ladies as possible to enter the Liverpool Women's 10k race and raise funds if we are going to beat this disease. It's a great way to help others and will give you a real goal to focus on. Every second counts if we are to improve the chances of eliminating muscular dystrophy and save lives. By getting sponsored to run in this race, you will be making a great contribution to this cause. Even if you have already entered, but would like to raise sponsorship, I would like to hear from you".

The 20th Liverpool Women's 10k race takes place on Sunday May 14, starting at 11am from the city's picturesque Sefton Park. The race is expected to attract over 3,500 runners and all finishers will receive a commemorative medal, t-shirt and goody bag. For an entry form and to raise sponsorship for the Muscular Dystrophy Campaign call the Regional Office on 01244 403012 or by email.
THANKS A MILLION
THE home of the former Pillar Club in Liverpool is to receive a much needed makeover thanks to a £1 million grant from the Heritage Lottery Fund (HLF).

Lowlands community centre, in West Derby, once housed the Pillar Club which came to notoriety when the Beatles famously failed an audition there in the 1950s. The club also played host to a 15 year old George Harrison, and some headline stars including performances from Gerry and the Pacemakers, The Hollies and The Searchers. The building also houses a former 1960's coffee bar where Merseybeat musicians used to gather.

The Grade II listed building has been home to the West Derby Community Association for the past 50 years. Today it houses over 20 community groups including a playgroup, children's drama group, Age Concern and the local Jujitsu club. It has rooms and a huge garden and marquee available for hire. Built in 1846 as a private mansion, in beautiful Italianate style, the building has fallen into disrepair and some of the rooms are no longer used. The funds will enable vital restoration work to the whole building, returning it to its former glory and safeguarding its future for generations to come.

The award of £999,600 was announced by the Minister for Culture, David Lammy on a visit to Liverpool.

Announcing the award, David Lammy said:- "Lowlands has witnessed some great sights and sounds in its time and it's only right that we pay tribute to that today. The building and its history is not only a much loved and valued part of the local community, it also represents an important part of Liverpool's musical heritage. This is a great example of community passion", he added. "People from all walks of life have come together and worked with a rare dedication and enthusiasm to achieve a common goal of safeguarding Lowlands for a further 50 years for the local community and it is work that I welcome wholeheartedly."

Explaining the importance of the award, HLF's Regional Manager Tony Jones said:- "This project will totally rejuvenate Lowlands as a community facility as well as conserving an important historic building. HLF is dedicated to opening up and maximising the use of heritage gems like this and I have no doubt that the community will continue to benefit for many years from the varied and important facilities offered by the centre."

Mrs Pat Blair JP, chairman of the West Derby Community Association, said:- "We are absolutely delighted with the HLF grant which will save this unique building with its remarkable history and tremendous atmosphere."