First ever wind band opera premiers in UK and Europe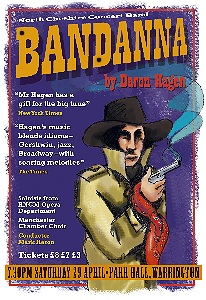 BANDANNA, the world's first opera written specifically for a brass band will see its European premier at Warrington's Parr Hall this April. Singers from the Royal Northern College of Music Opera, joined by the Manchester Chamber Choir and the North Cheshire Concert Band, will come together to present the result of a long and successful partnership between the award winning Irish poet Paul Muldoon and the leading American composer Daron Hagen.

This Othello-inspired story is set in a Mexican border town in 1968 and is driven by lust for women, power and the jealousy it creates. A red bandanna gets into the wrong hands, leading to suggestions of infidelity, with fatal results. Treachery surrounds Chief of Police Miguel Morales whose best friend and deputy provides safe passage for illegal immigrants. James Kane, a labour organiser from Chicago, vows to ruin the deputy who continually disperses his farm worker gatherings. Mona Morales repentant from her past affair, tries to rebuild the shattered trust in her relationship with Miguel.

Daron Hagen talked about the challenge of writing an opera for a wind band in a recent interview:- "My concern was that whatever opera I wrote would probably not entirely please its commissioners because the band and opera worlds don't appear to really intersect or understand one another all that much. Ultimately, the attempt to straddle these two musical worlds ended up being yet another manifestation - like the fact that Bandanna is intentionally neither strictly an opera nor a musical - of the work falling between two stools."

When asked about inspiration for the opera Hagen replied:- "Once I decided that our Othello would be Hispanic, everything else proceeded smoothly. I did want to find a way to respectfully incorporate some of the gestures, flavours and traditions of mariachi music into the score's musical argument, since it plays such a big role in the characters' lives and because I love it so much."

Hagen's music perfectly captures the frontier-town as a place full of passions and conflict as the music soars and swells, invoking tender hopefulness in Mona's prayer of faith, while also describing the intense emotions of the distraught Miguel with structured and rhythmic patterns.

"I am truly excited to be fortunate enough to be able to attend the European concert premiere of BANDANNA on the very day that Albany Records releases the complete cast recording of the opera. I am confident that Mark Heron, the North Cheshire Concert Band, the Manchester Chamber Choir, and all of the gifted soloists will give a smashing performance of the piece" says the composer.

Bandanna saw its US premier in 2000 in Las Vegas to great acclaim. At long last it arrives in the UK on Saturday 29 April 2006, Warrington's Parr Hall, at 7:30pm. Tickets are £8, £7 for concessions and £3 for the under 16s. To buy tickets call Pyramid & Parr Hall Box Office on 01925 442 345 and on the door. More information is available at:- www.northcheshire.org.uk and also at:- www.pyramid.org.uk.
Merseyside's "Gold Zone Team" Short Are Listed For National Award
THE "Gold Zone Team", comprised of police officers in Merseyside, is one of three finalists for the Uniformed Services team award category in the eagerly- anticipated national Public Servants of the Year Awards 2006, celebrating Pride in the Public Services.

The Gold Zone Team beat tough competition from nearly 300 exceptional teams nominated for this year's awards. They will be honoured at the glamorous finalist ceremony, which will take place in London on 17 May 2006 at the exclusive Grosvenor House Hotel.

Gold Zone Team is up against two other finalists: the Communication Information Systems Department with the British Forces Post Office and Staffordshire Fire and Rescue Service's Student Firefighters Scheme. Together, they are in the running to scoop the Uniformed Services team award. The winner will then stand a chance of securing the prestigious title of Outstanding Public Service Team of the Year 2006, which this year will be decided by a People's Panel of members of the public, sourced by pollsters MORI.

The Gold Zone Team was short listed for its remarkable work in dramatically decreasing crime and disorder, but more importantly increasing public confidence and satisfaction in five troublesome and economically deprived areas of Merseyside. In cooperation with registered social landlords and the community, the officers volunteered to take part in this initiative and identified five neighbourhoods or 'Gold Zones' that had some of the most challenging incidents

of crime and disorder. Through quarterly meetings with the community, their priorities were identified and the earnest work of tackling problems such as underage drinking, drugs, speeding and stolen vehicles began.

Fourteen months after the inception of the Gold Zone initiative, the results have been impressive and tangible, leading to further funding for the team to double its staff. To date, there have been in excess of:-

· 198 arrests;
· 35 fines for speeding;
· 481 alcohol seizures from underage drinkers;
· 16 vehicles removed.

On being short listed, David Lewis, area commander for Merseyside Police said:- "This award would be an excellent means of recognition for the continuous motivation and commitment of all our Gold Zone Team members in the Merseyside community. With a clear vision and a team-based approach, we have had notable achievements in reducing the levels of crime and disorder along with the fear of crime and disorder while also increasing public confidence and satisfaction. It is a true privilege to be honoured at the Public Servants of the Year Awards."

David Lewis and the Gold Zone Team will head to London on 17 May 2006 for the finalist ceremony, which will be hosted by Sir Trevor McDonald OBE and Felicity Barr, presenter on Al Jazeera International.

Backed by the Chartered Institute of Public Finance and Accountancy, the Cabinet Office, the Office of Government Commerce and MORI, and run by Public Finance magazine, the Public Servants of the Year Awards seek to recognise and reward the vitality, commitment and determination of teams and individuals working hard to make a real difference to the general public. The awards are the longest-running pan-public services awards programme.

Mike Thatcher, Public Finance editor, said:- "We've had another phenomenal response to this year's search for nominees, with 450 entries in total. Given the high standard of entries to the 2006 awards, the Gold Zone Team has done incredibly well to be short listed. I wish them every success on the night."

More details about the awards can be found at:- www.publicservants.org.uk