US Secretary of State, Condoleezza Rice, visits Liverpool
Photos by Patrick Trollope.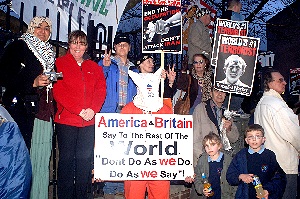 DISRUPTION and protests in Liverpool, as US Secretary of State, Condoleezza Rice and UK Foreign Secretary, Jack Straw, visited on a two day trip to the city over Friday 31 March to 1 April 2006. The two-day visit was arranged to repay the visit Mr. Straw made to Ms Rice's hometown of Birmingham, Alabama, in the US, last year. Despite many objecting to this trip, it went ahead and has now left Merseyside and also Blackburn with a huge cost for the policing and also for the disruption and other incidental costs that this visit has occasioned. One local resident on Merseyside said: - "If I went and held a party in my street, would I ask the other residents to pay for the guests' accommodation and for the party? Jack Straw, who is an MP for Blackburn no less, has a cheek in getting us to foot the bill. We did not want this visit to Liverpool, so why should we pay? What has it done for us other than given us a huge bill?" Others also made it clear saying that:- "She is a war criminal and should not be allowed into the UK." In Liverpool city centre, despite there being well over 1000 protesters present, on Friday night, in the very heart of the city, only one anti-war protester was arrested. The protesters were calm and well organised as they peacefully voiced their dissent. The BBC and other journalists covering the visit were treated with caution, kept firmly in a metal press pen when outside the buildings, and required to wait for official escorts to move between rooms inside buildings. Not only that, but very few press were allowed in camera range of the two, adding to the frustration felt by many in the media. This has probably produced a more negative portrayal of the visit, focusing mainly on the protesters. One thing, however, must be said, the press and protesters were all treated very well by the local police force who had been placed in a very hard situation and with alien conditions of control forced upon them. The anger of many Liverpool people was exacerbated by huge goofs made by issuing an incorrect numbers of passes to residents. It also stopped some businesses from conducting their normal trade. Many of these will not get reimbursed for the problems they incurred. Despite all the anger that was clearly shown and directed at the two VIP's, Ms Rice bravely told the few hand picked press that:- "People have the right to protest, that's what democracy is all about. I have no problem with people exercising their democratic rights. I am equally, if not more, impressed with the warm welcome. I am enjoying the visit and I look forward to continuing it. If it is not possible for me to go somewhere and to be willing to encounter people with different views, then I'm really not doing my job."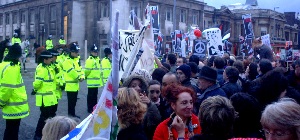 I only encountered two lads, neither of whom would allow me to photograph nor name them, who said:- "These protests are costing us a fortune. We should just let her visit go quietly. That would have made more news than the protests. I do not think the protests do us any good. They harm the US and UK relations and also put the lives of the troops we have in Iraq in danger. I am glad she feels that Liverpool is an important place for her to visit and I appreciate the fact that she acknowledges the city." As Condoleezza Rice is a concert level pianist, it was thought to be a good idea to give her a few musical stops in the trip. One was to Sir Paul McCartney's Liverpool Institute for Performing Arts (LIPA) and another was to the Liverpool Philharmonic. The aim of the trip was to showcase some of our UK cultural heritage and that also meant a trip to Merseyside Maritime Museum on Liverpool's Albert Dock. One student outside LIPA told the BBC that he felt that it was a "disgrace" that Ms Rice had been invited to the academy when the former Beatle was well known as an anti-war campaigner. "We wish she hadn't been invited here. Why should we be seen to condone the actions of this woman?"

What are your views on her visit? Email us or Skype us and we will run a comments section next week with a video report!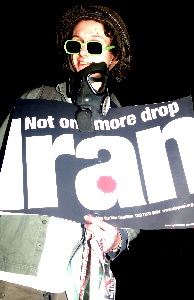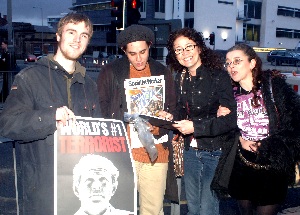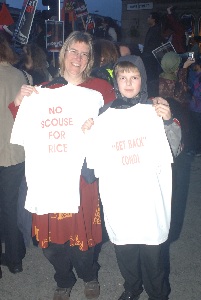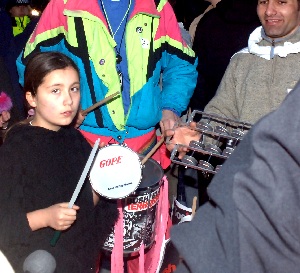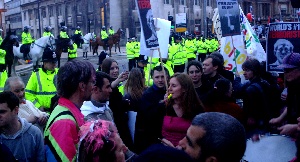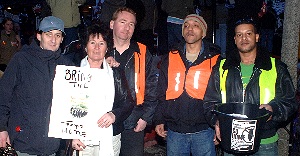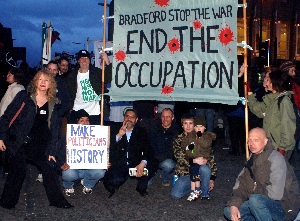 Page 1 of 2
If the green box above does not show, you must download a new edition of Java. To get it just use this link:- java.com/en/index.jsp