GREEN LIGHT TO ENTER NATIONAL RECYCLING AWARDS 2006
GREEN businesses, organisations and individuals who have gone the extra mile to reduce waste and improve recycling rates in the past 18 months are being urged to enter the National Recycling Awards 2006.

Now in their 8th year, the National Recycling Awards organised by Materials Recycling Week are widely recognised as the stamp of excellence in the recycling industry. They are open to any organisation, community group or company that is
affected by recycling, plays an active part in the recycling process or is involved in the production chain of recycled products. Winners will be presented with their awards at a glamorous black-tie awards ceremony to be held at the Bournemouth International Centre on 15 November 2006.

This year a new category has been added - Electrical and Electronic Recycler of the Year - to reflect the increasing legislative importance of the re-use, reprocessing and recycling of electrical goods. It is open to all aspects of the supply chain from manufacturers and reprocessors to local authorities and community groups. A wide range of other categories are available to reward retail recycling initiatives, commitment to health and safety, local authority achievements, innovative community projects, successful information campaigns and unsung heroes of the recycling world.

Entries to all 13 categories should cover the period 1 January 2005 to 25 August 2006. Entry guidelines can be found on www.nationalrecyclingawards.com and the closing date for entries is 25 August 2006 (although nominations for the Lifetime Achievement Award will be accepted until 7 September 2006).

Jane Rayner, chair of the judges and group editor for Materials Recycling Week said:- "The Awards are aimed at rewarding good practice and creativity, as well as developing a network of people who can provide advice to others who may be adopting similar initiatives. Past winners have been contacted frequently by others keen to gain their knowledge on specific projects, and have found that the recognition of winning a National Recycling Award has helped in attaining funding for future development and winning tenders, as well as providing a well-earned boost to staff."
The entries will be judged in September by a panel of industry professionals including Lee Marshall, chairman, Local Authority Recycling Advisory Committee; Dr Jane Gilbert, chief executive, Composting Association; Andrew Braund, head of
health and safety, Confederation of Paper Industries; Trevor Hay, inspector, waste management and recycling section, Health and Safety Executive; Cam Matheson, project manager, East London Community Recycling Partnership and
Michael Philpott, president, Chartered Institution of Wastes Management.
A list of nominees for the Lifetime Achievement Award will be posted on 11 September and the winners will be voted for by readers of MRW and www.mrw.co.uk Winners of the National Recycling Awards 2005 included 2 high street retailers, a prison and a foundry, as well as a number of local authorities, community and charitable organisations who played an important role in helping the UK to recycle more and reduce its dependence on landfill.

EnviroSystems received the award for Recycled Product of the Year 2005, for the animal bedding material it developed using recycled by-product from paper mills. Elizabeth Russell, managing director of EnviroSystems, said:- "The award has
given our company a much higher profile because the media has been willing to tell the general public about us. In reaching the general public we have extended our market outside farming and animal bedding."
Pippa Milne, recycling and waste manager for Leeds City Council, winner of the 2005 award for Recycling Target Success said:- "Being able to say that our performance has been acknowledged by the industry carries far more weight than anything we could say about ourselves. I certainly tell people whenever I have the opportunity."
Whether you have developed a safe and innovative process to recycle waste, helped to create an end market for recycled products or introduced a system to reduce waste in the workplace, the National Recycling Awards provide the perfect
opportunity to shout about your achievements and encourage others to make a difference. For more information please visit this website.

The National Recycling Awards 2006 are sponsored by Cleanaway, Grosvenor, REPIC, Valpak, Veolia Environmental Services, Viridor and mrw.co.uk.
ST MARGARET CE HIGH SCHOOL U16 FOOTBALL TEAM COMPETE FOR ESFA FINALS CUP
LOCAL school St Margaret's CE High School are sending their U16 Boys football team to West Bromwich Football Club on Tuesday 9 May to compete for the knock out English Schools Football Association (ESFA) Boys Under 16s Cup, sponsored by Royal Air Force Careers.

A total of 17,000 plus students compete in the Under 16s Cup each year, and St Margaret's CE High School intends to be the team who takes home the silverware. St Margaret's CE High School fought hard in the Semi Finals to gain a place at West Bromwich. They beat Verdin Technology College, from Cheshire 1 goal to nil.

St Margaret's CE High School are to play Cambridge based team Impington College, who beat Goffs School, from Hertfordshire, 3 goals to 1 at the semis held at RAF Cosford to reach this final stage.

RAF Careers also run football and development camps throughout the season for children aged 11-16, offering expert coaching and team development, all of which give children the opportunity to hone their sporting skills to the highest standard. School teams competing in the Under 16s Cup will be given the opportunity to attend a camp when a programme of dates/venues is announced for the 2007 season.
PARENTS URGED TO BEACH SAFE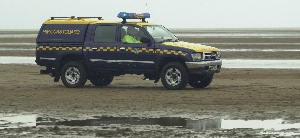 PARENTS visiting British beaches with their kids are being made aware of a funky new ID wristband that helps in case they become accidentally separated from their children. Children become temporarily separated from their parents with alarming frequency on beaches and while on holiday. To help tackle this, parents can write their mobile number on the back of the wristband and fasten it around their child's wrist, so helpful passers-by can reunite children with their mums and dads by simply calling the number.

The new 'IdentiKids' wristbands are now available nationally from Boots, Mothercare and WH Smith Travel Shops. There are two versions of wristbands: Tots ID, for children between 0-6 years, and WickID, a funky, colourful wristband for 6-11 year olds.

Nadine Lewis, Director of IdentiKids, said:- "Our campaign to tag children while visiting the beach makes sense and allows kids to enjoy the fun of paddling, building sand castles and other such merriment! Kids often wander off and become temporarily separated from mum and dad. Hopefully, thanks to our awareness campaign, we can ensure that children are reunited with their parents much quicker, without a long and drawn out search."

Just because kids like adventure and exploring beaches is so much fun, it is an inevitable hazard that from time to time children and parents will become separated while on holiday. The wristbands provide peace of mind to give children a little more freedom. Allowing children the freedom to explore, learn and develop, providing the child with the opportunity to let their intellect grow through self discovery.

Cheryl Baker, TV presenter and singer was impressed with the idea of the wristbands. She said:- "What a brilliant idea! Two years ago my own daughter, Kyla, was celebrating her birthday at Chessington World of Adventures. She went on a ride with a friend but, of course, the exit was some way away. As I had a broken ankle at the time, I made my way slowly to the exit but Kyla was no where to be seen. After much waiting, screaming, panicking and crying, I was reunited with my daughter who was none the worse for wear. If only I had had an IdentiKids' wristband."
Letters To Editor:- "Search for lost Relatives"
"I am interested in finding any relatives of Leslie Topp Ivers who was born in 1895 & died in the Southport area in 1977 aged 82yrs. He is related to Thomas Ivers JP the first mayor of Farnworth a personal friend & mill manager of Thomas Barnes one of the founders of Farnworth. This is interesting history where it leads back to Richard Arkwright the inventor of the water frame famous in cotton spinning." Shirley Stansfield nee Ivers.