Liverpool 08 Open Squash Championship, St George's Hall Liverpool
Report & pictures by Sally Devine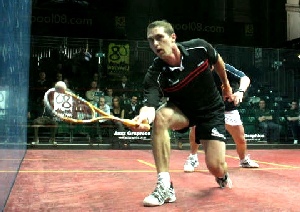 LIVERPOOL'S St George's Hall was the spectacular setting for the first event of this kind to be held in the venue. A wealth of talent from all over Europe helped to provide a feast of squash during the 5 day event in the city centre. The final on Sunday saw David Palmer of Australia, top seed & Commonwealth Games silver medallist up against France's leading player Thierry Lincou. The event was broadcast live on Sky TV and has proven to be a fantastic hit with the players and also the fans!

"The Liverpool 08 Open gave us a perfect opportunity to bring together sport and arts in an iconic venue. The event has been a huge success, beyond our expectations. And the final was just the icing on the cake, a simply magnificent climax to a great week at St George's Hall", remarked John Moore, Creative Sports Manager for the Liverpool Culture Company.

Tournament promoter Alan Thatcher added:- "I'm sure that this match will be talked about in and around the city of Liverpool for months to come - with the result that fans will be clamouring to have the event brought back again to St George's Hall in a year's time."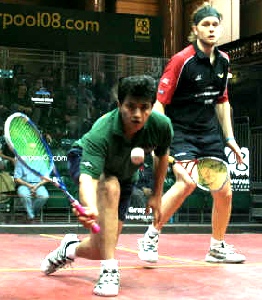 Final Results...
Men's final:- Paul Bell (Liverpool Cricket Club) v Nick Jones (New Brighton) = 9-7, 9-1

Men's Doubles final:- Paul Bell & Andrew Breen (Liverpool Cricket Club) v Ben Norton & Alan Gibbs (Liverpool Cricket Club) = 8-9, 9-5, 9-7

Battle of the sexes final:- John White (Scotland) bt Emmeline Goulden (Merseyside) & Kirsty McPhee (Yorks) 11-4, 12-10

Men's Over 55 final:- Alan Hendry (Northern Crosby) v Steve Noakes (Northern Crosby) = 9-6, 6-9, 9-6

Boys' U19 final:- Alex Cunningham (Northern Crosby) v Daniel Reed (New Brighton) = 9-0, 9-2

Boys' U17 final:- Jason Reed (New Brighton) v Nick Munn (New Brighton) = 9-5, 4-9, 9-7

Boys' U15 final:- Michael Corran (Heswall) v Andrew Corran (Heswall) = 9-6, 9-5

Boys' U13 final:- Matthew Marks (Heswall) v Daniel Prescott (New Brighton) = 10-9, 3-9, 9-4

Girls' U19 final:- Rebecca Connick (Northern Crosby) v Katie Grant (Liverpool Cricket Club) = 9-4, 9-3

Girls' U17 final:- Charlotte Keighley (Heswall) v Heather Wallace (New Brighton) = 9-4, 6-9, 9-4

Girls' U15 final:- Sophie Wallace (New Brighton) v Jennifer Munn (New Brighton) = 9-6, 9-6

Girls' U13 final:- Katie Lloyd (West Lancs) v Kim Davies (Northern Crosby) = 9-0, 9-1