END OF THE BEEF BAN:- CONSERVATIVES TO HOLD CELEBRATION BARBECUE
EURO-MPS from across the EU will be invited to a BBQ. Yes the UK's Conservative MEPs are planning a barbecue in the European Parliament to celebrate the lifting of the export ban on British beef, which ends at midnight tonight. Sir Robert Atkins MEP and Conservative Deputy Leader in the European Parliament, has said he is particularly looking forward to inviting his French colleagues.

An EU inspector's report in September 2005 endorsed the UK's BSE safeguards, paving the way for an announcement in March that the ban on British beef would be lifted on 3 May. Unfortunately, France has not yet amended their legislation to allow beef imports and Sir Robert has criticised the French government for dragging its feet.

Sir Robert said:- "Our farmers have been waiting a decade for this day. They are finally on an equal footing again. British beef is a high quality product. It is as safe as any other beef in the world. The British government must now help our farmers market their beef abroad. We are going to showcase British beef in the European Parliament so that MEPs will go back to their home nations with the message that British beef is back. I expect the French government to stop dragging its feet and comply with the EU's decision. They are obviously scared of our superior beef."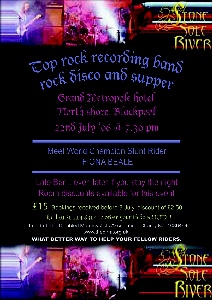 Meet World Champion Stunt Rider
BLACKPOOL welcomes World Champion Female Stunt Rider Fiona Beale as her role as Chair Of The Disabled Motorcyclists Assoc a charity that provides support for any one who has a disability and wants to try motorcycling or return to it.
The event will take place at The Grand metrple Hotel on Saturday 22 JULY 8pm and well feature top recoding artist Stone Role River, Rock Disco and supper.
Discounts on rooms if your are attending this event.

Tickets are only £15 on the door or £12.50 in advance (booking before 8 July 2006)

More information at:- www.thedma.org.uk or ring on:- 0161 214 8314
TVYP SEARCH FOR TV STARS OF THE FUTURE
FREE scheme helps TV entrants kick-start their career and meet key industry players. Applications sought via www.tvyp.co.uk But hurry – applications close on 12 May 2006.

Television and Young People (TVYP) – the charitable arm of the Edinburgh International TV Festival has launched a search for budding TV stars of the future. The FREE five day course has gained a reputation as an academy of excellence over the last 15 years providing the perfect springboard for a career in television. So if you a self confessed TV junkie who is desperate to try your hand at making quality television and keen to meet the teams behind Big Brother, Sky News, Hollyoaks and MTV's TRL then TVYP is for you!

TVYP, a 5-day training programme which helps young people aged 18 – 21 to gain a foothold in the TV industry, returns to Edinburgh for its 16th year this August bank holiday. The acclaimed scheme gives young people the opportunity to meet and learn from key industry figures and has helped to launch hundreds of TV careers, with alumni including Andy Zein, Managing Director of Tiger Aspect and Cameron Roach, the producer of Footballer's Wives to name but a few.

The TVYP scheme runs alongside the Edinburgh International Television Festival, giving delegates access to some of the brightest talent working in TV today. Past speakers have ranged from celebrities such as Vernon Kay, Jayne Middlemiss and Graham Norton as well as leading industry figures including Jana Bennett, Director of Television at the BBC, Tim Hincks, Endemol's Chief Creative Officer, writer Russell T Davies and broadcaster Jon Snow.

Thousands of applicants each year are whittled down to a lucky 150 delegates who gain the chance to attend the FREE event, which this year takes place between 24 and 28 August.

Vernon Kay, who is the Patron of TVYP, says:- 'I had a great time meeting and talking to the TVYP delegates last year in Edinburgh. I'm really happy to support the scheme and help inspire any young people who want to embark on a TV career. Working in TV is a real buzz - I'm proud to be part of such a creative, influential and dynamic industry. My top piece of advice is grab every opportunity you can, be passionate about telly and full of ideas.'

Applications via the website www.tvyp.co.uk are open now and close on 12 May. Delegates who have attended TVYP are also given the opportunity to apply for a six month paid work placement at some of the most prestigious TV companies in the UK through the TVYP at Work programme.