Streets of Rubbish:- "Bin bags, bin bags and more BIN BAGS....!"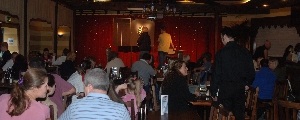 THE Legend himself was in Southport, on 25 May, at Casablanca. The 'dart world god', Eric Bristow, was in town to let 16 lucky darts players a chance to step-up and play against him!

After four qualifying heats, only four top players from each qualifying round got the chance to play a round of 801 with Eric.

Young and old came to watch, even play him. Eric Bristow was treated like a king on the night and he did not disappoint his fans.