COUNCIL LEADERS SET OUT BOLD REFORMS
THE boldest report ever published by the Local Government Association will this week set out a radical new vision for how power should be removed from Whitehall and put into the hands of local people, voluntary organisations and local councils.

The report, Closer to People and Places, backed by the leaders of all the political parties in local government, calls for a series of sweeping changes to local government and will call for a 'clamour for change' by local people to help make this happen.

Key proposals in the report include:-
1. Slashing 1,000 targets to save taxpayers £2.5billion
2. Giving councils extra powers including over transport, infrastructure, planning, economic development and skills
3. A return of the local Business Rates with an inflation safeguard so they have freedom in raising revenue and setting their budgets
4. The power for local people to hold NHS chief executives, police chiefs and council leaders to account if they consistently perform poorly
5. Dedicated budgets for ward councillors to spend on local projects
6. Greater 'postcode choice'
7. Opposition to any proposals by central government to cut the number of councils or councillors

Local authorities are responsible for a budget of £85billion, have 2.2million employees and 20,000 elected councillors and the report sets out how the money and the people could be given more freedom to improve the lives of local people without interference from Whitehall.

At the launch of the report, Chairman of the Local Government Association, Sir Sandy Bruce-Lockhart, said:- "Our objectives are to improve public services, widening both access and choice, and offering opportunity for all; to ensure value for money making better use of the public's taxes; and to create attractive, vibrant, prosperous, safe and friendly places where people are proud to live. There is, however, a further challenge. We see an erosion of democracy, a crisis of trust, a cynicism with politicians and with the ability of seemingly unreachable governance to deliver solutions. We must give people back power and influence over their lives, their local services, and the future of the places where they live.

Of all the major democracies and economies of the world, England is unique in the degree of central control exerted over public services and local government. This has wasted the public's money. It has sapped the energy, enterprise and innovation of front line staff. It has denied local choice, and eroded local democracy itself. It is time for Whitehall to decentralise, devolve and deregulate to set people free of bureaucracy and improve the lives of millions of people.

Local government itself could not be in better shape for this challenge. The Treasury has reported that councils lead the public sector in efficiency gains, making £2.6 million of savings a day. The Audit Commission reports that seven out of ten of the biggest local authorities are improving well or strongly. Not only have we got our houses in order, but we in local government also have a vision, a compelling argument which seeks to champion the cause of local people, to make a difference to their lives and respond to their needs, hopes and ambitions. Today, we initiate a public debate across England about this vision and create a clamour for change.

We are also very clear that for this renaissance in local government to come about, we must set tough goals for our own sector. Local authorities must show that they do not want greater devolution from Westminster just for its own sake. They must persuade their communities that decentralisation is about allowing them to realise better the ambitions of the people who live and work there, devolve power further beyond the town hall and deliver ever more value for money. The quid pro quo also means that council leaders must accept that the buck stops with them when things go wrong. The time has come for audacious and deep-seated reform. Local government is coming up with the route map and readying itself for the immense task ahead. We call upon central government to join us on this journey to a better future for all."

Vice Chairman of the Local Government Association and leader of the Labour group, Sir Jeremy Beecham, said:- "We have shared ambitions between central and local government. We have a consensus across Westminster that we need a decentralising, devolving and deregulating agenda in order to improve public services and strengthen local democracy."

Leader of the Conservative group, Cllr Margaret Eaton OBE, said:- "Closer to People and Places sets out our vision for the future of local government. It promotes the concept of local people having a real say about how their communities are run, with local leaders being the drivers of service improvement and free from the controls and regulations of central government."

Leader of the Liberal Democrat group, Cllr Richard Kemp said:- "Over the past few years local government has made major strides in changing the way they do business. That significant change has yet to be realised in the practices of large parts of central government. Government still wastes billions on the deliverance of national priorities which do not match the real needs of communities. Closer to People and Places will help government deliver services for local people and help get value for money for the taxpayer."

Deputy leader of the Independent group, Cllr Keith Ross, said:- "There is an emerging consensus that further improvement in public services and the quality of life can be best driven locally through strong local partnerships across the public sector, focusing on locally drawn targets and priorities, and working more closely with the private, business, voluntary and community sectors."
Letter to editor from British Athlete, Christian Malcolm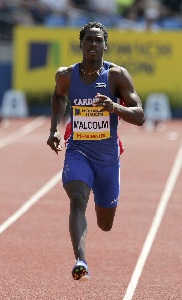 "People often spend 24 hours a day 365 days a year looking after someone else because they cannot cope alone due to illness, frailty, disability or addiction.

For someone like me who is out training all week it is really hard to imagine what it is like hardly ever being able to leave the home or do what they want to do. Many suffer ill health and their own wellbeing or a break is the last thing on their mind.

I am really pleased to see that Norwich Union are providing the support to allow 1,200 family carers to get a well earned break – five days in Pontin's in Blackpool with lots of other people who understand exactly what they are going through. The Norwich Union Breaks for carers organised by The Princess Royal Trust for Carers allows carers a true break, meals are cooked for them, entertainment is organised and most of all they get to truly relax and think of them for once. I'm going this year and I am really looking forward to meeting as many carers as I can.

The reason I wanted to tell you about this is that the break takes place in Carers Week to run on 12June to 18 June 2006. One of the key aims of Carers Week is to raise awareness of who carers are, many carers don't know they are carers they are just looking after mum, dad, son, daughter, husband or wife. By helping people identify themselves as a carer we can help them realise they can get support for them from The Princess Royal Trust for Carers.
To find out more take a look at www.carers.org." Christian Malcolm
LETTER TO THE EDITOR:- "Everyman Male... Cancer Awareness Month."
"I've been brave enough to pose naked for Cosmopolitan magazine this June to help raise awareness of testicular and prostate cancer. So now I'm calling on your readers to do their bit during the Everyman Male Cancer Awareness Month.

Prostate cancer currently kills 1 man an hour in the UK and vital research is still needed so that we can understand the causes and develop better techniques for diagnosis and treatment.

Testicular cancer affects around 2,000 men a year in the UK, but if it's caught early then it can be cured in around 99% of cases. That's why it's so important that men check themselves regularly.

So make sure you are aware of the facts and find out ways to get involved and donate by visiting Everyman's website everyman-campaign.org or calling 0800 731 9468 for a free information leaflet." Craig Doyle, presenter on Capital Radio and the BBC.
New Merseyside County golf league introduced for players of all abilities
A NEW men's amateur golf league has been launched in Merseyside as part of a nationwide event.
The competition has been designed to allow players of all abilities to enter using the golf handicap system.
The aim is to find the best amateur player in each County in the UK, who will then go on to play in regional and national finals.

Paul Matthews, Tournament Director said in an interview with BBC Sport:- "For many years, playing golf at County level has been restricted to those fortunate enough to firstly belong to a club, and then to be selected by the club committee to represent their club in County events.
This new event removes those barriers to entry by allowing club members and non-members alike, to compete on the same terms.
Our aim was to create a County based league that is available to the golfing masses, not just the chosen elite. This event provides a fair opportunity for all players to test their skills against other players in their County and a chance to meet new people and play new courses."

League matches will be played throughout the UK over 4 rounds throughout the summer of 2006, where players will meet to battle it out for league points.
County winners will be invited to play in the regional finals held at the prestigious courses across the UK and may make it through to the final at the Old Course, Portugal.

To be part of the experience, go to the website and find out how to enter before the 9 June 2006.