See Liverpool Italian Opera Co. Live...
ON Tuesday 11 July 2006 The Liverpool Italian Opera Co. will be appearing in a concert at St Faith's Parish Church, Crosby Road North, Great Crosby, Liverpool L22 4QQ.

The concert will consist of some of the best-loved highlights from the world of opera and all proceeds will go to The Liverpool Youth Orchestra as part of their fund raising efforts for their tour to Greece this summer.

The concert starts at 7.15pm. Tickets are priced at £7 (£5 concessions) and are available on 0151 733 6709 or on the door.
For more information please see:-liverpoolitalianopera.co.uk
'Pool of Life' Cancer Charity Benefit Gig Night
LIVE for charity at the world famous Cavern Club Liverpool on 30 June 2006 are not one band, but seven bands! The bands performing are:- Signified, DayWalker, The Latch, The Past, Stations, Kindred Spirit and Dave Domminney. £6. Doors 7pm.
Picture of the week...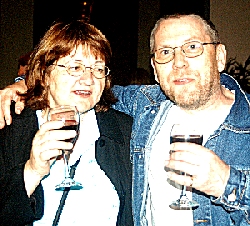 THESE two Southport Reporter readers have been snapped having a drink at the Bar Velvet on Coronation Walk. Funny thing is we just did a story about that venue last week... Click here to read more! Thanks Black Dog!
Send your phone picture messages to us today to:- mypic@southportreporter.com.
Letters to Editor:- "Park or Car Park?"
"IS Sefton off its head? We have been inflicted with pay and display as well as limited parking restrictions on the car parks in our town by the Supermarkets, who are slowly shutting all the small businesses down and now we have just been told that their is a lack of car park spaces...? Now why is that? Also we now have to pick what we would like, more car park spaces or the loss of yet more land to the bulldozer. This time our main park or the newly landscaped parkland by the swimming pool! And not to forget the recently closed playingfields of a local school, yes, against to a pay and display car park! What will be next... a park and ride? Why do we have to loose more parkland? We have lost so much green space in such a small amount of town to flats and housing developments, often most of them unnecessary and take far too long to sell. What we need to do is make the car parks open again to all Formby residents and visitors to our village and why has Sefton and the Formby Times started saying we are a Town? We are a village, but the loss of the green fields of Formby is reply turning it into a Town! Where can children play if we loose yet more parkland? Is it any wonder why we have so much youth related crime?" David from Formby.

Editor's note:- "Thank you David for your letter. We are doing a report about this issue next week. Sadly Sefton MBC has yet to comment to us about this matter. We are expecting the normal no comment or just no return to our phone call. But should they give us a response we will also include it, without editing it, next week."
READING AND WRITING SKILLS OF NEW RECRUITS AN ISSUE
ALMOST 40% of small businesses in the North West are expecting to increase their workforce in 2006 but are struggling to find employees with basic literacy and numeracy skills.

Employers quizzed by the Federation of Small Businesses ranked reading, writing and arithmetic near the top of a list of basic skill shortages which frustrated them when recruiting. Communication and technical skills were also lacking, according to over 40% who replied to the FSB's latest "Lifting the Barriers to Growth" survey

Thousands of businesses throughout the region were quizzed for the report with over a quarter also complaining about the same problems within their existing workforce. However, although over 3/4 of businesses claim to undertake staff training, over half of this is described as "training in the workplace" and "learning by doing".

The FSB - which represents around 18,500 businesses employing around 200,000 people in Manchester, Cumbria, Lancashire, Cheshire and Merseyside - believes the figures are a sign to employers and bodies in charge of education and training, to work more closely together.

North West policy manager Paul Henly said:- "It's fantastic news for the North West that employers feel the economic climate is strong enough for them to be recruiting over the next 12 months but, as the available pool of recruits becomes smaller, the skills shortage increases. It is only reasonable for employers to expect school leavers and graduates to be able to read, write and add up, but unfortunately this is increasingly not the case - small businesses clearly feel that the education system is churning out young people without even the basic skills they need.

However, other complaints about technical skills, foreign languages and sales and marketing need to be taken into account alongside the attitude to training. Almost a quarter of firms admitted that they had no training for employees at all. Training and funding options do exist for North West small businesses but the understanding of what is available needs to improve and organisations providing it need to take into account employer frustration with the lack of suitable training."
YOUNG ADVISORS UNVEILED
A TOP team of young people have been selected to have their say on culture through a Youth Advisory Group. More than 30 youngsters, mainly teenagers, will make their opinions known on all aspects up to, including and beyond Liverpool's European Capital of Culture year in 2008. The government's Children's Commissioner, Professor Al Aynsley Green, has also endorsed the Youth Advisory Group.

Prof Aynsley Green said:- "I am pleased to lend my support to the Youth Advisory Group in Liverpool and I look forward to hearing about the great work that they will do. It is so important that young people's opinions are not only listened to, but taken seriously, and acted upon and I'm pleased to see that this will be the case in the future European Capital of Culture. The group will empower young people and give them the chance to have an impact on the cultural life of the vibrant city of Liverpool."

The group's members are from all neighbourhoods of the city and have been chosen on the strength of their contribution to an open application process. It follows research carried out online by Liverpool John Moores University about how young people wanted to be involved in Capital of Culture. The Liverpool Young Culture Action Group based at the Greenhouse Project in Toxteth was instrumental in this research.

Liverpool City Council leader, Cllr Warren Bradley, said:- "The young people I've spoken to, want not to be asked once as a token gesture, but to be continually consulted on events, artistic and community programmes. They will have an important role to play, not only in events which are intended mainly for young people but to provide a fresh and alternative viewpoint for all of the undertakings of the Culture Company."