Challenge 'veterans' help raise £173,400
DESPITE atrocious weather which conspired to make conditions particularly difficult, nothing could dampen the spirits of the 28 teams who pushed themselves to the limit during the tenth annual Ford Ranger Great Lakeland Challenge on 19 May, and raised £173,436 in aid of rugby's charity Wooden Spoon.

A team from Chester/Wirral/Mold was among those who canoed the length of Lake Windermere (10.5 miles), cycled 26 miles over England's steepest passes – Wrynose and Hard Knott – and scaled the mighty Scafell Pike (3,208 ft). The objective was to complete all 3 elements of this unique and gruelling triathlon consecutively, inside 12 hours.

Calling themselves MPC Chasers, Tony Bargh and Nigel Kelly, both from Upton, near Chester, and Nick Corcoran from Eastham, Wirral, finished the event in 7 hours and 56 minutes – the second fastest time! They were supported by driver Jonathan Gregson from Mold, who transported their clothing and equipment between the stages in a vehicle supplied by Ford – main sponsor of the Challenge since it was established in 1997.

MPC Chasers were delighted to pick up one of the Challenge's most prestigious awards – the Veterans' Bowl – which is presented to the top performing team of competitors with a combined age of more than 120 years! Tony, Nick, Nigel and Jonathan also raised £4,700.

The total sum pledged by all competitors, who included accountants, IT consultants, construction industry professionals, dentists, electricians and teachers, is £173,436.59. Wooden Spoon will use the money to fund a variety of capital projects that will benefit physically, mentally and socially disadvantaged children and young adults throughout the UK and Ireland.

"We were unlucky with the weather once again, but the knowledge that they had raised such a huge sum of money did a lot to ease the competitors' aching limbs," said Geoff Morris, chief executive of Wooden Spoon. "As ever, we are very grateful to Ford for supplying vehicles for our teams and to the army of volunteers who served as marshals, but it is down to the effort and sheer determination of the Ford Ranger Great Lakeland Challenge competitors that we are able to carry on our work and for that they have our thanks and admiration."

The prize for the fastest time went to Pro Mil, whose team members hail from Sheffield, Wigan and Chesterfield and who have competed seven times. They completed the 2006 Ford Ranger Great Lakeland Challenge in 7 hours and 9 minutes. Meanwhile, the Challenge Bowl – awarded for the most impressive combination of elapsed time and funds raised – went to Sussex Screamers from the Wadhurst area, who finished in 9 hours and 16 minutes and raised £10,250.
BUS COMPANY APPEALS FOR STUDENTS' TOP TIPS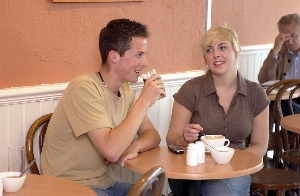 MOVING to a new city can be a daunting prospect for new students so Arriva North West is appealing for those with a bit more experience to come forward with top tips and advice. The bus company is asking existing students in Liverpool to nominate desirable shops, cool clubs, fun bars, good restaurants, top sights or favourite hang-outs to help give Freshers the low-down on their new home town.

Nick Gordon, marketing manager for Arriva North West said:- "A great deal of students use our bus routes to get to and from University and around the city. We want to put together a mini-guide for Freshers, giving advice on where to go when they arrive in Liverpool. Students who have been living in the city for a year or so will have already found those little bars or shops that are tucked away or restaurants that offer really good value food so we'd like to tap into their knowledge."

The mini-guide will include short reviews and recommendations of top spots. The best review will win a free Autumn term ticket offering unlimited travel all day, every day on Arriva buses in Merseyside and Lancashire.

Arriva Merseyside and Lancashire Zone student tickets offer great value for money with a further 10% off the price if ordered online.
For more information visit:- arriva.co.uk/students.

Students wishing to nominate or review their favourite places should email:- studentguide@arriva.co.uk for more information.
The mini-guide will be available online from September 2006 at www.arrivabus.co.uk/students.