Music Stars Rally for Charity Auction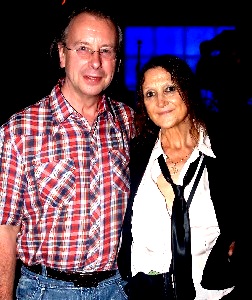 SOME of the biggest names in the music business have given their support to The Linda McCartney Centre by donating memorabilia for auction. Deep Purple's, Ian Gillan and Roger Glover and Yoko Ono are some who have all given items to help raise money for the Liverpool centre.

The auction was launched on Saturday 11 November 2006 at a gig at the Cavern Club, when bands from around the UK will come together to play at world-famous club.

The auction is expected to raised in the region of £3,000 for state-of-the-art treatment and research centre based at the Royal Liverpool University Hospital. So far approximate raised £1,500 at gig, but that does not include auction items!

Simon Wood, The Linda McCartney Centre said:- "It is great to see these people come together to help raise money for The Linda McCartney Centre. At the moment it is like Christmas day when the postman comes with the parcels containing the auction items.

The night was a perfect opportunity for music fans to get themselves a piece of musical memorabilia, have a great time and raise monies for a fantastic cause in the process.

I am delighted there has already been such a good response for the Auction.

At the event where several well know names like Julia Bird (nee Lennon) and Merseyside Woman of The Year Margaret Shields. Also at the event was TV presenter Jonathan Thompson who started the auction off. "This is a fantastic idea and people who bid will not only get an item, but they also help to raise cash for the charity. It is a win win situation for the lucky winning bidders and the charity."
Items available for auction include; a signed book and tour poster from the voice of Deep Purple 'Ian Gillan', a John Lennon CD signed by Yoko Ono, a signed picture of Shirley Bassey, an original picture painted by Deep Purple's very own Roger Glover, a signed Jose Carreras CD and two Deep Purple concert tickets with backstage passes for Deep Purple UK tour 2007.

If you did not know, The Linda McCartney Centre is based as the Royal Liverpool University Hospital and is home to some of the most innovative forms of treatment and high quality care for those who need our help. Since opening in 2000, has treated over 150,000 people.

Bands who play on the 11 November include Signified, Daywalker, Stations, David Domminney and Kindred Spirit.
Paintings for sale donated by Roger Glover of Deep Purple and Steve Balsamo (former West End Jesus Christ Superstar) of The Story's will be on exhibit at The Linda McCartney Centre from 20 November 06 to 24 November 2006 between 9am and 5pm.
Page 1 of 4