Railtrack steaming ahead after award ceremony.
At the national railway heritage awards Railtrack North West won the London Underground award for the £21m restoration work carried out on Liverpool Lime Street's station roofs. The new plaque that marks the success of the refurbished roofs will be unveiled on Monday 15 April at 1030hrs in the entrance to the Head of Steam bar.

Railtrack began the restoration of the Grade II listed roofs in 1998 and completed them in the summer of last year. The scheme involved the removal of over 1,000 tons of glass, 420 tons of timber and 150 tons of paint. Part of the restoration involved installing 9,300 new panes of glass which is enough to cover three football pitches.

To reach the final stages of the competition, entrants had to prove to a panel of judges from the Heritage Railway Association that workmanship was to a high standard, new materials blended well with old, and that attention had been paid to recapturing the era the roofs were originally built in.

Pat Lee, Railtrack North West's project development manager said:- "I'm very pleased for both myself and the project team that London Underground have honoured Railtrack with their award. After all the hard work and effort that went into restoring the roofs at Liverpool Lime Street station it's well-deserved."

One of the judges commented:- "A resounding success for Railtrack: well done!" He went onto say:- "This project has restored the two roofs of the trainshed in a way which harmoniously combines careful restoration with enhancement and the use of modern materials in a very satisfactory manner."
Railtrack PLC

A LOAD OF RUBBISH!
Over Easter week, the streets were in an incredible mess. Sefton's said that the collections were delayed due to back holiday, but one local resident in Southport who lives on the prom said "I was ashamed to see the mess that was left behind even when the bags had been collected. This town is starting to get a very bad litter problem, due to bin bags being collected at ever increasing irregularity." Name and address supplied. One owner of a shop said, "My rubbish was not collected as the house next door to us put out their rubbish in black bags next to ours. It is alarming that we pay council tax and get a sub quality service." Shop name given to us. We have asked Sefton for a response and will bring you it as soon as we get it.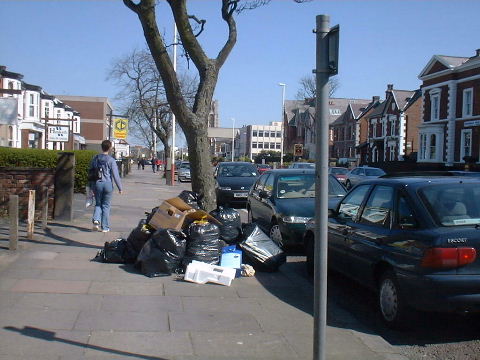 Photography by Pedoja over Easter.
Remember to let us know what you think....
To go back to the Top of the page.