T.E.S.T.

No Pane Here...

("Can I have a cup of tea please?")
Following the last article we did about the Guild of Master Craftsmen, telling us all about the new quality mark, we were invited to the new window of opportunity for students who want to enter the Glass Fabrication, Window and Door Manufacturing Industry. In Ormskirk, we had the privilege to be invited to the launch of a new scheme that sees a company called The Essential Support Team Ltd., which has been training new and enthusiastic people for the last two years in the window industry, running a new course dedicated to the improvement of Glass Fabrication, Window and Door Manufacturing. Unlike other NVQ's, the one they offer means students are not required to go to college in order to train. There are no specific GCSE grades required, it's all hands on! TEST have more than 80 years combined experience and are currently involved in assessing over 350 NVQ candidates who are based both locally and nationally. The work is extremely varied. One minute, as an installer, the student may be in a town center, creating a shop front, the next, on a building site or in the workshop operating machinery and constructing glazing units or conservatories. The NVQs and SVQs TEST provide are linked to all the workplace activities providing students with news ready! a 'route to competence' in all aspects of work.

TEST works with many various employers, the majority of whom are based in the North of England, but also have supported companies as far as Scotland and Kent.

TEST has gained approved status both as a specialist Training Provider and Centre, offering a wide range of NVQs/SVQs and specific training courses. The introduction of the Charter Mark means TEST can act to deliver higher quality students to the industry. More to come next week.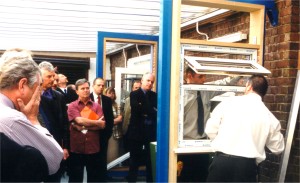 To go back to the Top of the page.