SCHOOL PUPILS TO DAZZLE CROWDS IN RECORD-BREAKING SHAKESPEARE TREAT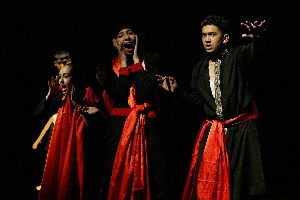 PUPILS from a staggering 119 schools, from William Howard School in Brampton to King's Grove High School in Crewe, will take part in the Shakespeare Schools Festival, the biggest-ever youth drama festival in the UK (29 January to 10 February 2007). They will be among the 25,000 young people around the country who have signed up to join this epic celebration of the Bard.

Veiled belly dancers and leather-clad bikers are just some of the theatrical treats in store for audiences across the North West, in performances of some of the greatest stories ever told. Students (aged 11 to 16) will reclaim the playwright's classics in their own distinctive style, choosing from 15 specially adapted half-hour plays, including abridgements from Sir Tom Stoppard (The Merchant of Venice) and Sir Arnold Wesker, Henry V and Much Ado About Nothing, this year's most popular play in the North West.

Blacon High School in Chester is getting revved up for its performance of Richard III (6 February 2007, Y Stiwt Theatre, Wrexham), inspired by biker culture. The pupils will be donning their motorcycle leathers and crash helmets for this unforgettable tale of political intrigue and personal vendettas.

Other rich pickings include Kirkby Stephen Grammar School and Sports College, who are planning a magical evening's entertainment with a devised physical performance of The Tempest at the Brewery Arts Centre in Kendal (6 February 2007). They have decided to cast Ariel, the island spirit, as a femme fatale, with super-human powers of organisation. Their performance will incorporate belly dancing to symbolise the developing love between Ferdinand and Miranda.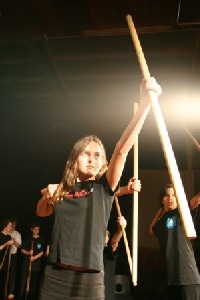 On the closing night of the Festival (10 February 2007), pupils from Pensby High School for Boys will stage Macbeth at the Liverpool Institute of Performing Arts. The cast from this specialist sports school will be directed by sixth-formers, who have introduced the art of combat fighting to explore the physical aspects of the drama.

Last year the Shakespeare Schools Festival scooped a Guinness World Record for 'the most people performing Shakespeare on a single day' during their 1 Night of Shakespeare event in association with the BBC. With tickets priced from £5.50, the Shakespeare Schools Festival is a fantastic value-for-money way to introduce children to theatre and one of the world's most famous playwrights.

4 schools perform their half-hour plays at the same theatre each night, together with full technical support. The teacher/directors from each school attended a day-long workshop with the MAP Consortium in October 2007. The school casts have a half-day workshop in their performance theatre with one of the four National Youth Theatres. The Festival is open to every secondary school and youth theatre in the UK and runs from 29 January 2007 to 10 February 2007 in 107 theatres, on a biennial basis.
PLEASE HELP FIND OUR DOG!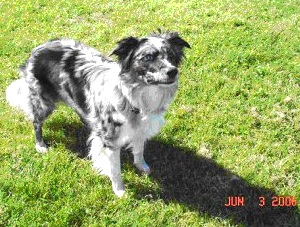 BLUE Merle Border Collie lost on Saturday 30 December 2006. Between Neston, S Wirral and J26 of the M6 (via M56). Blue/Grey/Black colour with two blue eyes and she's wearing a black leather collar with blue studs, her name is "Hustle" and we desperately need to find her as she needs heart medication, please call us if you see her on:-
07957 358057 or 07708 769748 or 07831 267730.
Behind the scenes in the laundry at Ormskirk Hospital
OVER 2¼ million items of bed linen and uniforms are cleaned every year in the laundry at Ormskirk & District General Hospital, and it takes 10¼ tonnes of detergent to clean them. Such is the work of one of the unsung departments that keeps both Ormskirk and Southport hospitals running 365 days a year.

On average, each week, the 18 laundry assistants and two team leaders wash, dry and fold 13,885 bed sheets; 2,385 blankets; 7,450 pillow cases and 4,280 towels, together with a further 17,000 assorted items of nurses uniforms, theatre scrubs, catering and domestic uniforms, nightwear and patient's clothes.

As well as the 10¼ tonnes of detergent, the laundry used 1.7 tonnes of fabric softener, 1.2 tonnes of de-greaser and 4 tonnes of bleach. The laundry also provides services to Ashworth Hospital, Wrightington Hospital, Fairfield Hospital and a number of nursing homes.

Karen Pope, one of the two team leaders explained some of the work that is done:- "The linen and uniforms from the hospital are brought to the laundry several times a day, and unless they are what we call foul linen and in special dissolvable bags, they have to be hand sorted. The items are then put through one of the nine industrial washing machines that are automatically fed with a mixture of detergent, de-greaser and bleach, and then fabric softener.

Once they have been washed, the items are dried in different ways, depending on what they are. The sheets and pillow cases are put through 10 foot-wide ironing machines that dry and iron them automatically. Uniforms and nightwear are hand sorted first then they go through another machine that dries and then steams them to remove the creases. Blankets and some other items have to go into large industrial tumble dryers and they are then folded by hand, as are the operation gowns and towels etc. Fortunately the bed sheets are folded by the machine although they do have to be fed into the machine manually.

It is hard work, and it can be hot work as well, and the temperature can get quite high in summer, but we have a great team here, and all the staff work together extremely well and very hard."

The Trust also has two sewing rooms, one alongside the laundry at Ormskirk and the other at Southport.
Together they employ eight staff (mainly part-time) who have responsibility for a number of tasks. They issue uniforms to staff, labelling them and making any alterations as necessary, they have to make sure the wards have all the linen they need, and they make and repair items where they can. For example, if a sheet or blanket becomes torn and can no longer be used on a bed, they will use the good fabric to make pillow cases or sheets or blankets for cots.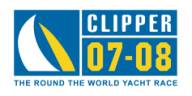 Western Australia to defend the title
WESTERN Australia is set to defend the title of Clipper Round the World Yacht Race champions later this year when a Clipper 68 yacht representing the state sets sail from Liverpool in the Clipper 07-08 Round the World Yacht Race.

After sailing to victory in Liverpool in July 2006, a team representing Western Australia will attempt to repeat the impressive win in Clipper 05-06. A crew of 18 sailors led by a professional skipper will race against nine other international cities in the sixth round the world yacht race for non-professional sailors operated by Clipper Ventures.

Western Australia joins Singapore, Durban, Qingdao, Glasgow, Liverpool and Hull & Humber as confirmed yacht sponsors for Clipper 07-08.

Sir Robin Knox-Johnston, Clipper Ventures Chairman and renowned solo round the world yachtsman welcomed the entry of Western Australia to defend their title as Clipper champions.

Speaking from Fremantle, where he arrived on December 28 after completing the first leg of the VELUX 5 OCEANS solo round the world yacht race, he said:- "I am delighted that Western Australia will be back in Clipper 07-08 – it will be great to see them defending their title against competitors new and old."

Sir Robin, who is preparing his Open 60 SAGA INSURANCE for the next leg of the VELUX 5 OCEANS to Norfolk in Virginia added:- "The crews are assured of a fantastic welcome when they arrive here before Christmas later this year. It's a wonderful place with a rich yacht racing that the crews will enjoy immensely."

The Clipper Round the World Yacht Race is now the only crewed yacht race that takes in the Southern Ocean. Leg 3 from Durban in South Africa to Fremantle in Western Australia is one of the most highly subscribed stages of the 35,000-mile round the world race.

Commenting on the Western Australian entry, Clipper Race Director Tim Hedges said:- "We're looking forward to the bringing the Clipper Fleet back to Western Australia in 2007 after the warm welcome we received from the Fremantle Sailing Club and its team of enthusiastic volunteers in 2005."

The Clipper 07-08 Round the World Yacht Race will start from Liverpool on September 16 2007 and visit a range of international ports including Durban, Singapore, Qingdao and Fremantle before returning to Liverpool in July 2008.

The search is now on for Australian crew to take part in Clipper 07-08. For more information email Clipper Crew Recruitment Manager, David Cusworth on email or call +44 2392 526000.

Applications to skipper the Western Australian entry are also welcomed from suitably qualified candidates. Contact Clipper Race Director, Tim Hedges via email to thedges@clipper-ventures.com