Illegal dog hand-in results

MERSEYSIDE Police have announced the results of an amnesty for owners of illegal dogs that happened over 7 February 2007 to 13 February 2007. This amnesty has provoked a lot of emotional reactions on all sides and all dogs handed over and found to be illegal would be killed humanely.

Over 600 calls were received about illegal dogs by Merseyside Police during the hand-in period according to Merseyside Police. "132 owners have so far been reassured that their animals did not fall under the legislation, and many owners have taken the very difficult decision to part with their animals to enable them to stay within the law. Officers will contact those people who have requested assistance in identifying if their dog is of an illegal type over the coming weeks." Merseyside police told the press.

"Now the hand-in has concluded anyone who calls 0151 709 6010 to report a dog banned under the 1991 Dangerous Dogs Act will be assessed on a case by case basis. We would encourage anybody who still owns an illegal dog to call us, although they should understand they could face a large fine or even imprisonment. However the focus for Merseyside Police is to target those who are involved in illegal dog fighting or breeding, as well as those who use illegal dogs as part of their criminal lifestyle.

During the hand in a number of calls were from people who had information on where illegal dogs are being kept or bred. We would urge anybody who has information on these activities to call 0151 709 6010 or contact Crime Stoppers anonymously on 0800 555 111." Merseyside Police added in a press statement.

Sadly some members of the public are still get confused as to what the dogs are illegal. Under the 1991 Dangerous Dogs Act the following types of dogs have been banned:- Pit Bull Type; Dogo Argentino; Japanese Tosa and the Fila Braziliero breads.

Friends Shocked At Friends Death

THIS week we have had lots of tributes pour in for a "Very popular, friendly and well loved, young lad. A friend who had a good sense of fun."

On Thursday, 13 February 2007 David Smith was found dead in his car, shortly after 7am, in the Zetland pub car park on East Street, Southport. His death has shocked close friends and his family.

On Wednesday night friends met up with the sister of the dead man to comfort one another. One of his friends told me:- "It is a tragic loss. He will be truly missed. It is such a shame that he had died." His passing was marked that night by a simple tribute; a single candle next to a bottle of his favourite drink.

Police are not treating the incident as suspicious.

David's funeral takes place on Thursday 22 February 2007 at 11am at Holy Trinity Church, Southport.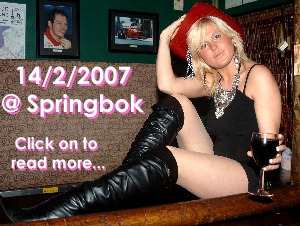 --- NEWS REPORTS ---
Crackdown on term-time holidays
Are there really no children in Southport worthy of a knighthood?
Peter Brown Craven Minor League
MANCHESTER DOCK UNCOVERED
Unique project to tackle trespassing, vandalism and hoax calls
BOUNCING TO NEW HEIGHTS!
SINGLE HOME OCCUPANCY CONTINUES TO GROW
Vue
Film Showing
Times
Summer Pops set to return
Bacon Eggs & Entrepreneurs at the Tate Art Gallery
THINK YOU'VE GOT NOISY NEIGHBOURS? IT COULD BE TINNITUS!
Firms not to let smoking ban drag them down
Peter Brown Craven Minor League
Chinese New Year - Kung Hei Fat Choi.
Merseyrail tops UK rail passenger polls
NEW REGISTRATION FOR CARE WORKERS
RSI a major pain for factory workers
Valentine's Night at Springbok Trekkers
"HIS-TERIA" SCARING MEN FROM HELPING CHILDREN
Digital Departures Arrives In Liverpool
School of fish!
RESIDENTS REVEAL DISABLED PEOPLE FIND CHIP AND PIN HARD TO USE
BARCLAYS SEARCH FOR FAN GOGH
BIG IDEA IN TOXTETH
SOUTHPORT WEEKENDER'S 40TH BIRTHDAY SOLD OUT!!!
Shaping the future of cancer care: have your say!
Blair snubbed on 'war on terror'
AS fuel bills soar and inflation rises, UNISON, TGWU and GMB public service unions will submit
UK'S 1ST ENVIRONMENTAL HEALTH CHECK FOR CARS
~HAPPY BIRTHDAY~
If you have someone you want to say happy birthday to, for free,
then use the email address below to send us the names
you want us say happy birthday to, and/or a photograph.
Email us today!