YOUNG PEOPLE GIVEN THE CHANCE TO TASTE TOP JOBS
DREAM work placements at Everton FC, Sony BMG Records and Rick Stein to be won. Young people in England are being urged to apply for dream work experience placements set up by the Learning and Skills Council (LSC).

To inspire young people the LSC has launched a competition for 16-18 year olds to win aspirational work placements. The placements include a week at Trevor Sorbie's salon, Everton FC, the Newcastle Falcons Rugby Club, Sugar magazine or working as a sports journalist for Sportsbeat. The winner could also find themselves working alongside MP Khalid Mahmood, behind the scenes at Rick Stein's restaurant, for record company Sony BMG, at Red Bull Formula 1 or backstage at the Royal Shakespeare Company.

The LSC has set up the competition to raise awareness of the possibilities young people have - but only if they achieve at least 5 good GCSEs or the vocational equivalent, such as Level 2 diplomas in subjects like Motor Vehicle Maintenance, Multimedia Design or Animal Care. Each placement is in an industry where a minimum level of qualifications is essential and highlights the fact that gaining relevant work experience along with these qualifications will add over £141 a month to a young person's starting salary.

To apply for one of these placements taking in place during May half term young people must log on to www.getsetforlife.org.uk where they can submit a short statement on which position they would most like to win and why they deserve this once in a lifetime experience. The prize includes travel and accommodation near to the work placement, so young people from all over England can apply. The competition is targeted to reach the 20% of young people who the LSC predicts will drop out of education and training this year in favour of work and access to an immediate pay packet - a decision that some may later come to regret.

David Shaland, Executive Chef at Rick Stein's seafood restaurant, said:- "This is a great opportunity for a young person to gain an exclusive insight into the hospitality industry. The winner will get a week of hands on experience in the restaurant and a unique opportunity to see what it takes to succeed in this kind of role. We're delighted to be working with the LSC because qualifications are essential for success and we encourage all young people to stay on in learning to achieve their full potential."

Julia Dowd, Director of Learning at the Learning and Skills Council, said:- "Work experience is absolutely crucial in today's competitive job market. Not only does gaining practical work-based experience give young people an opportunity to see whether they are suited to a job, it also means a bigger pay packet when they enter the world of work full-time."

Phil Hope MP, Skills Minister for the Department of Education and Skills, said:- "By offering work experience to young people we will help create the skilled workforce of tomorrow. Work experience is essential in linking education and employment. It is critical that all young people are given work experience opportunities as this allows young people to make decisions about their learning and employment paths. We need employers to be working increasingly closely with schools and colleges - by offering Apprenticeships, work based learning and work experience for those in learning."
The Blood Red Moon
Photograph by Patrick Trollope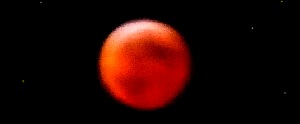 PUBLIC and astronomer have waited six years for this spectacular total eclipse of the Moon to happen again. On Saturday 3 March 2007 thousands of people across Britain, Europe and Africa watched the amazing site as the silvery full Moon darkens and turns coppery red or orange. On Merseyside the cloudless night sky as added to by the sill air that made viewing of the event a joy to watch. The dramatic views of the eclipse happen from 10.24pm to 11.58pm. A spokesman for MeteoGroup UK said that:- "Large tracts of England and Wales had perfect conditions for the event and advise people to get outside with their binoculars." Many did and some pup goes came out to see the event unfold in the heavens above. In ancient times a was viewed with dread and seen as an omen of disaster or great change. Thankfully we now know that it is just a simple phenomenon that occurs when the Earth passes directly between the Moon and the Sun. The colour gave it's name to the event, "The Blood Moon." The colour is produced due to the light from the Sun scattering through the Earth's atmosphere is reduced to predominantly-red wavelengths, which are then reflect off the lunar surface back to Earth. So sadly it is not down to vampires or evil?
To find out more about the moon visit:- Our Link.
Merseyside Astronomy Day
SOME of the country's most prominent astrophysicists will visit Spaceport in March for the 2nd Merseyside Astronomy Day. Astronomer Royal for Scotland John Brown will join professional astronomers from Liverpool John Moores University's (JMU) Astrophysics Research Institute, the University of Southampton and the Royal Observatory Edinburgh to give a series of exciting presentations.

The event is being held on Saturday 10 March (10am to 5pm) at Spaceport, Merseytravel's £10 million space-themed attraction. Leading astronomers taking part in the day include Professor Mike Bode, Dr David Bersier and Dr Maurizio Salaris of Liverpool JMU, Dr Suzanne Ramsay Howat of the Royal Observatory in Edinburgh and Dr Christian Kaiser of the University of Southamption.

Councillor Mark Dowd, Chair of Merseytravel, which owns and operates both the Mersey Ferries and Spaceport, said:- "To get so many experts in the field of astronomy in one place – Spaceport – is a real coup for the attraction. Spaceport is a great example of how we can make space educational and entertaining and this Astronomy Day is a great example of that. We hope the event inspires people to get even more interested in space and the universe."

Neil Scales, Chief Executive and Director General of Merseytravel, added:- "This will be a great opportunity for people to learn more about space and the stars. Spaceport is a major success story and this event just adds to its appeal."

The event is being organised jointly by Liverpool John Moores University and Spaceport. For more details about this event visit www.astro.livjm.ac.uk/mad.