Trust scores 'Good' mark in review into services for children in hospital.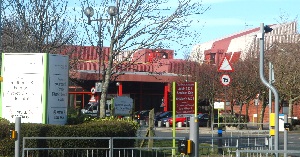 EARLIER last week there was a lot of news about a report issued by the Healthcare Commission on services for children in hospital. Southport & Ormskirk Hospital NHS Trust is not among the Trusts that receive criticism for not performing well, as we scored an overall 'Good' mark and an 'Excellent' mark for the Emergency Care Environment. The in depth survey by the Healthcare Commission of Children's health services, provides an essential summary of progress.

Janette Brookes, Director of Specialist and Emergency Services said:- "This is excellent news for the Trust and for the children who use our services."

Each hospital has been awarded an overall score for the review, which is broken down into scores for services in 6 areas: emergency care (for example, care received in the accident and emergency department), day case services, outpatients, inpatients, emergency surgery (including anaesthetics) and elective (planned) surgery (including anaesthetics). The Trusts are then given an overall mark of either excellent, good, fair or weak.

Commenting further, Janette said:- "One area where we scored an 'excellent' mark was in the Emergency Care Environment, which includes the provision of children's Accident & Emergency Services. We want to continue improving the services we offer to children and one area where we are looking to do so in the near future is with Ophthalmology and ENT. At the moment these are based at Southport General Infirmary, but from early April the children will be seen in the dedicated children's outpatients department at either Southport or Ormskirk, depending on where they live. Similarly, the day case surgery for Ophthalmology and ENT will be carried out on the children's ward at Ormskirk rather than in a mixed environment as at the moment."

The Healthcare Commission report was issued only days after we reported that a survey showed 98.6% rated our children's A&E as 'good' or better. The full report on that survey is attached.

Of the 157 hospitals across England that were reviewed, 4% were given a score of 'excellent', and 21% or 33 organisations were given a score of 'good'. These organisations are making good progress on ensuring that children have access to child-friendly environments, that services are provided in a range of locations close to patients' homes, and that services are appropriately covered by staff specifically trained to care for children. 70%of organisations were given a score of 'fair' and 5% were given a score of 'weak'.
Nurses threaten strike over 'derisory' pay deal
DAVID Byers and agencies Health workers have threatened to go on strike after the Government awarded them a below-inflation pay rise. Union leaders threatened industrial action after health staff were promised a 2.5% increase to be paid in 2 stages in April and November, which they say is worth just 1.9% per year.
Their fury was increased by a pay deal for servicemen and women which will see rises of 3.3% and 9.2% to be paid "without delay". Nurses leaving hospitals described the rise was a "slap in the face" and claimed many could now leave the profession.
Staff nurse Alisdair Smith, who works at Southport General Hospital in Merseyside, said the pay increase was derisory. The 29 year old, with 5 years' experience, said:- "Every time we get a pay increase it actually acts as a pay cut."
A nurse at the Royal Liverpool University Hospital, meanwhile, said:- "We look after the country's most vulnerable people and work long hours and this is what the Government thinks of our efforts."
Patricia Hewitt, the Health Secretary, acknowledged that nurses would be "disappointed" with the award but added that the Government had accepted "the recommendations of NHS pay review bodies".
"These are sensible increases, fair for staff, consistent with the government's inflation target and affordable for the NHS," she said. "We appreciate that nurses will be disappointed by the staging of their award. However, overall earnings growth in the NHS will be around 4.5% in 2007/08 as a result of this pay award, the Government's pay reforms and opportunities for career progression."
Unison, the UK's largest health union, described the decision to stage the pay rise for nurses, midwives, paramedics and other health professionals as a "real letdown". Karen Jennings, the organisation's head of health, said:- "We believe that 2.5% is low enough without reducing its value even further by paying it in 2 stages."
Trust hosts consultant exams
CONSULTANTS Dr. John Horsley and Dr Khalid Binymin, a Royal College of Physicians Tutor, made history for the hospital Trust by hosting the prestigious PACES examination on behalf of the Royal College of Physicians of London.

Examiners from all over the UK joined many Southport physicians to assess thirty national and international candidates who hoped to be the next generation of consultants.

The event, held on 22 February 2007 and 23 February 2007 at the state of the art Treatment Centre at Ormskirk & District General Hospital, involved much planning by both physicians and administrative staff. Over 100 patients volunteered to participate in the event and both consultants extend their thanks for such willingness.

Dr. Khalid Binymin FRCP said:- "We are doing our level best to raise standards within our own trainees because we believe the quality of care reflects our ability to offer renewed opportunities and challenges in training. It's a time for us all to learn and work together regardless of geographical boundaries. Of course it is only made possible by the hard work of our admin staff and the volunteer patients."