Comic Relief South Africa Trip...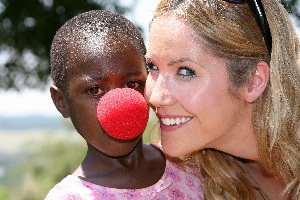 WHILE in South Africa, Heidi Range visited The Elton John Foundation and sent us this report...

The Elton John AIDS Foundation was established in 1993 and provides funding to charities that work to
alleviate the physical, mental and emotional hardships that people living with HIV/AIDS face. They also have an AIDS prevention education programme. The foundation provides funding to projects that offer a broad range of services including education, counselling, HIV testing, peer support, medical care and income generation.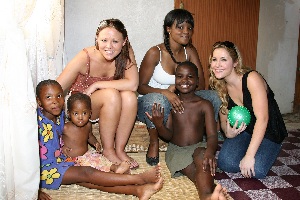 The Elton John Foundation is supporting projects in South Africa that help children who have lost their parents due to the HIV/AIDS epidemic. Through these projects they will provide food parcels, school fees and school uniforms so that orphaned children can continue with their education. They also support vulnerable children to access the grants that they are entitled to so that they can get an income.

"The most memorable moment from my trip to South Africa was sitting in a room with a woman who was dying of AIDS. She had her young daughter with her who was also sick, the worse thing was that her family had cut off all ties with her once they found out she was ill, so she was completely isolated.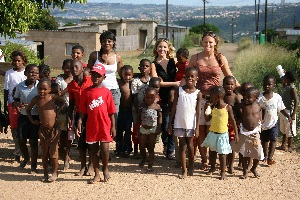 You just feel so helpless, but then you see the really important work done by projects funded by Comic Relief, and you realise that there is hope.

Thanks to the money raised through Red Nose Day, she now has a carer visit her a couple of times a week, who also delivers food packages for her - she's now getting the support that she needs. It just goes to show how much of a difference a little really can make, and it certainly makes you appreciate what you have at home. What I've seen will stay with me forever." Heidi Range.
SMOKERS TAKE 30 MINUTES OF CIGARETTE BREAKS A DAY
OVER half a million smokers take seven cigarette breaks or more each work day, and 400,000 regularly spend 30 minutes or more on each break, according to research by The Benenden Healthcare Society, a provider of affordable quality healthcare services. The average smoker takes 3.2 cigarette breaks each working day, with each break lasting 9.5 minutes, the research found.

This means that Britain's working population of smokers spend the equivalent of 2.4m hours, or 290,000 working days, on cigarette breaks. The findings may not be that big a surprise to non-smokers, who frequently complain about the time their smoking colleagues are allowed away from their desks.

Jakki Stubbington of Benenden Healthcare said:- "Cigarette breaks are always a bone of contention in any office. Non-smokers feel smokers get away with avoiding work, and this will only confirm their suspicions. Cigarette breaks are a positive thing for non-smokers as they minimise the impact of passive smoking in their working environment, but if smokers are seen to be taking advantage of the breaks they are allowed, they will become deeply unpopular."

Smokers in the North take more cigarette breaks than elsewhere in the country, with only 13% taking no fag breaks per day. In comparison, 29% in the Midlands and 21% in the South take no breaks.

Benenden, which last year celebrated its centenary, offers membership to teachers and education workers, Post Office staff, civil servants, BT and local government authorities' employees, charity workers and their families. Membership costs just £1.10 per week. Additionally, organisations operating in these areas can join Benenden's corporate plan and offer healthcare as a benefit to staff for just £57.20 per person, per year.
Liverpool resident takes political baton
NOMINATED for the Channel 4 Political Awards, this year's MP Shadowing Scheme has continued to nurture the next generation of decision-makers and looks set to produce the UK's first Asian and Afro-Caribbean female Parliamentarians. Only time will tell if this will happen.

The country's only MP Shadowing Scheme enabled 21 individuals from Black and minority ethnic communities, including Liverpool resident Anna Rothery, to shadow high level MPs. For the past six months Rothery has shadowed the Rt. Hon. John Battle MP, and has gained invaluable insights into the roles and responsibilities of an MP.

In her role as a Parliamentary Ambassador, Rothery played a vital role helping to raise awareness amongst Black and minority ethnic communities about our democratic institutions as BME communities on the whole are up to three times as likely to be unregistered as white people.

Since the scheme began in 1999 nine individuals have been selected as Prospective Parliamentary Candidates and six have been elected as local councillors. To celebrate the end of this year's programme a Graduation Ceremony will take place from 4.30pm to 6.00pm on Monday, 19 March 2007, in
the Members Dining Room, Palace of Westminster, London, SW1. Key note speakers for the event will include Rt. Hon. Harriet Harman MP, Dominic Grieve MP and Simon Hughes MP.

Simon Woolley of Operation Black Vote said:- "This scheme has already produced a healthy number of councillors, magistrates and activists in the community. We at OBV are particularly proud because their success is also the communities' success. They are leaders with a conscience, integrity and a desire to serve the wider community. Long may the scheme continue."

Sam Younger, Chair of the Electoral Commission said:- "The importance of the MP Shadowing Scheme is not just that these 21 individuals have had a unique opportunity to gain an insight into the lives of MPs, but that they have been able to take these experiences back to their peers to encourage them to participate in the democratic process. The Electoral Commission is pleased to have been able to support this important initiative."