CALLING ALL MERSEYSIDE BUSINESS HEROES!
PEOPLE who have triumphed against the odds to set up a small business are to be recognised in a unique awards scheme to be launched this week, sponsored by Barclays and backed by the Department of Trade & Industry (DTI). The Barclays Trading Places Awards – now in their 3rd year – aim to recognise men and women from all over the UK who have overcome various barriers and battled against adversity to positively change their lives by setting up in business.

The Awards, supported by youth charity The Prince's Trust, Jobcentre Plus and the DTI, will recognise sole traders and smaller businesses less than 3 years old, who are still on the 1st rungs of the commercial ladder. Entries will be judged on how enterprising individuals have overcome personal challenges and obstacles, such as long-term unemployment, financial hurdles, physical disabilities, discrimination and personal tragedy, to set up on their own.

The Awards are endorsed by a host of celebrity entrepreneurs - including Dame Anita Roddick, Sir Richard Branson, Sir Terence Conran, Simon Woodroffe, Bill Wyman and Martha Lane Fox – who know first-hand the difficulty of going it alone against the odds.

Barclays, which is spearheading the awards aims to champion small companies by providing extensive localized knowledge and award winning services, 80,000 fledgling entrepreneurs got their feet off the ground last year with Barclays help.

Launching the awards, Barclays' Marketing Director for Local Business, John Davis, said:- "Trading Places is a celebration of unsung heroes who, in spite of great personal challenges, have taken steps to establish a sustainable business and in doing so changed the direction of their lives for the better. Barclays Trading Places celebrates the inspiring achievement of these individuals whilst highlighting an increasingly important sector of the business community – the sole traders and small business operations that underpin our economy."

The top prize in 2006 was won by Natalie Hutchison of Simply Hair. Natalie (39) of Bury St Edmunds suffered a violent marriage, which left her bankrupt with no home or self esteem. But she turned her dream into reality by launching her own hair and beauty business which has since grown from 20 to 300 clients.

Last year's runner up was former policeman Gareth Almond (52) of Bulldog Spirit Driving School, who lost his right arm, career and pension in an accident. Instead of giving in, he underwent re-training and now runs a driving school for the disabled.

If you can relate to these stories Barclays and the Awards' partners are now inviting people to share their business start-up experiences – good and bad – as an inspiration to others. Individuals must have been trading for a minimum of 3 months and no more than 3 years, with an annual turnover of less than £1million.

The judging panel to include Big Issue founder and editor-in-chief John Bird will select the top 10 candidates who can show how they have triumphed over adversity to successfully begin a business and change their lives. Other judges on the panel are John Davis, Barclays' Marketing Director for Local Business, Ian King, Business Editor of The Sun, Julie Murray of The Prince's Trust, Eileen Thomson of Jobcentre Plus, Ann Carter-Gray of the DTI, Raj Kakar of Thomson Local Directories and Jane Fletcher of Leonard Cheshire.

As part of their prize the 10 National Finalists will all attend a glittering gala Awards Dinner in London at the Marriott Hotel, Grosvenor Square on October 2nd, where they will each receive £2,000 worth of free business advertising from Thomson Local Directories, plus software worth £450 courtesy of Microsoft. The winner and runner up to be announced on the night will collect £5,000 and £3,000 respectively, courtesy of Barclays.

Nomination forms are available by calling the awards hotline on 020 8673 2020 or visiting www.barclays.co.uk/tradingplaces. Closing date is Friday 111 May 2007.
WANTED BY THE POLICE!
"Gary David Tully"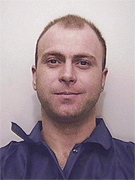 GARY David Tully is wanted by Merseyside Police who have released a photograph of him. He is aged 34 years and failed to attend court following an assault which occurred on 22 October 2006.

Gary Tully and another male entered a property on Canon Road, L6, and seriously assaulted the occupier which left the victim having to be hospitalised.

Anyone who has seen Gary Tully or who has information on his whereabouts is asked to contact Crimestoppers on 0800 555 111.
SAILING HOME AND AWAY!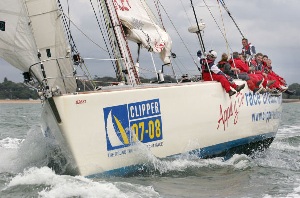 A Liverpudlian man will follow in his brother's footsteps by taking part in the first and last legs of the Clipper 07-08 Round the World Yacht Race.

Ian Tomlinson, 47, didn't know what to expect when his brother, Andy, bought him tickets on the Mersey ferry so that he could watch him set off on Liverpool 08 Clipper at the start of the Clipper 05-06 Round the World Yacht Race. "My brother told me he was taking part in the race but I hadn't thought too much about it. However, once I saw the fleet out on the Mersey at the beginning of the race I was awestruck."

Ian then proceeded to follow and support his brother on the first of his two legs of the Clipper 05-06 Race and by the time the boat had reached Salvador, Brazil he was making enquiries about taking part in the next race. "I realised I couldn't miss out on this once in a lifetime opportunity and so signed myself up for the first and last legs of the Clipper 07-08 Race. I think to sail in and out of my home city of Liverpool will be an amazing experience."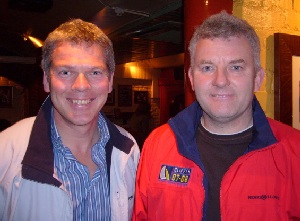 As a company director and having spent years building up a business and committing himself to local community activities, Ian now feels that the time is right to do something just for himself. "Andy has inspired me to do something for myself and I now feel ready for a challenge. This may sound selfish but I believe I deserve it."

Like his brother on the Clipper 05-06 Race, Ian had no previous sailing experience before he signed up for the 07-08 race. Having completed the first of three parts of the comprehensive Clipper Training that is given to all crew competing in the race, Ian isn't frightened of the challenge."I've already experienced heavy weather conditions in my first week of training. I loved the thrill of being out in strong winds and rough seas, I think the hardest bit of the race will be coping with no wind."

There are still places available on the Clipper 07-08 Round the World Yacht Race. For more information and an application form contact Crew Recruitment Manager David Cusworth by email, or telephone the Clipper office on 02392 526000.
Peter Brown Craven Minor League
Match Reports Week Ending March 18

Under 11 Harry Cope Semi Final
Formby JSC 0 Southport Trinity 2
On a somewhat bumpy Smithy Green pitch on a blustery March morning the semi final of the Harry Cope was played out between Formby JSC and Southport Trinity. It was Formby who applied the early pressure unnerving the Trinity defence usually so solid struggled against the wind. At this stage Formby probably should have been ahead but failed to capitalise after creating a number of chances. As the game went on Southport Trinity gradually turned the tide putting the Formby keeper under pressure. Midway through the half Trinity thought they had scored following a fumble by the Formby keeper that allowed Anthony Fewtrell to run through and squeeze the ball between the keeper and post but strangely it was disallowed. Five minutes later Anthony ran onto a pass into the area and was brought down in what seemed an obvious penalty but unfortunately was not given.

The 2nd half saw Southport Trinity take control of the game. Jack Golding terrorised the Formby defence with a number of powerful runs, whilst Andrew Bennett was beginning to control things in midfield. Connor Howard on the right was probably having the game of his life as he battled to deliver a number of dangerous passes whilst always tracking back to help his fullback. Trinity's opening goal was scored by Jack Golding after receiving a pass from Anthony Fewtrell, he side stepped an opponent just outside a crowded box to release a fabulous left footed shot which curled into the top far corner giving the Formby keeper no chance. Trinity probably should have extended their lead later when Anthony and Jack combined again only to see Jack's shot rise over the bar. Another powerful run by Jack Golding beat 2 Formby defenders before he looked up and placed a right footed cross to the feet of Anthony whose shot on the turn was blocked by 2 Formby defenders. Formby were still a threat on the break but some fantastic defending by right back Louis Burch kept the Formby forwards at bay with their main threat coming from their wide players. Jacques Verite in goal made a number of key interceptions and saves when required and was solid throughout.
7 minutes from the end Trinity put the game beyond Formby when yet another tenacious run by Anthony Fewtrell who refused to give up on what seemed a lost cause resulted in the ball falling to the feet of Jack Golding who had the simple task of knocking the ball into the net to score his 53rd goal of the season. Jack immediately went to Anthony to help him up and congratulate him appreciating Anthony's role in the Trinity's 2nd. Well done to both teams for a fantastic game of football.