New York V Knowsley; Dallas Cup Match Report
Report produced by:- Kevin Hodgson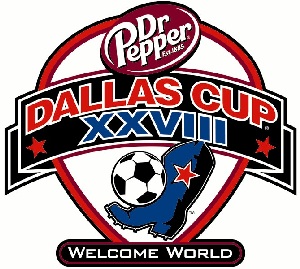 ON a perfect playing surface, Knowsley started the brighter; Knowsley passed the ball around giving Manhattan no time to close them down. On 10 minutes a great move down the right side saw Kyle Hamid cross the ball into the penalty area for Ryan Kehoe to slot home ( good finish) 1-0. However, Manhattan soon found their feet and started to get into the game, causing Knowsley problems when they got in between the Knowsley defence and started to create chances.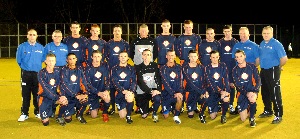 Knowsley however, continued to play on the counter attack, cleverly passing and moving. On 23 minutes good work from Craig Noone down the left side crossing again another great ball into the box this time Georgie Donnelly passing the ball into the net, 2-0.

Manhattan got back into the game and won a free kick on the edge of the box, poor defending from Knowsley, Manhattan delivered a good ball into the box and the Knowsley keeper could not keep hold of the cross leaving the Manhattan striker to score from 5 yards. 2-1 HALF TIME

Knowsley restored their pattern of play and within 5 minutes they scored again, a free kick from the right side in which 6ft defender Mathew Jones converted with a powerful header, 3-1.

Knowsley looked revitalized in the 2nd half and were doing the basics right, defending well, communicating and maintaining possession in midfield. On 55 minutes, substitute Steven Williams pulling the strings in midfield, scored a 25 yard wonder goal to make the score 4-1.

On 70 minutes Andy ford scored another goal calmly passing the ball into the net after some neat Knowsley interplay, 5-1. Credit must be given to Manhattan who despite the score continued to work hard and try to make things difficult for Knowsley.

However, the USA boys were unable to stop Steven Williams, who firmly announced his arrival in the USA with another fantastic strike on 82 minutes to make the score, 6-1.

Finally to wrap up the match in Knowsley's favour, Georgie Donnelly picked up the ball and moved forward un-opposed to drive the ball sweetly into the top right hand corner from 20 yards out, 7-1 FULL TIME.

A satisfactory start to the tour, Knowsley must now concentrate on defending as a team.
Donation to Spinal Unit from Fletchers Solicitors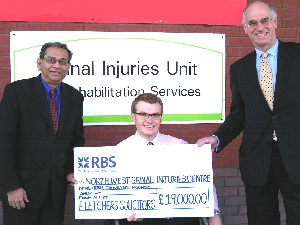 A generous donation from Southport-based law firm Fletchers Solicitors has enabled Southport & Ormskirk Hospital NHS Trust's Regional Spinal Injuries Centre to purchase vital rehabilitation equipment.

Centre director Pradip Sett said:- "We are very grateful to Fletchers for this generous donation which has enabled us to buy much needed equipment to help patients with their rehabilitation."

The equipment bought includes; an Evolv Glider, which allows patients to exercise their legs using upper body strength whilst standing supported in the machine, an Actuator Grandstand, which allows patients to receive therapy in an upright position, four tilting over-bed mirrors for patients who have to lie flat on their back, six Vacuaid suction machines for patients being ventilated, two laptop computers and an Xsensor display unit used to monitor pressure points in real time on patients either in bed or in a wheelchair.

Presenting a cheque for £19,000, Fletchers Solicitors senior partner Rob Fletcher said:- "We are delighted to be able to support the centre in its vital rehabilitation work. The money was raised partly from an auction held at our clients and friends golf day at Hesketh Golf Club where we promised to match the total sum raised."

Fletchers partner Ed Fletcher, himself a paraplegic wheelchair user, added:- "It is great to be able to support people involved in serious injury rehabilitation. My team at Fletchers specialises in spinal cord injury claims and I have seen for myself how important effective rehabilitation is in the cases.

When I was 17 and my best friend Ben broke his neck playing rugby and I saw how much red tape he had to get through to get compensation. Around this time I was thinking about a career and decided to become a solicitor and help people like Ben. Ironically, a few years later I was involved in a freak motorcycle accident which left me paralysed from the waist down."
Audiology, ENT and the Eye Unit are moving from the SGI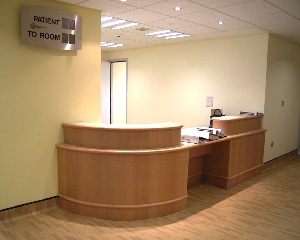 THE Eye Unit, ENT service and Audiology service are moving from Southport General Infirmary. The last clinics took place at Southport General Infirmary on Thursday 29 March 2007. Outpatient clinics will take place either at Southport & Formby District General Hospital or Ormskirk & District General Hospital and you will be offered a choice as applicable. A confirmation letter will be sent to you prior to your next attendance.

Pacients should not the following:-

* Eye and ENT clinics will be held in the refurbished ward 4a at Southport & Formby District General Hospital

* Acute Referral Eye clinics will also be held in ward 4a at Southport

* Current Clinics held at Ormskirk & District General Hospital will be unchanged

* A new Ophthalmic Theatre will be built as part of the Ormskirk & District General Hospital main theatre complex

* Ophthalmic Day Ward will relocate to F ward at Ormskirk

* Children will continue to be seen at Ormskirk eye clinic or at the new eye clinic at Southport & Formby District General Hospital (as applicable).

* Children's eye day surgery will be done on the day ward at the Children's Unit at Ormskirk.

* Audiology clinics will be held in what was the midwifery led unit at Southport & Formby District General Hospital

* The audiology open access clinics will be held on Monday, Tuesday, Thursday and Friday 9.00 - 11.30 and 1.00 - 4.00


All outpatient clinics will start again on Wednesday 4 April 2007 at their new location. Ophthalmology day surgery will start on Thursday 5 April 2007.


Acute referral clinics will be held at the eye clinic at Ormskirk during this period of relocation.

The refurbishment work is nearing completion in all the new clinic areas at Southport and on F ward at Ormskirk.
BROUGHS BUTCHERS CROWNED MERSEYSIDE PRODUCER OF THE YEAR AT THE NW FINE FOOD AWARDS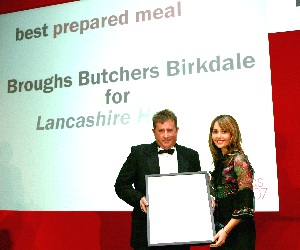 BIRKDALE and Formby Broughs Butchers are celebrating after scooping a prestigious award at NW Fine Food Awards at the Lowry Hotel in Manchester for their Lancashire Hotpot Ready Meal.

Having won the Best Prepared Meal sub category, Broughs Butchers went on to win the coveted award of NW Fine Food Greater Merseyside Producer of the Year 2007 at the VIP gala dinner at the Lowry Hotel in Manchester where a panel of judges determined the overall category winners, NW Fine Food Producer of the Year 2007 and NW Fine Food Best New Product 2007. There were also winners for the best producers in each county (Lancashire, Cheshire, Cumbria and Greater Manchester).

This year's NW Fine Food Awards saw a record high number of entries with more than 500 submissions, which were judged by a panel of over 40 famous foodie faces. Judges included North West top chefs Nigel Howarth and Paul Askew; national and regional food critics; national supermarket buyers and food writers.

The category for Best Prepared Meal included soups, sauces, terrines, patés, potted meats, ready to eat meals, pies, savoury pastries and vegetarian products. To qualify the product must be produced in the North West using regional produce wherever possible, and must not contain hydrogenated fats, artificial colourings or flavourings.

With a huge number of high quality entries in a wide ranging category it was difficult to choose a winner, but the judges eventually decided on Broughs of Birkdale's Lancashire Hot Pot. This was some achievement when so many good pies from the region had been entered. They were impressed by the hotpot's sweetish, spicy after taste and the quality of the ingredients.

But what made it the overall winner is best summed up by the judges comments:- "Attractive thoughtful meal. Tastes and looks as though there has been a lot of tender loving care in its preparation. The Birkdale establishment thoroughly deserve this award because they use traditional values in the preparation of their meals and meat. If you get time you should visit the shop as it's an excellent example of the 'traditional' butchers featuring an original 'pay office' and the Victorian tiled walls."

Sue Nelson, Chief Executive of NW Fine Food, said:- "The North West Fine Food Awards celebrate the very best foods produced in the North West and recognise just how fantastic locally produced food and drink really is. Seeing this incredible array of regional produce, we really hope that people are inspired to get out and about to try the wonderful food and drink that is being produced on their doorstep."

Now in their 6th year, the NW Fine Food Award is the only scheme that covers the whole of the North West.