Computer Game & Program Reviews 2007
WELCOME to our first computer game and program report for some time. Over the next few weeks we will review a few computer programs and games. This time though you can purchase and test the games for your self.
| | |
| --- | --- |
| | Computer Product Test:- "Picture This Text" |
| | |
| --- | --- |
| Product name:- | Picture This Text |
| Platform:- | |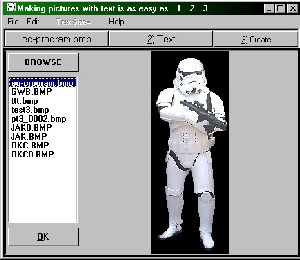 THIS week we look at a fun program we have just been sent to try out. This weeks program turns text or we should say photos into text.
The program makers Metaware Productions have made this fun program that really sends you back in time, until the age when your home PC if you had one had a Dot Matrix printer and printing picture, well...
So we had a quick go and you can see the results achieved using the program:-
| | |
| --- | --- |
| Original | Result |
| | |
| | |
| | |
The best result achived by us was with the clock face of the Liverbuilding. As you can see above. Also click here to see large image of the result above.
It is a simple program that is fun and very quick to use. As it works on Windows the program uses BMP photos to make the new images and out puts in txt format. just remember when you open the txt to have the format set as you picked in the program to get the same result. We found word
We had to ask why does this program exist? "Good question. For those of you who do not remember what computers were like in the 1980's and 90's, I'll give you a little history. Back in those days sending pictures with your email was out of the question. Computers couldn't handle the large picture files. To compensate, especially in the computer science classes, it was almost an unspoken competition to see who could come up with the most creative graphics made from keyboard characters alone. So, not to be outdone, the chess player competitiveness came out in me and I decided it would be nice if we could actually recreate an image as close as possible just from the alphabet on a standard keyboard using some computer algorithms. The program you we made is an advanced version of that original effort. It is just a fun program that will create artistic and entertaining images." Don Kreuzberg, owner of Metaware Productions.
| | |
| --- | --- |
| | |
DOWN LOAD WORKING DEMO.

You can purchases the program via the demo. Go into help to register it and get the full program. DOWNLOAD

READ THIS FIRST

This demo download we have for this program does have a Windows warning that pops up from time to time over the installation process, but it does run fine. We have tried it sever times on our systems and found it to be just a Windows glitch. (Please read disclaimer at the end of our advertorial)
Standard Disclaimer... COPYRIGHT:- The program copyright remains with Metaware Productions. DEMO DOWNLOAD DISCLAIMER:- Every attempt to keep this program virus and bug free has been made, but PCBT Photography - Southport Reporter will not accept any responsibility for damaged or loss of data incurred from the use or down load of this program. Download at your own risk. ...This is an Advert...
Woolton County Primary School & Gateacre Community Comprehensive School Reunion
Report by Dionne
ARE you a former pupil or teacher of Woolton County Primary School? 1980 to 1987, or Gateacre Community Comprehensive School between 1987 to 1992 if so we would like to invite you to a reunion at Lee Valley Millennium Centre on Saturday 19 May 2007 at 3pm to 5pm being family fun 5pm onwards light entertainment. This event is in memory of Carolyn Sandland who tragically died of (SUDEP) Sudden Unexpected death in Epilepsy. Below is some brief information and facts about (SUDEP). 2 women will also be walking the Leeds to Liverpool Canal, the walk will start on 17 May 2007 and end on 19 May 2007 at the Eldonian Village Hall, all the money raised from both events will go to Epilepsy Bereaved.
WHAT IS EPILEPSY
Epilepsy, meaning a tendency to have recurrent seizures, is the most common serious neurological condition. There are between 1 in 140 and 1 in 200 people in the UK that are being treated for epilepsy. Sudden Unexpected Death in Epilepsy (SUDEP) is a syndrome where a person with epilepsy dies suddenly, with no other cause of death revealed, effects mostly young adults. Death of any nature causes sadness, but SUDEP is more tragic and harrowing because of its suddenness, often to people who are in the prime of there life or have not yet begun there life.

Two out of every five people with epilepsy are continuing to have seizures, which could be given the opportunity to be seizure-free. Historical neglect and lack of investment in epilepsy services means many people with epilepsy are deprived of this choice. There are 3 seizure-related deaths a day in the UK. Epilepsy can develop at any age and 1 in 50 people will develop epilepsy during there life time, even celebrities such as Elton John, Rik Mayall, Danny Glover, Neil Young and most recently diagnosed Romeo Beckham.

For more information and support, or if you would like to make a donation contact Epilepsy Bereaved www.sudep.org. National Epilepsy Week 20 May 2007 to 26 May 2007.
Drugs Stolen – Cowley Hill, St Helens


MERSEYSIDE Police have issued a warning after a large quantity of drugs were stolen from a Chemist in St Helens.

At approximately 4.15 am on Monday, 26 March 2007, the chemist on Cowley Hill Lane, Cowley Hill was broken into and a quantity of drugs was taken. The drugs are dangerous if taken without medical supervision and are described as follows:-

30 boxes of 2mg diazepam – 28 tables in each pack (white or yellow tablets)

30-40 boxes of 5mg diazepam – 28 tables in each pack (white or yellow tablets)

40 boxes of 10mg diazepam – 28 tables in each pack (white or yellow in colour)

12 boxes each containing 28 x 5mg tablets of Nitrazpam (large white tablets)

30 boxes of Dihydrocodeine – each box contains a blister pack of small white tablets (30 tablets in each box)

Police are warning that should anyone come across the tablets, to call police or return them to a police station.
| | |
| --- | --- |
| Crimestoppers is an independent UK wide charity. Calls to Crimestoppers are free and the phone call will not appear on your telephone bill. | |
Theft from Bargain Booze, Rainhill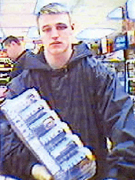 MERSEYSIDE Police in St. Helens have issued a CCTV image of a man they would like to speak to regarding a theft from Bargain Booze, Warrington Road, Rainhill at 8.50 pm on Wednesday, 21 February 2007.
A 24 case of lager was stolen.

If you have information regarding the theft, contact the CCTV Unit at St Helens Police Station on 0151 777 6087.
You cal also contact Crimestoppers, anonymously, on 0800 555 111, quoting Reference Number 9905.