Letter to the Editor:- "Dog Control Orders"
"THE Dogs Trust is becoming increasingly concerned with the rise of 'Dog Control Orders' being brought in by a number of local authorities and would like to urge all dog owners to be aware that there may be significant changes to where their dogs may be exercised.

Under the Clean Neighbourhoods and Environment Act 2005, Dog Control Orders can be made in relation to 5 dog control issues including; dog fouling, dog ban areas, dogs on leads and multiple dog walking restrictions. All of which would mean that if a person fails to uphold any of the above in a designated area it would be classed as illegal and punishable by a fixed penalty or prosecution.

While Dogs Trust strongly supports the concept of responsible dog ownership and undertakes significant effort to encourage dog owners to be responsible, we are concerned that many responsible dog owners are going to be penalised and suffer for the sins of the irresponsible minority.

A consultation period will take place before any order is introduced and will be advertised in the local newspaper. If your readers feel it is too restrictive then we would advise them to voice their concerns to the local authority and also Dogs Trust, so that we can also address the relevant local authorities." Yours sincerely, Anna Robinson, Head of Communications, Dogs Trust.
Fake ID Cards...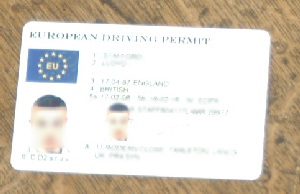 Above is a fake ID confiscated by a local club.
PUBS and night clubs across the Merseyside area have been reporting to us a rise in fake ID cards being carried by underage drinkers. One pub showed us a realistic looking photo driver's licence. It is only when you look extremely closely that some of the text looks wrong.

"In low light these ID cards look authentic. It is shocking that the driver's licence can be copied, complete with the marked laminate found on real ID cards. What gave this one away was the lad's appearance, which was backed up by the way he spoke. How can we stop underage drinking when these types of ID are ready available?"

One local club asked us. Another said:- "We get underage drinkers trying to use fake ID all the time. Sadly they are getting the ID cards and it worries me that they look so genuine, especially the photo divers ID cards. What will the new ID cards the government are bringing in be like, if the drivers licence ones can so easily be copied?"

Let us know what you think about this topic and how we can tackle this problem as a region and email us your views today at:- news24@southportreporter.com and let us know what you think about this topic and how we can tackle this problem as a region.
RISE OF THE HALF MILLION POUND MORTGAGE
AFFLUENT homeowners who take advantage of lenders' very high income multiple offers must take a long hard look into the future to avoid risking it all, advises broker My Mortgage Direct.

"A young professional couple earning a joint income of £100,000 could certainly borrow enough; 500k is not unusual these days, to buy a very desirable property, but should their income drop for any reason things could fall apart very quickly," said Hearnden.

"Some couples starting a family may take a career break or have to fund child care which could take a large slice of income. The relentless rise of property values has led to lenders upping the amount they are prepared to offer to well-off borrowers who can prove they can manage the repayments," said My Mortgage Direct joint director Cath Hearnden. "But people's lives change and they need to fully appreciate the level of financial risk these deals carry."

As average borrowing for new homeowners reaches a record level of 3.31 times annual income, according to the Council of Mortgage Lenders, lenders face increasing levels of criticism for allowing borrowers to overstretch themselves. In some cases lenders are prepared to advance up to 6 times annual income.

Northern Rock will lend up to 5.9 times joint income and Abbey, the UK's 2nd largest lender, is currently offering a 5 times income deal. Both Halifax and Nationwide have mortgage packages for 4.5 times and 4.25 income respectively.
Lenders have guidelines in place for high income multiple mortgage applicants who are tested for affordability, credit score, borrowing behaviour and even their parents' incomes. But whilst these checks ensure that applicants meet the lender's repayment criteria, they may not take into account the possibility of changes of personal circumstances in the future which make a 6 times salary mortgage unmanageable.

"Lenders' checks have become far more sophisticated and thorough but as not all systems are the same it is important to seek the objective overview of an independent broker." added Hearnden.

Abbey offers up to 5 times single or joint income to borrowers who can pay a deposit of 25% or more, or who have a household income of at least £60,000. Another big-money deal comes from Darlington Building Society which is offering a 6 times income fixed rate loan to professional and older borrowers only.

"These deals can be very useful for certain people, but not for all. Just because someone will lend you the money, it doesn't mean that it's right for you." said Hearnden.

My Mortgage Direct urges borrowers to take all eventualities into account when contemplating a high income multiple mortgage and advises them to seek the help of a professional adviser before committing to a deal that could lead to financial meltdown.

"We take a very measured approach and are pragmatic as to the income multiples available. As brokers wanting to secure the best and most competitive deal for our clients, we talk to a wide spectrum of lenders. Very high income multiple deals are useful vehicles for certain borrowers but for others they can lead down a financial cul-de-sac. The right advice can help better off borrowers to use their wealth wisely." said Hearnden.