KEEP KIDS SAFE, SAY MERSEYSIDE CONSTRUCTION BOSSES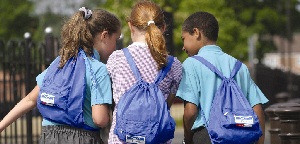 IN THE run–up to the Easter holidays, 2 local construction firms are joining forces to ask parents and teachers to help highlight the dangers of children playing on or near construction sites. As part of their ongoing safety awareness campaigns, Bluestone and Lovell – which are both members of top 10 construction group Morgan Sindall plc – want the construction industry and parents to work together to alert youngsters to the dangers posed by construction sites.

According to Health and Safety Executive figures, more than 70 children suffered accidents on construction sites nationally between 2004 and 2006.

"With the holidays approaching and the days getting longer, we're keen to reinforce the message that while children may be attracted to construction sites as offering exciting places to play, we have to get the message across to youngsters that building sites are dangerous places not playgrounds," says Barry Roberts, Bluestone's area director for Merseyside, which has local offices in Highfield Street, Liverpool.

Paul Hulme, regional director for Lovell, which has its regional offices in John Street, Wirral, Merseyside, adds:- "It's vital that we get this important message across. We'd like everyone – teachers, parents and other construction companies – to join with us to keep children safe not just for Easter but at all times."

Both Lovell and Bluestone organise regular safety awareness sessions in schools as part of their commitment to promoting health and safety in the communities where they work.
LOCAL BUSINESSMAN SCOOPS 2 AWARDS FOR POOCH PAMPERING
LOCAL Southport businessman Mike Ball has been presented with 2 special awards following a fantastic year of pampering local pooches with his mobile dog cleaning business.

Mike, previously a Police officer and Security Fire officer, took on the Pooch Mobile dog cleaning franchise in 2003. He was presented with the awards for UK Community Award and also the 'Top UK Franchisee' at the UK National Conference for the Pooch Mobile this month. Mike scooped the community award after raising more than £2400 in the last 12 months for local charities through sponsored bath-athons and other activity across his patch using his mobile dog washing trailer.

The 'Top Franchisee' accolade was made in recognition of both his charity work and also the growth and professionalism of his business. In the last 12 months not only did Mike beat the Pooch Mobile world record for the amount of dogs washed by a franchisee in one week, but he also donated half the earnings from his record week to charity.

Originally from Australia, the Pooch Mobile has been operating in the UK for 5 years, and now has 19 franchisees spread across the country. The complete service consists of brushing the dog, cutting nails, hydrobathing in environmentally friendly products using warm water, cleaning the ears and eyes, blow drying, and deodorising. And clean pooches always get a free treat!
This complete package is all carried out in the trailer at the customer's home, meaning no soggy towels, wet paw prints or wet dog shaking around the house.

Mike, who operates the Pooch Mobile service in the Southport area comments:- "I've always been keen on dogs and I make sure I keep our German Shepherd and Labrador clean and odour free at all times with a quick hop in the Pooch Mobile! This is a fabulous business to be in and I'm delighted to win this award. I meet fabulous people and gorgeous pets every day of the week, making my work a real pleasure. "