Ship & Anchor Rock & Pop Nights!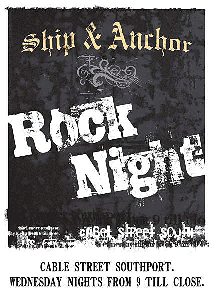 THE Ship and Anchor, Cable St. Southport are running rock nights on every Wednesdays night. Rock on with us and party into the night! If Rock is to hard for you we also have Saturday night Pop, so you can dance all the latest hits... From 8 till close. Every other week there is a live band followed by music!
DIGITAL UK APPOINTS NEW REGIONAL MANAGER FOR GRANADA SWITCHOVER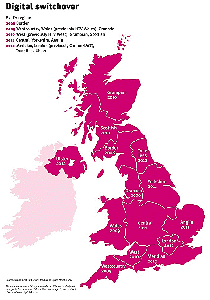 DIGITAL UK, the independent body leading digital TV switchover in the UK, has appointed Jo Waters as regional manager to oversee the Granada region.

Jo will engage with private and public bodies throughout the region to help prepare its 3.2 million households for switchover. Recent data has shown that although awareness of switchover is high across the region, many people are still unsure about how to prepare and the 2009 date for switchover in the region

Jo said:- "Granada is one of the first and largest regions to be tasked with switchover. My main task will be to ensure the whole community is aware of what this means and to make sure the region is ready when we go live in 2009."

Jo recently project managed the Noise Festival and art06 in the north-west for Arts Council England. Prior to these roles, Jo spent five years in press and public affairs at the BBC in Manchester and six years as regional PR manager for the British Red Cross.

Granada region's switchover is starting in 2008 and ending in 2012, TV services in the UK will go completely digital, region by region. The UK's old analogue television signal is being switched off and replaced with a digital signal. This will create a fairer situation in which everyone has access to a choice of affordable digital services. Switchover will also allow the UK to remain a world leader in broadcasting.

Eight in ten UK adults are now aware of digital TV switchover, according to research from Digital UK and Ofcom.

In the Granada region:-

Awareness:- 87%

Understanding of what to do:- 57%

Date awareness:- 19%
Visit digitaltelevision.gov.uk for more information about going digital.
Newhall pool makes a splash!
A LIVERPOOL swimming pool is making waves with the local community following major refurbishment.

Newhall Swimming Pool in Fazakerley, which attracts almost 1500 swimmers per week, has re-opened following four months of improvement work.

Almost £175,000 has been spent transforming the reception area, improving the existing changing rooms, creating a disabled changing/shower room and toilet and sprucing up the pool.

Council leader Warren Bradley said:- "A lot of money has been invested in refurbishing the Newhall pool, the old run down facility has been given a new lease of life.

I would encourage everyone around the area to take advantage of this improved pool.

We are committed to providing top quality leisure facilities for people right across the city and our network of lifestyle's leisure facilities are attracting record numbers of visitors."

The centre boasts an 18 metre pool, has a well established programme of 'learn to swim' courses for adults and children, aquafit sessions, general public swimming, 50+ clubs and GP referral sessions.

Young people under the age of 17 can use the pool and any of Liverpool's Lifestyles centres for free as part of the city council's pioneering leisure passes scheme.
Letters To The Editor:- "Lost Aircraft from WW2"
"I am doing some research for a friend of mine who is a RAF archaeologist.

He is looking into the events surrounding an incident that took place off Walney Island in Feb / March 1943, between a RAF Lysander and an unknown ship.

The ship was waiting to go into Fleetwood, but the weather so bad that the ships were waiting for the low cloud to lift.

Even the birds were not flying that day.

So any information on ship strikes around that day he would be grateful for.

As would any information on weather reports by any of the ships on that day.

My friend was flying a "Defiant" behind the pilot who was in the "Lysander" so he can vouch for the weather, but he wants independent testimony or proof of the weather on that day, which he now believes to be the 11 February 1943.

Two airmen died in the collision and their names are known, this research is to exonerate the pilots and gain more information on the incident and make a full report of the events / weather surrounding the accident.

Any information of any kind would be very important to the research and be gratefully received.

Your readers can contact me on 01772729329 or by email ." Thanks, Colin Spibys.
Letters To The Editor:- "Missionary doctors"
"DRS. Caleb and Louise King have been working as missionary doctors at Shyira hospital in Rwanda for the past four years. They will be in Formby over the Easter weekend, when they are on their way home to the United States for a holiday.

Caleb and Louise will be giving a talk on their experiences in Rwanda on Saturday evening, 7 April. They have some interesting stories to tell.

St. Luke's has been linked with the parish of Shyira for the past five years. We have given support to the parish, schools and hospital, and through our members visiting Shyira we have been privileged to see the huge difference the King family has made to the people of Shyira. They have brought hope to a community that had none." Allan Hobson, Reader, St. Luke's Church.