AIRPORT ISSUES WARNING TO EASTER TRAVELLERS
MANCHESTER Airport has issued a stark warning to the hundreds of thousands of passengers set to fly away for Easter, come prepared for security, or come prepared to queue.

The Airport is expecting more than 600,000 people to jet off in the next ten days for the big Easter getaway but has warned that passengers are still not clued-up on the current security restrictions and that unless they prepare, they will be faced with queues at security.

385,000 passengers are set to travel out between Friday 30 March and Thursday 5 April and an additional 225,000 are due to get away over the Bank Holiday weekend.

The Airport has geared up for the Easter rush including new x-ray screening lanes, extra security staff and management volunteers to advise people on the restrictions as they prepare for security screening. Customer Service Advisors will also be handing out plastic bags to passengers for their liquids of less than 100mls, but the advice is "Check the restrictions before you check in.".

"We want all our passengers to have a hassle-free start to their Easter holiday.
Passengers who have checked the hand luggage restrictions arrive at the terminal well prepared and have a far smoother experience as they go through security.
We would urge everyone who is planning to travel, even if they think they understand the restrictions, to double check before they leave home.
It is going to be busy this weekend and the last thing we want is passengers held up by unnecessary queues. People really should come prepared for security or come prepared to queue." says Manchester Airport's Director of Customer Services and Security Mike Fazackerley.

Security restrictions brought in last November limit the amount of liquid passengers can take through security in their hand luggage. Passengers are only allowed to take 100mls or less of liquids, pastes and gels in containers through security and these have to be declared separately from hand luggage in a one-litre capacity, re-sealable plastic bag. Passengers also have to remove all their outer clothing for screening.

Despite repeated reminders, security staff at Manchester Airport say they are still having to confiscate thousands of litres of liquids.
Home-grown talent exhibited at Albert Dock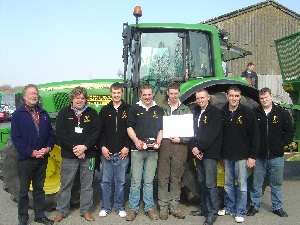 MYERSCOUGH College Land-based Mechanisation students have won a national award in the Institute of Agriculture Engineers Young Engineer competition.

The 2nd year Foundation Degree in Land-based Machinery Management and Logistics students were recently named the Institute of Agriculture Engineers Young Engineers of the Year. Twenty teams from UK land-based Colleges took part in the competition at New Holland Tractors in Essex. This was the fourth year the competition has been running, and it was the first time a Myerscough team had taken part. The teams had to complete a problem solving task by creating a remote or radio controlled vehicle given a set of standard wheels, a battery and maximum dimensions which would produce the best performance on a standard test track. The students won £950 as well as significant prizes from IAGRE and Bosch Power Tools.

The winning team are Dan Higham, aged 22 from Preston, Oliver Skoczen aged 20, from Blackburn, Alan Bland, aged 19, from Kendal, James Garnett, aged 20, from Blackburn, Matt Lumb, aged 20, from Keighley, Yorkshire and Richard Freeman, aged 20 from Wrea Green, near Blackpool.

The student's tutor, Laurie Boyle, a Lecturer in Motorsports and Mechanisation at Myerscough College said of their win:- "The students were up against some of the best young engineers in the country and have come out as leaders in their field. They worked really hard in preparation for the competition and applied what they have learnt on their course, and this award is a credit to them and the teaching at Myerscough."

The students prepared for the competition in their own time whilst organising the recent Bio Energy Conference at the College for their project work. The conference was held in association with the National Non-Food Crops Centre (NNFCC) and the Institute of Logistics and Transport and received great support from the industry. The focus of the conference was the growing, making and end use of biofuels in mainstream automotive, distribution, motorsport and agriculture. This was the first conference of its kind held at the College and it was well attended by students and industry. Myerscough College has also been awarded EEMS (Energy Efficient Motorsport) partnership, which demonstrates the College's commitment to the development of energy efficient technologies.