SMALL BUSINESS GIVEN A ROUGH DEAL IN BUDGET
A GROWING chorus of discontent is rising over the Chancellor's treatment of small business in this year's budget, which saw an announcement that Corporation Tax for the sector is to rise by 16% over the next 3 years. A local MP has made 2 powerful speeches condemning the Labour Government for increasing the burden on small businesses, a matter, which was also raised by David Cameron, the leader of the Conservative Party, in Prime Minister Questions. Brian Binley, MP for Northampton South and the Chairman of the Conservative Campaign for Enterprise, spoke about the tax hike in the House in the budget debate, but was also successful in securing a debate on 'Small Business and the Economy', during which he questioned the Government Minister Margaret Hodge.

Mr Binley said:- "I wanted to put the case for small business simply and straightforwardly, in the hope that I can create some understanding of that important issue among Government Front Benchers, because I fear that they do not have a great understanding of that area of economic activity. I wished to articulate the concerns of the many people in my constituency who have built up businesses that started off very small and who have expressed great concern about the Budget that the Chancellor delivered. One might have thought that he would see small business creators as his heroes - the people whom he needs to nurture, reward and support - yet he adds to their problems. Although I recognise that the chances of changing the Chancellor's mind this year are not very great, I hope that the Government will rethink their attitude to the issue, not least because they burden even further an area of economic activity on which they, their children and their grandchildren will rely in the years to come. In that context, their actions are extremely short-sighted."

Mr Binley is one of a number of complainants that Corporation Tax has been increased from 19% to 22% for small businesses. Nick Golding, Chief Executive Officer of the Forum of Private Business said:- "The Chancellor has used smoke and mirrors to disguise the fact that there is nothing in this budget to support small business."

The Federation of Small Businesses said:- "After some welcome initiatives for our members he throws it all away with a tax hike aimed at small businesses".

The British Chambers of Commerce said of the Chancellor:- "He has increased the amount of tax that those covered by the Small Companies Rate will have to pay by over £800 million. This is a substantial rise and will hit those looking to grow their businesses...many of our members will feel let down by the budget."
YOUTUBE CAPTURES THE SPIRIT OF EDGE HILL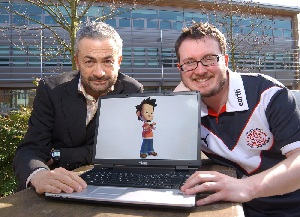 TRAINEE maths teacher Joe Cornmell, 26 from Bootle, demonstrated his film making skills and was judged to be the best entrant in a competition for students to capture the spirit of Edge Hill University.

Joe submitted his 30 second video clip to enter the Jez Factor - named after the animated character that appears in the University's TV advertising campaign. The competition was aimed at students with a brief to encapsulate the personality of Edge Hill University on video with clips broadcast on social networking site YouTube.

Joe impressed the judges and picked up first prize - a laptop computer. His humorous video also makes a serious point about the University's student finance support package, which offers a £200 Unicard to all students to spend on books, and study materials. Joe is also writing a regular blog (weblog) about his time as an undergraduate on a special site for applicants at http://hi.edgehill.ac.uk/blogs/joe.

Director of marketing Roy Bayfield presented Joe with his prize:- "With so many more applicants this year we are trying new ways to communicate with young people. Videos on YouTube and blogs such as the one that Joe writes help prospective students get a sense of the atmosphere and insight into the community spirit of Edge Hill before they come here."
Letters To Editor:- "Starwars at Spaceport"
"THE Knights of the Empire would like to thank all who came to the event. It is was a brilliant report and photographs your paper ran and I would like to take this opportunity to thank you. The event was a resounding success and we cant wait to get back." M Byrne.