Hospital shop has its finger on the pulse and is the toast of the restaurant
THE pre-operative team and restaurant staff would like to express their thanks to Audrey and Ron Stuart, who run the hospital shop at Ormskirk & District General Hospital. Audrey and Ron donate all the profit from the shop to various departments around the hospital and on this occasion they gave £630 to the pre-operative team and £875 to the restaurant.

The pre-operative team used the money to buy a much needed pulse oximeter, which may be used in a variety of situations, but is of particular value for monitoring oxygenation and pulse rates, and a wall mounted height-measuring rod to enable accurate recording of a patient's height.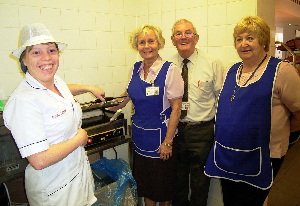 Phil Lawrence, head of the pre-operative team, commented:- "This is the second time the pre-op team have benefited from the shops generosity. We are very grateful to all who use the shop, as it is there money that ultimately finds its way to help patient care. Eighteen months ago, the shop funded a total refit of the pre-operative assessment clinic suite."

The money donated to the restaurant was used to buy a six-slice toaster, a microwave oven and a panini machine. Claire Strong, Restaurant Team Leader, said:- "This very generous donation has allowed us to offer a greater menu for staff and visitors who use the restaurant. The toasted paninis are already proving to be very popular. So thanks to Audrey and Ron on behalf of all our customers."
STRANDED PATIENTS BEING EXPLOITED BY RIP-OFF HOSPITAL PHONE CHARGES
ON Wednesday 4 April 2007 news that private contractor Patientline has increased hospital telephone call charges from 10p to 26p per minute has provoked a sharp rebuke from UNISON.

UNISON North West Head of Health Stephanie Thomas said:- "To rip off and exploit patients in this way is absolutely diabolical. Being in hospital is often the most distressing and upsetting time in a patient¹s life.

Due to money worries about paying for these increasingly extortionate phone bills, many poorer patients will be left even more stranded and out of contact from family and friends. We feel Ofcom should investigate this terrible exploitation urgently."
Knowsley's second Dallas Cup Group game against SCU Barcelona
Report by Kevin Hodgson
AFTER a fantastic win yesterday, Knowsley started the brighter and their constant communication of wanting the Ball was evident. Knowsley were certainly looking most likely to score and on 8 minutes the dead lock was broken Craig Noone crossing for Georgie Donnelly to head home, 1-0. Immediately after the first goal Knowsley scored Another from a corner , the corner was a routine the team had worked on for 9 months it was a joy to see the Ball fly into the top corner from 25 yards from Ste o Hara, 2-0. On 25 minutes Barcelona got on the score Sheet, a hopeful punt forward by the Barcelona defence caused the Knowsley defence problems, poor decision. Making caused Knowsley to concede a penalty, Barcelona stepped up and the penalty was saved by goalkeeper Craig Dunne, Barcelona were told to retake the penalty in which they converted. (Something suggested that the officials were against Knowsley) 2-1 half time. After some home truths about the teams attitude and application Knowsley returned after the break to attempt To put the game to bed, with too many chances to list it was clear to see that Barcelona were not giving up the Game without a fight. On 55 minutes Craig Noone picked the ball up in his own half and made a 50 yard run, Dribbling in and out of defenders then passing the ball to Andy Ford who scored 3-1, with the adrenalin pumping Craig Noone ran to Andy Ford jumping in delight pulling his shirt over his head , causing the referee to give him His second yellow card, Knowsley were down to 10 men. As the clock ticked down, Knowsley were getting tired and conceded another goal, 3-2. Knowsley were left to Defend a 3-2 lead with ten men, it was not to be Knowsley s day with chance after chance going begging, it was Barcelona who scored on 93 minutes in stoppage time, 3-3. The achievements of a team are the results of the Combined effort of each individual for 93 minutes not 90 minutes. Knowsley are top of the group with four Points, the game on Wednesday is a must win to see the Knowsley team qualify.
HISTORIC RE-OPENING ENLIGHTENS LIVERPOOL
THE grand re-opening of one of Europe's finest civic buildings will be marked by the UK's largest, outdoor sound and light show this year.

Liverpool will celebrate the £23m restoration of its neo-classical masterpiece - St George's Hall – by hosting twice-nightly Son et Lumiere displays recounting the city's past 800 years.

Devised by the Liverpool Culture Company and Ross Ashton, who lit up Buckingham Palace for the Queen's Jubilee and 80th birthday, the 30 minute showcase will project on to the rear of the Grade I-listed building.
Audiences can see it from a special 500-seater, tiered grandstand in St John's Gardens.

Tickets for the unique audio-visual spectacle, which runs from 23 April 2007 to 29 April 2007 now on sale.

After a massive, five-year makeover to a leaking roof, crumbling walls and rotten fittings as well as the installation of several new features, the re-opening on St George's Day – 23 April 2007 – is one of the highlights of Liverpool's 800th birthday celebrations. It will be marked by a series of other spectacular events, including:-

* The rarely seen, 30,000-piece hand-crafted Minton tiled floor in the Great Hall will be on display for the first time this century. Last unveiled in 1997, it will be on show from 10am to 8.30pm every day until Sunday, 28 April 2007.

* A series of concerts by Liverpool musicians, such as the 2006 BBC Young Musician and Composer of the Year Mark Simpson, in St George's Concert Room.

* A new work of art interpreting the city's coat of arms by the acclaimed Singh Twins.

* A new sculpture of St George slaying the dragon with a Liver Bird rising as a phoenix.

First opened in 1854, St George's Hall was the result of two design competitions for a civic and court venue, both won by architect Harvey Lonsdale Elmes for his 'Acropolis-like' vision. Queen Victoria described it as 'worthy of ancient Athens'. Fitted with the world's first modern-air conditioning system and largest piped organ at the time, it hosted famous cultural events such as Charles Dickens' world premiere reading of The Christmas Carol.

The courts closed in 1984 and only the Great Hall has been in use since. The building, however, has become a symbol for the city, as a focal point for everything from remembrance services to football cup parades and rallies to vigils, most notably the death of John Lennon in 1980.

From April 23 the building, which lies at the heart of Liverpool's Cultural Quarter and World Heritage site, will feature:-

* New Heritage Centre with innovative public tours called Truth and Justice; Power and Glory.

* New street level access at South Entrance from St John's Lane.

* Upgraded courts, Judge's robing room and prison cells - on show for the first time.

* New community exhibition centre – available for hire to societies and groups.

* St George's Concert Room restored to original finishes and new 450-seat capacity.

The Heritage Centre tours will be self-guided, powered by hand-held digital devices, and tell the story of the building, its role as a cultural venue and as a Crown Court; having held famous trials such as the Cameo murder case, 'the man the from the Pru' and Florence Maybrick, wife of chief Jack the Ripper suspect James Maybrick.

Councillor Warren Bradley, Leader of Liverpool City Council, said:- "The restoration of St George's Hall has provided Liverpool with its greatest 800th birthday present. It has been our sleeping giant – and its potential is finally being fulfilled. It now looks as good as the day it first opened and this new lease of life is a potent symbol of Liverpool's renaissance. The re-opening signals an exciting new chapter in the building and city's history."

Councillor Joe Anderson, Leader of the Opposition, said:- "Working in education, one of the great memories I have of St George's Hall is the look of awe on the kids' faces when they went inside. I'm delighted it is going to be more accessible – and with our 800th birthday and 2008 on the horizon the timing could not be better. The visitor and exhibition centre will make it a building for the people – and I've no doubt they too will be in awe when they see how much beauty and history can be in one place."

Graham Boxer, Head of Heritage at the Liverpool Culture Company, said:- "Liverpool is very lucky to have a stunning concert venue, heritage centre and community exhibition centre all rolled into one magnificent building. St George's Hall is a show-stopper, worthy of a Capital of Culture, and its re-opening deserves nothing less than a week of stunning celebrations. Events like the Son et Lumiere displays give new life to this unique visitor attraction."

Liverpool celebrates the 800th anniversary of the granting of its first royal charter by King John on Tuesday, 28 August 2007.