LAST CHANCE TO GET A PLACE IN THE GREAT MANCHESTER RUN
THE disability charity Leonard Cheshire has a limited number of places available for the BUPA Great Manchester Run. This is a last opportunity for runners to sign up and secure their place at the start line on Sunday 20 May 2007.

The race is taking place in Manchester with 27,000 runners lining up to take on the challenge. Actor Malcolm Hebden, who plays Norris Cole in Coronation Street, is urging people to support Leonard Cheshire. He says:- "I have seen for myself some of Leonard Cheshire's work with local disabled people and I think it's marvellous. You can help the work continue by taking part in the Great Manchester Run."

Chris Bryan from Leonard Cheshire says:- "The deadline for final entries is fast approaching. We urge anyone interested in taking part to contact us as soon as possible on 01925 414 115 or email chris.bryan@lc-uk.org."

To run for Leonard Cheshire, a registration fee of £36 is required and runners are asked to aim to raise £200 in sponsorship.
HMS MERSEY LOOKS FORWARD TO VISITING HER HOMETOWN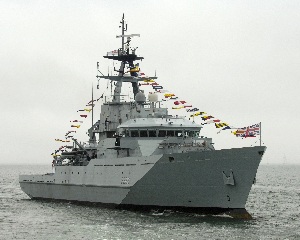 THE Royal Navy flies its flag in the North West on Tuesday 10 April 2007 when HMS Mersey sails in to reinforce links with her affiliated borough of Sefton and with Liverpool.

The 1700 tonne River Class fishery protection vessel is on a five-day visit following an intensive period of training and assessment for the ship and her 42 crew.

While alongside at Huskisson dock the ship has a full programme reaffirming relationships first established when she was, in a break from tradition, commissioned in Sefton rather than her base port of Portsmouth. Civic dignitaries including the Mayor and Mayoress of Sefton and the High Sheriff of Merseyside will visit during her stay.

The crew will also welcome onboard local community groups including their affiliated Sea Cadet Unit TS Ardent, whose namesake Type 21 frigate, HMS Ardent, was sunk during the Falklands conflict 25 years ago.

Within the Sefton community, members of the ship's company also hope to spend a day building upon a regeneration project which last year saw ten sailors from the ship paint a sports pavilion in the borough.

Lieutenant Commander Jonathan Lett, Commanding Officer of Mersey said:- "I've had many enjoyable visits to Liverpool and Merseyside before in a variety of other Royal Navy warships but this is my first visit since assuming command of HMS Mersey. It is a pleasure to bring Mersey home, while also being able to put something back into the community, developing existing relationships and making new friends. Our visit to Merseyside will provide a welcome break from our usual routine of 12 days on patrol and two days alongside. When we return to sea we will be refreshed and ready for anything, particularly having just completed three weeks of demanding training and assessment which saw us prepare for everything from a major fire at sea to armed boardings and salvage of a stricken vessel."

HMS Mersey will depart on Sunday to resume her primary role of fishery protection and maritime security in English, Welsh and Northern Irish waters, enforcing UK and EU legislation to ensure that UK stocks of fish are sustained for future generations.
THE LAUNCH OF ONE ARMY RECRUITING
ON Wednesday 4 April 2007, the Army unveiled its new integrated recruitment process and a new recruitment brand identity and website under the banner of One Army Recruiting. After the North West piloted the changes, today marks a new era of recruiting and, at the end of another recruiting year, it is also an opportunity to share its latest Army recruitment figures.

2006/07 has proved an encouraging year for Army recruiting with 18,448 young men and women enlisting into the Regular and Territorial Army. The numbers enlisting as soldiers in the Regular Army is up 11% YOY, and particular effort has been applied to recruiting into The Royal Regiment of Artillery and Regular Infantry, with both Arms showing a healthy 25% YOY increase.

The Army continually strives to improve its recruitment process and the way in which it does its business. Of course, all employers are competing for the most suitable young people and they do this against the background of increasing opportunities in Further Education, relatively low unemployment and a healthy economy. The Army is no different, albeit that it requires special qualities of its people, all of whom are expected to deploy on operations. With these factors in mind, the Army has completed a research programme which examined young people's attitudes to - and knowledge of - the Army. The programme explored what inspires young people and drives them in their career choice; and put the existing recruitment process under the microscope – examining who it targets, and how it directs people that have shown an interest in an Army career.

Two key findings have influenced the changes:-

• The Territorial Army is an integral part of the Army, yet the current recruitment process treats them separately.

• There are currently 140 trades and 1,000 jobs in the Army. This provides opportunities for a wide scope of different personalities and skill sets, however, research has shown that awareness of this is low.

Employment opportunities available to young people in the Army will now be marketed under a refreshed "Army. Be The Best logo" that serves to reflect the way that regular and Territorial officers and soldiers work – and now recruit - together.

OAR introduces a new experience for anyone interested in learning about the Army. In the past, Army Recruiters would have focused on recruiting regular soldiers, but they are now equipped to discuss all aspects of the Army's career offer including officer and soldier; regular and territorial - and across all trades - from Army Chef to Army Vet.

A new advertising campaign, on air from 5 April 2007, specifically targets four different personality types. A series of films, each featuring real-life soldiers, introduce 'cliff-hanger' scenarios which are designed to entice the viewer to log on to the new website, to see the concluding part of the film.

The Army is also launching a unique online tool - Army Pathfinder - which can be accessed on the website. Army Pathfinder is a motivational profiling tool which leads the potential recruit through a number of personality questions, and develops a detailed insight into the individual's motivations and aspirations for the future.

If the candidate is interested in learning more about an Army career they are invited to chat online to an Army Careers Office, or arrange to meet an Army Recruiter for a personalised career consultation, which will explore their aspirations, competencies and skill sets - and how they might be relevant to different Army roles.

The OAR fully integrated marketing campaign sees the TV advertising concept being adopted for radio and print ads, which also aim to drive people to the website.

Lieutenant Colonel Leanda Pitt, Commander Regional Recruiting for the North West comments:- "OAR is progressive, important and necessary to refocus the execution of the Army's recruiting business. Our aim is to deliver a more fulfilling experience for those interested, or intending to join today's modern Army. Ultimately, a more efficient recruitment process will deliver more focused results."