Launch of NW adoption agency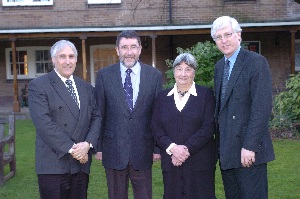 A NEW adoption service for the North West has been unveiled this week following the merger of 2 leading UK adoption agencies. Adoption Matters Northwest brings together Cheshire-based Adoption Matters and the Blackburn Diocesan Adoption Agency. Between them, with 110 years of experience, they have been responsible for finding new homes for no less than 4,500 children. The union was finalised this week, creating a new focus for thousands of existing and potential adopters across the North West and North East Wales.

A central focus of the new organisation will be to highlight the plight of the estimated 4,000 children who are still in care throughout the UK and desperate to find a new family. Some never receive a single enquiry from potential adopters, even after years of waiting. The new organisation, 1 of only 30 specialist adoption agencies in the UK, has offices in Chester, Hale (South Manchester) and Blackburn. Dedicated adoption professionals provide comprehensive support, advice and information to those affected by adoption, including adoptive parents, people who have been adopted and birth parents.

Former Adoption Matters Chief Executive Norman Goodwin has been appointed CEO to the new agency. Professor David Cracknell, former Education chief for Cheshire County Council has been named Chair. Cementing the partnership is new Vice Chair Sheila Whipp. Sheila is former Adoption Manager at Lancashire County Council and Blackburn Diocesan Adoption Agency Vice Chair.

Potential adopters will be encouraged to contact their nearest Adoption Matters Northwest centre. Enquiries will be welcomed from throughout the North West and beyond, particularly from those willing to consider adopting sibling groups, school age children, children from ethnic minorities and those with disabilities or developmental problems.

"It's an exciting time for all those involved in the merger and we're looking forward to leading the way in adoption and continuing to provide an increasing number of well prepared and resourced adopters willing to open their homes – and their hearts," said Chief Executive Norman Goodwin "We're proud of our national reputation for recruiting and preparing adoptive parents for those children most in need of a family and of our significant track record for maintaining and ensuring the success of placements. Over 95% of our placements are successful compared with a national average of around 80%." He adds:- "We believe Adoption Matters Northwest can maintain and build on this success thanks to the commitment, experience and efficiency of a strong team of adoption practitioners and support staff already in place."

For more information about Adoption Matters Northwest or the Adoption process visit www.adoptionmattersnw.org or phone 01244 390938 (Cheshire) or 0125457759 (Blackburn).
Blood Donor Session Cancellation
THE session due to be held in Prescot on Thursday 26 April 2007 has now been cancelled.
For other dates you can visit www.blood.co.uk, or find out other venues and dates on BBC2, Ceefax page 465.
National suicide rate at an all time low
BUT suicides by mental health patients could be prevented by Supervised Community Treatment. A progress report published by the National Institute for Mental Health in England shows that good progress is being made towards meeting the Government target to reduce suicide by 20% by 2010, but more can be done to bring down the suicide rate further. The report sets out the achievements of the last 12 months and shows:

the lowest overall rate of suicide amongst the general population on record;

a fall in suicide rates amongst young men - continuing the downward trend since the problem of suicides in this group first escalated some 30 years ago;

a fall in the rate of self-inflicted deaths in prisons to 70 in 2005/6, a 17 per cent reduction compared with last year; and

a fall in the number of suicides amongst mental health in-patients from 217 in 1997 to 154 in 2004.

The report also says that more needs to be done to reduce the number of people in contact with mental health services who take their own lives. The Avoidable Deaths report published last year estimated that 56 mental health patients discharged from hospital die every year following non-compliance with medication or loss of contact with services. Supervised Community Treatment (SCT), a measure to improve clinical risk management that the Government is introducing in its Mental Health Bill, has the potential to help prevent those deaths. Having a severe mental illness is a known risk factor of suicide and a significant number of suicides occur during in-patient care or shortly after discharge. Avoidable Deaths showed around 200 suicides a year - or 14% of all suicides - follow non-compliance with treatment. Better compliance with treatment and closer supervision were highlighted by clinicians as the main ways of reducing suicide risk.

National Clinical Director for Mental Health Professor Louis Appleby said:- "The overall rate of suicide amongst the general population is continuing to fall and is the lowest on record. We are seeing encouraging progress towards the target to reduce suicide by 20% by 2010 but is important that we maintain the momentum. I am very encouraged to see a further fall in the suicide rate for young men. There is now clear evidence of a sustained fall in suicide amongst this group. We are also seeing a reduction in the number of suicides amongst mental health in-patients. However, areas of clinical practice need to be strengthened if suicides in metal health care are to be prevented. 2 important areas are the management of risk in patients discharged from hospital, and in patients who are non-compliant with their treatment. Good clinical care needs to be backed by legal powers, and this is why the Government is introducing Supervised Community Treatment in the Mental Health Bill currently being debated in Parliament. SCT will ensure that patients in the community who are at risk of suicide will receive the treatment they need."

The report includes a number of regional examples of the National Institute for Mental Health in England, part of the Care Services Improvement Partnership (CSIP), working with partner agencies to deliver on the extensive work outlined in the National Suicide Prevention Strategy for England. They include:

Durham and Darlington's Multi-Agency Suicide Prevention Task Force's research into the frequency and nature of contact with a number of agencies, including the criminal justice system, to develop
information sharing protocols and pathways;

Barnsley PCT working with the Highways Agency on a study of bridge related suicides following a number of incidents around a junction of the M1. In partnership with the local council, and the Samaritans, signage has been erected on six local motorway bridges and one reservoir;

In the West Midlands, work with small non-statutory organisations in the promotion of health has been identified as an important factor in suicide prevention in rural communities; and

In London, the heightened risk of suicide amongst young men and those from ethnic minority groups is being addressed by the development of new outreach services targeted on specific ethnic groups. Local
community groups are being engaged in order to increase local understanding of where people can access help.