Councillor ON A MISSION TO CHANGE THE WORLD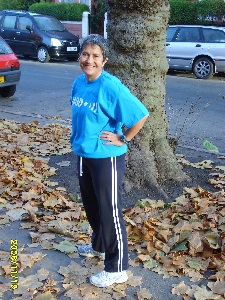 A HARD of hearing councillor, Erica Kemp, who represents the Church ward on Liverpool City Council, is appealing for locals to support her efforts to raise money for RNID, the national charity representing 9 million deaf and hard of hearing people in the UK, at this year's London Marathon.

As a board member of the Merseyside Society for Deaf People, Erica is actively involved in working for the deaf and hard of hearing community in Liverpool and she is personally aware of the support RNID provides to people with a hearing loss and their families. Erica says:- "'RNID has supported me with my hearing difficulty and this is a real opportunity for me to raise money and thank the RNID for the superb work it does. I'm finding training for the marathon very hard and challenging but I'm really looking forward to the event and joining all the other people who will be running for the RNID. At the moment, when I don't feel like training or giving up, it's the thought of all those people who have sponsored me that keeps me going. You can sponsor me by sending a cheque, payable to RNID, to 16 Dovedale Road Liverpool L18 1DW or by visiting my www.justgiving.com/ericakemp web page. Better still, if you already have a London Marathon place, why don't you join me in RNID's running team?"

Caroline Jupe, Events & Community Fundraising Executive, says:- "We would be delighted to hear from other London Marathon runners who, like Erica, would like to raise vital funds for RNID. Please contact our Events Team on 0845 634 0687 or email events@rnid.org.uk and help change the world for deaf and hard of hearing people!"

Runners for RNID will receive lots of support, including fundraising and training guides. Friends and family of RNID runners can join the RNID cheering points along the routes and also take part in the post-race celebratory refreshments.
CALL FOR WEEK'S TRIAL OF NEW WORKING PRACTICES
ORGANISATIONS and employees across the UK, both public and private, are being invited to take part in the 2nd annual Work Wise Week (16 May 2007 to 22 May 2007) to continue helping create a 'smarter' working Britain. Staff and employers alike are being asked to consider a week-long trial of smarter working practices, such as home, flexible, mobile and remote working, and so understand for themselves the benefits and practicalities of this modern day approach to working.

"The age of working 9 to 5, five days a week, from a central location, is for many fast coming to an end. This rigid work structure, which is largely dictated by culture and nothing else, is wasteful in terms of time and resources, damaging to the environment, and harmful in that it impacts upon stress levels and the health of employees." said Phil Flaxton, chief executive of Work Wise UK.

Many smarter working practices are very simple to implement, and it is these that organisations are being encouraged to try during Work Wise Week:-

· Allowing staff to come in either an hour later or an hour earlier, with a reciprocal hour shift at the end of the day. This would enable staff to avoid the busiest travel times, effectively staggering the rush hour and making the journey far more tolerable for everyone.
· Allowing staff to take a half hour lunch break each day, and then let them leave at 3.00pm on the last day.
· Allowing staff to work from home on Friday May 18, National Work from Home Day. Even a small reduction in the number of people travelling on the roads or by public transport on that day will have a significant effect on congestion and overcrowding.
· During Work Wise Week, ask staff to cancel all external face-to-face staff meetings, and instead hold them by conference call, either video or telephone. This would save time and resources, and reduce congestion and pollution.
· Where appropriate, allow staff to roster their own shifts during the week.

Work Wise Week is being staged by Work Wise UK, a major five-year not-for-profit initiative, supported by the TUC and CBI, to encourage the widespread adoption of smarter working practices across the UK. This will revolutionise the way people work and increase business productivity and competitiveness, reduce transport congestion and pollution, improve health, assist disadvantaged groups, and harmonise work and family commitments.

Further information about Work Wise UK, and how organisations can participate in Work Wise Week, can be found on the website (www.workwiseuk.org).