SATURDAY MUSIC NIGHTS LINE-UP AT HAYDOCK PARK RACECOURSE
THE spring and summer schedule of Saturday music nights at Haydock Park Racecourse was announced as the venue prepared for its first evening horse racing of the year. INXS, Hot Chocolate and Boogie Nights top the bills on the 3 dates at the end of April and in June and July. Concerts after evening racing have proved most popular at Haydock Park in recent years, and 2007 is set to be no exception.

* Boogie Nights are first up on Saturday 28 April 2007;

* INXS are the crowd pullers on Saturday 23 June 2007;

* And Hot Chocolate climax the summer on Saturday 21 July 2007.

Boogie Nights will take racecourse visitors back in time to when platform shoes, mirror balls and flares were hip. They perform classic disco hits, featuring music from artists as Earth Wind And Fire, Kool And The Gang, Michael Jackson, and the Bee Gees.

INXS are one of the world's greatest rock bands of the last 25 years, selling more than 30 million records across the world, and Haydock Park is part of their European tour.

The only band to have had a record in the British charts every year in the 1970s, Hot Chocolate are most famous for their hit You Sexy Thing.

Dickon White, the racecourse's managing director, said:- "This is a great line-up of acts to entertain the crowds after Saturday night racing this spring and summer."

The opening music night on Saturday 28 April 2007 is also the 1st fixture of the Flat racing season at the racecourse, with the 1st race at 5.45pm. The last is at 8.15pm, after which Boogie Nights come on stage.
RACECOURSE ADMISSION DETAILS FOR EACH MUSIC NIGHT
Admission is £8 to the Newton Enclosure, £16 to Tattersalls, £27 to the County Enclosure, and £41 to the Premier Enclosure.
Accompanied children aged under 16 enter free.
Senior citizens and students, with appropriate identification, enter Tattersalls and the Newton Enclosure at half price.
More details are available at web site www.haydock-park.co.uk.
Southport's F2 Sidecar Racing Team Starts Well For 2007 Seasion
Photographs by Eric Rimmer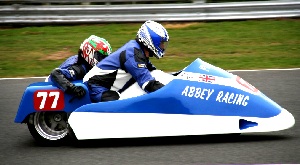 THE Southport based F2 Sidecar team Claire Hopkins and Steve Brooks have started the seasion off well coming sixth at the 21 April 07, Wirral 100, that was held at Oulton Park. Abbey Racing, whose name was taken from Abbey Hopkins and her Sheepy did fantasticly well last year succuring Claire's first Championship win and the hope to build on that success this year.
"How excited was I!!!! Friday night I was like a coiled spring could not wait for the 1st race of the season. After speaking to Steve to confirm the bike was ok and we were all set for Saturday 21 April 07. I packed the bambi and off I set. The weather was fantastic and a full grid of 29 entries for the sidecars. Not just a big grid but a quality one as well, we were up against top guys like Nicky Crowe & Dan Sayle, Dave Holden & Jaques, and many more. Steve gave me a scare when he showed up with a badly bruised thumb but it didn't hinder his performance during the day.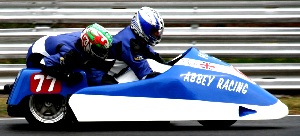 Practice was a bit hairy, we looked the part in our new leathers but unfortunately they were so slippery I had difficulty staying in the chair, this made my arms pump up and I needed to stop Steve after four laps. I found out later that Dan Sayle had the same problem and we both solved it by sticking non slip strips on the chair, supplied by 'Team Past It', thank you Robin & Annette. Unfortunately even though I changed into my old leathers I was still holding on too tight for the 1st race and again I experienced the pain of arm pump in lap 4. Steve needed to slow down to give me a chance to get over for the lefts I was not a happy bunny when we came in! Steve assured me that we got a good position 6th. The 2nd race was the same again with pumped up arms in lap 4, again we got 6th place.

On reflection the times were fantastic, in fact we averaged 82.101 which is almost 5 miles an hour more than we did last season; not bad for 1st race of 07. Hopefully the arm pump was just a one off." Claire told us.