Microzine: 'Black on White' exhibition, Liverpool Albert Dock!!!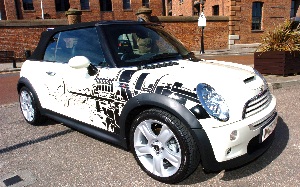 MICROZINE and Liverpool John Moores University's School of Art and Design have opened a unique exhibition of classic consumer products, given a make-over by art and design students.

'Black on White' is the latest in a series of experimental shows at Site, an art space established at the Albert Dock by LJMU's School of Art and Design in partnership with Liverpool Biennial.

Since it's inception in 2003, Microzine has been recognised as one of the most innovative retailers in the world. Starting as the first of its kind; a unique two-story concept store especially for men, the store's concept was one never explored before; offering the latest, greatest, next, best, classic, fastest, limited edition and exclusive of everything for the modern man.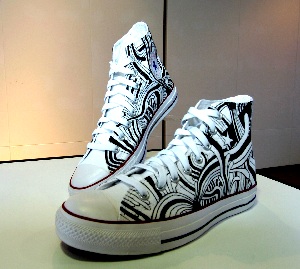 From fashion, sportswear, art, furniture, technology, music, books, gadgets, beers and bikes, products are consistently replenished - just like a magazine is updated each month, Microzine has a new product.

Collaborating with some of their most forward-thinking brands, Microzine were able to source an eclectic selection of products to produce the exhibition.

Presented in their purest form; white only, Microzine invited LJMU art and design students to take these items as a blank canvas and customise at will, using only one colour, black.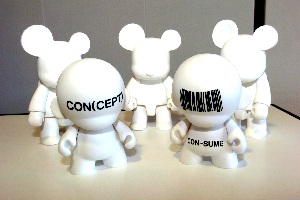 Designs were judged by a panel, including representatives from Microzine, LJMU and Liverpool Biennial. Twenty four winning designs now form this multi-medium exhibition, hosted at LJMU's art space, 'Site', in the Albert Dock.

Notable products include a MINI Cooper, generously permitted for use by Williams BMW.

Microzine Managing Director, Chris Lee, comments:- "Obviously the MINI was granted with one exception; any customisation is temporary. So students had to think about alternative methods, such as projections and stickering. The results have been outstanding and we're really pleased with the results. We think the brands involved will be too. We're happy to give students a 'live' brief and hope that tomorrow's design leaders will be spotted by today's industry professionals."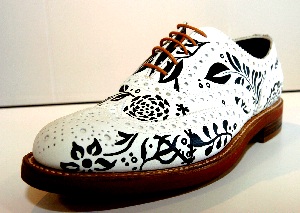 John Byrne, LJMU lecturer and manager of Site, adds:- "Microzine has been a real catalyst within Liverpool stimulating the debate on the crossover between art, popular culture and contemporary design. By working with Microzine and Liverpool Biennial we have been able to challenge our students to reach higher standards and they've more than met the mark, as the calibre and range of work submitted for this exhibition has been exceptional."

'Microzine: Black on White' is part of an on-going calendar of exhibitions at 'Site' and will be supported by an official launch event. After the exhibition items will be auctioned, with proceeds donated back into LJMU's School of Art and Design.

Site, situated next to the Panamerican Bar at the Albert Dock, is open to the public 10am to 4pm, Wednesday to Sunday.
Southport Offshore Rescue Getting A New RIB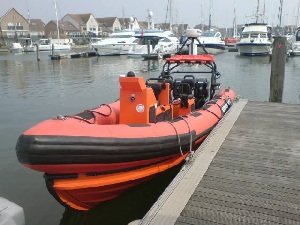 THE Southport Offshore Rescue is getting a new RIB... a EPIRB 406 / 121.5 Mhz, with GPS, has been ordered and will be in place very soon at the Southport Lifeboat House. The trust is not part of the RNLI and as such has to raise funds to pay for all the equipment on their Lifeboat, This EPIRB has cost the trust in excess of £500, and is for the crews safety on board the lifeboat if the Lifeboat overturns or is in DISTRESS itself. If you would like to sponsor the cost of this equipment or would like to donate to the trust please visit southport-lifeboat.co.uk or call the Boathouse on 01704 501471.
THE NORTH WEST AIR AMBULANCE MAKES TELEVISION DEBUT
THE North West Air Ambulance will advertise on television for the first time as part of a major regional awareness campaign. The 1st showing will be aired on Monday, 23 April 2007 during ITV's `This Morning` and depicts the rapid response of the NWAA to a serious car accident in the crucial golden hour. The thirty seconds advertisement will run a further seventeen times on ITV until Friday. 27 April 2007, during prime time programmes such as Coronation Street, The Bill and Loose Women. The advert can also be viewed on `You Tube`... Lynda Brislin, Chief Executive of the NWAA said:- "TV advertising is a big step for us and we hope that the people of the North West will support the vital service the North West Air Ambulance provides by donating just 50p per week to help towards keeping us operational." The advertisement features NWAA paramedics together with members of the Blackpool Airport Fire Brigade. The NWAA costs £1.9 million a year to maintain and yet the registered charity receives no mainstream funding to keep this vital service airborne. It files seven days a week, 365 days a year across 5,500 square miles and serves a residential population of seven million. On average the NWAA is called out four times a day, rising to up to ten in the summer. For the patient, the NWAA is the region's only medical air emergency service. To make a donation call:- 0845 257 2337 (calls cost 3p per minute, please seek the bill payer's permission) or online.
Liverpool legend kicks off Motability car presentation...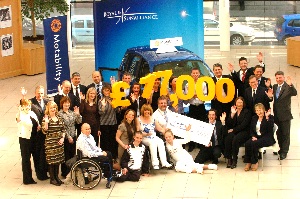 FOOTBALL legend, Alan Kennedy, former Liverpool left back, presented the key of a new Motability car to Claire Swan, from Wavertree, on Thursday 19 April 2007. The event took place at Royal & SunAlliance, New Hall Place, Old Hall Street, Liverpool.

Presenting Claire with the key to her Renault Scenic Expression, Alan said:- "This is a fantastic car and a fantastic Scheme, everyone needs to know about it and the help Motability can provide to disabled people."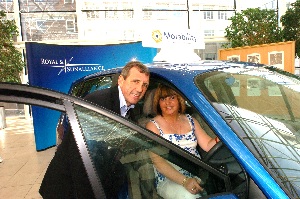 Claire, aged 40, has Guillian-Barre syndrome, a disease of the peripheral nerves causing numbness and weakness of the limbs. She is representative of many people Royal & SunAlliance Motability assist with their ongoing programme of fundraising events for Motability's Charitable Grants fund.

"My condition seemed to come on overnight, explained Claire, and it took nine months of intense physiotherapy to improve things. At first I had to rely on taxis and public transport for myself and my son, Daniel, who is 13 years old, which was a nightmare! Then I heard about the Motability Scheme and decided to use my mobility allowance to lease my first car through the Scheme. I also applied for financial help for adaptations to make it easier to drive and the car's been fitted with a steering ball and a push pull hand controls. It's great having my independence back, being able to go and watch my son play football and get to my hospital appointments on time."

Ian Currie, Director of Royal & SunAlliance Motability, commented:- "I am delighted that Alan Kennedy has been able to join us to officially present Claire with her new car. Our staff and suppliers are full of enthusiasm raising funds through a variety of events, year in, year out. Over the last twelve months they have raised £17,000 and it's wonderful to see what a difference all their efforts make, helping people like Claire."

Don Brereton CB, Director of Motability, said:- "We are so impressed and grateful for the energy and resourcefulness staff at Royal & SunAlliance Motability put into raising money for our Charitable Grants fund. Their continued support is greatly appreciated and makes such a difference, enabling our disabled customers to lead full and active lives."
Missing Person:- "Bernard Tucker"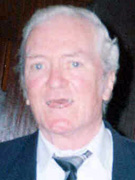 MERSEYSIDE Police are becoming concerned for the whereabouts of a 72 year old man, who has been missing from home since 13 March 2007.

Bernard Tucker, of Wood Road, Halewood, was last seen by his sister at his home address.

He is described as 5ft 4 tall, a slim to medium build with grey receding hair and blue eyes. He was last seen wearing a multi-coloured Marks and Spencer jumper, beige shirt, navy blue overcoat, black shoes and black trousers.

Mr Tucker is familiar with Garston and Dingle, and is known to spend time in public houses in those areas.

Anyone who knows of Mr Tucker's whereabouts is asked to contact Merseyside Police on 0151 777 6999 or Crimestoppers on 0800 555 111.