2,000 taxis sign up to the war on crime...
Report with thanks to Merseyside Police.
NEARLY 1,900 taxis across Liverpool and Sefton have signed up for a new scheme to help Merseyside Police in its war on crime.

Taxi Alert makes use of technology already installed in many of the region's hackney carriages and private hire cabs to inform drivers that a serious incident has taken place and to ask for their assistance and vigilance.

The technology - Data Transmission - gives drivers a short text message on a terminal installed in their vehicles and is normally used to dispatch drivers on to their next job. But in the future, when there is a serious incident, the firms taking part in the scheme will be able to transmit information such as the registration number and description of a vehicle police are looking for.

The scheme is being trialed in Liverpool and Sefton but it is hoped it will be rolled out across the rest of the Merseyside region in the near future. The firms who have agreed to take part include Merseyside Cabs, Delta and Seaforth Radio Cars. Between them, they have 1,890 vehicles on the roads.

Superintendent Ian Pilling, who helped set up the scheme, said:- "Taxi drivers are valuable members of our community, they are our eyes and ears across Merseyside. They have been providing assistance to us for a long time in an informal way - calling in to police when they spot an incident taking place.

Taxi Alert has taken their assistance one step further - formalising the way they can help us. We are extremely grateful that they have agreed to take part.

Only recently, a young boy was missing from home and we issued a radio appeal for people to look out for this child. We were inundated with calls from taxi drivers offering information and assistance.

In the future, we will able to appeal directly to the drivers and give them a description of a person and what area we believe they are in. Or, in the case of a serious incident, we would be able to issue description of a car we were looking for and a registration number.

I am sure this system - along with the use of technology we already have in place, like ANPR cameras which automatically scan the number plates of cars and alert officers to vehicles we are looking for - will prove invaluable in the future. It is another weapon in our armoury in our war on crime."

Dave McLoud, a hackney carriage driver with Mersey Cabs, is Transport and General Worker's Union's police liaison officer for taxi drivers in Liverpool.

A taxi driver for six years, Mr McLoud is one of the hundreds of drivers taking part in Taxi Alert.

He said:- "I think it is a great idea and am pleased to be taking part. We already regularly work with police because we are out and about, we see things as they are unfolding. This is just an extension of what we do already.

It works both ways. We have a good relationship with the police. If cab drivers have a problem, the police are quick to respond so this is a way of saying thank you."

Mr McLoud already has first hand experience of being a driver at the scene of an incident as it is unfolding. Several years ago, a young child was abducted and taken to another city by a relative in a taxi. The taxi driver was Mr McLoud and when he returned to Liverpool, and discovered police were searching for the child, he provided information which was vital in tracking the youngster down.
Letters to Editor:- "Can you help?"
"MY mum and dad went on holiday to Egypt and met a couple from Southport named Bert and Janet. Bert and Janet are around 65ish and couldn't visit some of the wonderful sites, their camera also wasn't working so my father agreed to take and send them some photographs. Bert gave my father his email, which my dad lost and feels really guilty about so he looked through the south port phone book, got me looking on friends reunited and now writing to you, please help as Janet really wanted the photographs and my father is feeling terrible thinking that they haven't got any photographs to look over. Please Help us find Janet and Bert from Southport." regards, Kate Click on to email here.
Sophie's Pigeons, Live at the Ship & Anchor Pub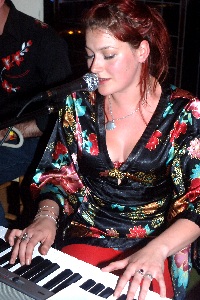 THE Moss Side, Manchester, based Sophie's Pigeons played live at the Ship and Anchor pub on 21 April 2007. The band's mix of musical toe tapping styles was well received by all who headed on in to see them.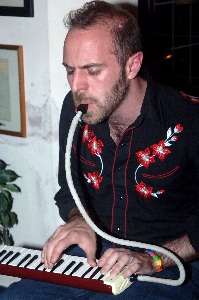 The bands members are:- Sophie Nelson - Piano, Vocals. Sam Stockdale - Vocals, Percussion. Marie Bergin - Violin, Percussion. Phil Sykes - Harmonium, Melodian, Percussion.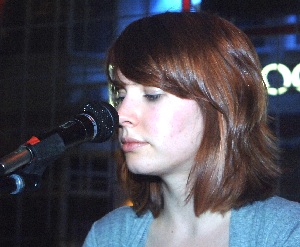 The band's musical style is a cross between pop and foke. The closest I can come up to describing their style is to relate to Talking Heads and a touch of Christina Aguilera for good measure. One of the Sophie's Pigeons band's tracks on the demo CD I was handed called "She Sucks Lemmons" has touches of "The Voice Within" in the way the it has been mixed and produced. Another by the band called "Sky Fell Down" reminds me of Nick Drake's "River Man".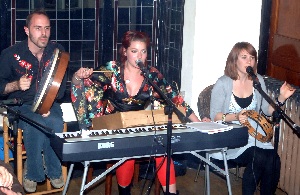 This band has a very interesting outlook, but in my view it is not what you would tip as main stream. I think, if they get the backing they need, they could develop a strong following on an international scale. The music is ideal for the US market...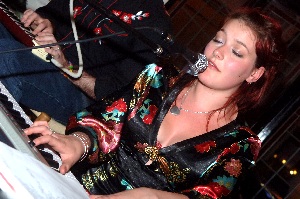 I expect we will see this band playing in Pulp Music Festival across the UK very soon.

Page 1 of 2