Albert Dock to host Beatles Valuation Event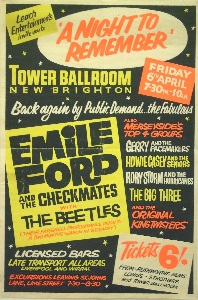 AN exciting valuation event is taking place at the Albert Dock from Sunday 6 – Monday 7 May 2007, organised by the Albert Dock Company, the Beatles Story and Tracks, the UK's largest specialist of Beatles and pop memorabilia. This is the first time the Dock has hosted a Beatles and pop memorabilia valuation for over 14 years and experts are looking forward to the quality and volume of collectibles that might turn up in the Fab Four's home city over the bank holiday.

Members of the public are encouraged to dig around in their attic and bring along any Beatles or pop souvenirs they own for a free valuation by the country's experts.

The Beatles Story visitor attraction, which is based at the Albert Dock, made the decision to stage the event after being inundated with enquiries about Beatles memorabilia. As the world's only Beatles-themed visitor attraction, the venue is often the first port of call for people interested in finding out whether their Fab 4 memorabilia is authentic and how much it is worth. The multi-award winning Beatles Story teamed up with the Albert Dock Company and Tracks, the UK's leading dealer in Beatles and pop memorabilia to provide a free valuation service for local fans. Back in 1993 Tracks and the Beatles Story staged a series of valuations at the Albert Dock and they weren't disappointed.

Paul Wane, Tracks Director and Beatles and pop memorabilia expert explains:- "We've held valuation days on the Beatles' trail right across the UK but nowhere compares to Liverpool in terms of the amount of quality memorabilia that has come out of one location. If something great turns up it really blows you away, we've valued some amazing items recently and I'm very excited about this bank holiday event at the Albert Dock."

Jerry Goldman, Director of the Beatles Story said:- "Our staff receive hundreds of calls each week from Beatles fans asking if their record sleeves or Cavern Club membership cards are worth anything. We're delighted to be able to host a free quotation service for local people. I'm confident that our experts will make some exciting finds."

To have your memorabilia valued for free please register between 9am to 10am on either 6 May or 7 May 2007 in Anchor Courtyard at the Albert Dock (next to The Yellow Duckmarine Tours). No entry without prior registration. Valuations will take place between 10am to 4pm. For more information about the valuation day visit online or email.
BANKS IN THE DOCK
THIS has been announced that The Office of Fair Trading (OFT) will look into the "the myth" of free banking with the launch of a far-reaching study into current account pricing.

The OFT has said that it shares public concern over the level and incidence of penalty fees banks have been charging, but they are not prepared to make a quick fix solution. "A quick fix solution could be detrimental to consumers as a whole and we do not want to do that. This wide study will examine the provision of so-called free banking to see if customers are really getting a fair deal from their banks. We will also look at the unauthorised overdraft and bounced payment fees." The OFT said. The report is expected by the end of 2007.

Campaigners have welcomed moves as they feel, like many, that the banks have been reporting mega profits as fees climb higher and higher, unfairly at the expense to customers.

One campaign group told the media that:- "Customers have been seeing charges of up to £39 and in some
cases far higher for going over their agreed overdraft limit. This is not only non-productive for the bank in the long run, as it will drive many customers in to deeper debt, but also it is bad for the economy.
The claims by banks that the charges are fair are not correct as they are often fully disproportionate, so therefore unfair and potentially unlawful. We hope that this investigation will show the banks up for what they are doing. Banks could save a lot of time, money and effort if they just opened up their books. They could then show us how they have work out their charges and prove to the UK public that they are fair. The fact the have not done this shows the banks have something to hide. The endless spin from the banks claiming a reduction in charges will spell the end of so called 'free' banking is just spin.
We are paying for our current accounts but just not in an upfront fees and some banks already have charges for bank accounts anyway. The charge for a bank account is applied to businesses with out any problems, yet they to have been hit with back fees!"

This probe comes amid fears that forcing down fees could mark an end of "free" banking and the emergence of charges on customers for simply opening or having a current account, such as that which HSBC has already introduced.

John Fingleton, chief executive of the OFT issued this press statement:- "This market study will enable us to consider wider questions about transparency and value in the provision of personal current accounts. This will provide the necessary context for assessing the fairness of unauthorised overdraft and returned item charges, before we apply the law in this area."

If you want to claim against your bank for the fees you have incurred click here for a copy of a simple letter.

Please send us your views as to what your views are about this issue?
Are banks right to charge like this?