Sandhills Station - £6million works given green light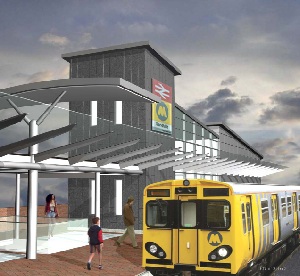 MERSEYTRAVEL has given the green light to start work on a new multi-million facelift for Sandhills Station. The work, part of Merseytravel's continuing plans to improve public transport facilities in North Liverpool, will begin on site later this year.

The station, one of the most heavily used on the Merseyrail Electrics network , will benefit from a raft of new improvements including a new ticket office and booking hall, a unisex disabled toilet at platform level, a resurfaced platform and a glazed canopy together with two new fully enclosed waiting rooms to provide better protection for waiting passengers. The work will also include upgrading the station lighting, a new CCTV system and improved access to the station with the construction of a new DDA compliant ramp and new lift to provide step free access from street level up to the station platforms.

Neil Scales, Chief Executive and Director General of Merseytravel, said:- "Sandhills is a key station on the Merseyrail network and we are hoping work can begin soon. We want passengers to be able to benefit from these new facilities as quickly as possible. Our region is undergoing an economic revival and we are determined that public transport should play a major part in this regeneration by providing access to jobs and vital community services."
Major works well underway at St Helens Central Station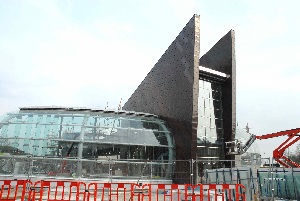 THE £6 million transformation of St Helens Central Station is now well under way with the twin copper clad "fins" at the entrance now in place. The new Pilkington's glass fronted building has been designed to complement the nearby George Street conservation area.

Architects for the project are SBS of Manchester. A spokesman said:- "The station has been designed as an iconic gateway into the town, equally impressive when you approach it by rail or road. The copper cladding has been specially treated to retain its colour and was used because it is both extremely resilient and sustainable having an extremely long life. It also requires little maintenance."

Funding for the station, which will open in the summer, comes from Merseytravel, St Helens Together and the ERDF European Objective One Programme. Northern Rail, St Helen's Council, and English Partnerships are also supporting the transformation. The works are being project managed by Network Rail on behalf of Merseytravel.

When completed, the station will include a new booking and ticket office, comfortable waiting areas on both platforms, 120 park and ride spaces, including dedicated bays for blue badge holders, new lifts, cycle parking, digital CCTV and new customer information systems.