What kind of future does Liverpool want?
WOULD you like to be sprinting at 80?
Or zooming around in a self-driving car?
Would you like a robot to serve your breakfast?
Would you be happy for computers at the supermarket to know what's in your fridge?
Would you have a new heart grown from stem cells?
These are some of the questions that Liverpool's citizens are being asked to consider as part of sciencehorizons; the 1st ever mass public engagement programme designed to get the nation talking about the science and technology of the future

Throughout the next few months, groups of people across Merseyside are being encouraged to join others around the UK, to hold discussions in cafes, bars, staff canteens or at home. Using specially designed packs (obtained from www.sciencehorizons.org.uk) that show how life in 2025 could differ from today, people will grapple with questions such as:-

* Could sat-nav technology help people with dementia live independently longer?
* Should robots have rights?
* Would you drive a car that monitors your driving and marks your licence accordingly?

The views generated by the discussions will be gathered together and presented to UK government ministers in Autumn 2007, helping shape future policy in these areas.

Getting involved is very easy – the discussion pack contains everything needed to host a debate and are very visual, easy to understand and enjoyable to use. They can be requested via the website or by by calling 020 8683 6602. You can also use email.
You do not need to be an expert to get involved, in fact no knowledge of science is necessary.

Science and Innovation Minister, Malcolm Wicks said:- "What's important about sciencehorizons is that we're inviting anyone and everyone to get involved in the discussions, not only the scientists. We want discussions about science to involve the whole community.
Over the coming decades, we're going to have some huge ethical debates about science as new discoveries are made and new technologies emerge. We will all need to be part of making informed decisions about how we develop and use scientific and technological advances.
Science and technology is now an intrinsic part of our daily lives and this will only increase in the future. I hope sciencehorizons helps to spark lively debates on these important issues."
Traffic takes off at Liverpool South Parkway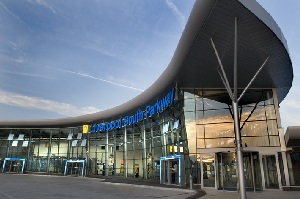 PASSENGER numbers have been reaching for the skies since last year's opening of Liverpool South Parkway (LSP), one of Europe's most modern transport interchanges which is served by frequent and fast Central Trains' services. Latest figures show the number of Central Trains' passengers travelling to and from the interchange, which is conveniently located for Liverpool John Lennon Airport, has grown by 23 per cent in just 5 months – from 3,471 in September 2006 to 4,271 in February 2007.

The boom in passenger numbers shows how popular the route between the West Midlands, Staffordshire and Liverpool has become since the opening of LSP in June 2006. The hourly service has helped open up transport links between the West Midlands and North West, and has underlined the success of the project. The success of LSP and the recently launched route into and out of the North West will also help with preparations for Liverpool's role as European Capital of Culture in 2008.

Neil Scales, Chief Executive and Director General of Merseytravel, added:- "The growth on this route in and out of LSP has been fantastic. The service has opened up new markets and we hope to continue to build on this success. LSP is not even one year old, and this is just the start. Liverpool South Parkway is one of our brightest success stories with around 5,000 passengers using it every day – 50% more than we forecast at this stage – so we're delighted with the growth of services and the number of passengers. It is important we continue to work with train operators in this way to enhance services and create an integrated network accessible to everyone."

Central Trains' Managing Director Steve Banaghan added:- "The opening of Liverpool South Parkway presented a significant new opportunity for our customers, and the increase in passenger numbers speaks volumes for the quality and popularity of this important route."

The new route also adds to the number of airports that are served by Central Trains, which is part of the National Express Group. Within the network, passengers can use Central services to take flights from Birmingham International Airport, London Stansted Airport and now Liverpool John Lennon Airport. At the time of its opening, Liverpool South Parkway was the most modern station in Europe, completely integrating road and rail transport and with high frequency bus services to Liverpool John Lennon Airport. A key aspect of its innovative design is its sustainability and green credentials.

On this service, Liverpool South Parkway is 29 minutes from Crewe and 92 minutes from Birmingham. A simple platform change at LSP gives football supporters coming from Cheshire and the West Midlands direct access to the home of Liverpool and Everton football clubs. For commuters, Liverpool's Lime Street Station is just 10 minutes from Liverpool South Parkway.