Normal service resumes at the Pier Head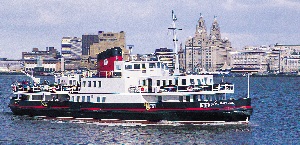 MERSEY Ferries services and ticket office will move back to the Pier Head from Monday 30 April 2007. The ferries have been sharing the Isle of Man Steam Packet Company pontoon and ticket office for several months following disruption caused by the damaged landing stage in March last year. Mersey Docks and Harbour Company, who have carried out the clearance works, have now moved the Skyline Pontoon into position at the Pier Head. The move enables the ferries to operate without the need to fit around the Super Seacat schedule.

The move of the ticket office back to the Pier Head Ferry Terminal will be temporary, as plans are underway to demolish the building and replace it with a brand new £10 million ferry terminal building. A temporary ticket office will operate from Canada Boulevard from June when the demolition and construction works begin.

Neil Scales, Chief Executive and Director General of Merseytravel, said:- "We have to say a big thank you to everyone who has continued to use the ferries, despite the problems we've had to deal with over recent months. Passenger numbers have been down quite substantially but we hope that many more people will come back, use the services and support the ferries now we're back at the Pier Head Ferry Terminal building. We're pleased that the majority of works to clear the damaged landing stage have been completed and a temporary stage is in place for us to begin operations from the Pier Head once again."
Top Honor for Mersey arts festival
BOND girl Honor Blackman will be the star act at a Merseyside arts festival this summer. The swinging 60s icon, most famous for 'Goldfinger' and 'The Avengers', will be bringing her one woman show to the Prescot Festival of Music and the Arts in June. Still alluring as ever at 79, Honor comes fresh from a sensational West End appearance in the musical 'Cabaret'.

Among other attractions in the 10 day festival, now in its 3rd year, will be Fairey Brass Band, Wirral Winds and choristers from the Royal School of Church Music. Contemporary music, comedy, dance, film and fine arts will round off the rest of a packed programme.

'We're thrilled with this year's line-up. We've got a spectacular combination of professional and amateur talent, both national and local. Most importantly, it's giving everyone a chance to experience something new, something that only comes around every once in a while." said Artistic Director Robert Howard.

Formed by locally born composer and musician Dr Howard in 2005, the Prescot Festival aims to provide an increasingly diverse range of arts and music to an ever-widening audience.

The town of Prescot has hit national headlines recently because of renewed interest in the area's Shakespearean history. A multimillion-pound arts complex and Elizabethan theatre in the pipeline could transform the entire region.

The 3rd Annual Prescot Festival runs from Friday 15 to Sunday 24 June 2007 in Prescot, Merseyside. Full details of the programme and venues are at the official website.
Liverpool's Queensway Tunnel Outshines European Rivals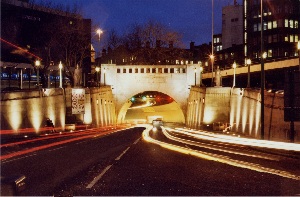 AN international inspection team has praised Queensway Tunnel as the safest tunnel for its age in Europe. Coordinated by the AA in the UK, the independent EuroTAP (European Tunnel Assessment Programme) inspection found the tunnel had kept pace with increasingly demanding safety standards.
The latest inspection heaped praise on the positive elements of Queensway Tunnel, particularly the improvements Merseytravel has made to the lighting, power, communications, surveillance and ventilation systems and the creation of seven new escape refuges. Of the all the EuroTAP inspections carried out on the UK's 8 major tunnels, Kingsway and Queensway come out as the best, with the highest ratings.

Neil Scales, Chief Executive and Director General of Merseytravel, which owns and operates the two Mersey Tunnels, said:- "I am delighted that Queensway Tunnel is now regarded as the safest tunnel for its age in Europe and we are proud that, alongside Kingsway Tunnel, it has the highest safety ratings in the whole of the UK. We have invested a great deal to make improvements where we can, such as the £9million we spent on new emergency refuges, and this report backs that up. It is money well spent. Safety in our tunnels is always paramount. Queensway was opened 73 years ago and safety has moved on a great deal since then but we are continuing to find ways to make both tunnels the very best they can be – world class."

Paul Watters, head of roads and transport for the AA, a leading partner in the European Tunnel Assessment Programme, said:- "Users of the Mersey Queensway Tunnel can take heart that Merseytravel, responsible for its infrastructure and management, have shown themselves to be sincerely concerned about standards of safety in the tunnel. Mersey Tunnels have been keen to facilitate these independent tests to help guide investment and development in both their tunnels and it is a credit to those responsible for Mersey Queensway that it has faired so well in what is a very tough test."

Queensway Tunnel is an urban single bore, 2-way underwater tunnel, 3.24 kilometres in length.
King George V opened the tunnel on 18 July 1934. Costing £8 million to construct over 8 years and 8 months, it ranked financially as the biggest single municipal enterprise ever undertaken in the country.
Now, more than 32,000 cars pass through the tunnel every day.

EuroTAP is supported by the EU Commission and 13 European motoring organisations of which the AA is a leading member.