Sefton Council Election Results 2007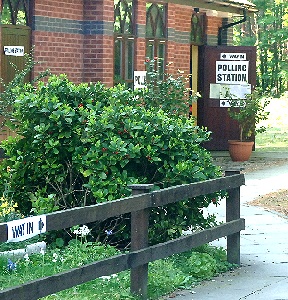 IN Sefton all the Council has 66 seats, but only one-third (22 seats) of the council was up for re-election on 3 May 2007.
This year the turnout in Sefton was 65000 that's 30.88% of the total electorate of 210476.
The elections had the Liberal Democrats winning 9 seats and becoming the biggest controlling party on the council, with a total of 26 seats.
Labour came second with 7 seats making then the second biggest party with 21 seats.
The Conservative Party winning 6 seats, leaving them with 19 seats on the council.
| | | | | |
| --- | --- | --- | --- | --- |
| Surname | Other Names | Party | Votes | |
| JONES | Terry | Conservative Party | 2484 | ELECTED |
| HINDLEY | Ann | Liberal Democrat Party | 1078 | |
| WARNER | Frank Ernest | Labour Party | 292 | |
| | | |
| --- | --- | --- |
| Electorate : | 9761 | |
| Turnout : | 3873 | (39.68%) |
| Spoilt papers : | 19 | |
| | | | | |
| --- | --- | --- | --- | --- |
| Surname | Other Names | Party | Votes | |
| SHAW | Simon John | Liberal Democrat Party | 1604 | ELECTED |
| ROWELL | Janet Elizabeth | Conservative Party | 1020 | |
| DURRANCE | Terry John | UK Independence Party | 406 | |
| ROBINSON | Frank Michael | Labour Party | 270 | |
| | | |
| --- | --- | --- |
| Electorate : | 9841 | |
| Turnout : | 3311 | (33.64%) |
| Spoilt papers : | 11 | |
| | | | | |
| --- | --- | --- | --- | --- |
| Surname | Other Names | Party | Votes | |
| PAPWORTH | Peter Robert | Conservative Party | 1902 | ELECTED |
| CLUSKEY | Linda | Labour Party | 726 | |
| MAXWELL | Mary | Liberal Democrat Party | 657 | |
| | | |
| --- | --- | --- |
| Electorate : | 8890 | |
| Turnout : | 3298 | (37.10%) |
| Spoilt papers : | 13 | |
| | | | | |
| --- | --- | --- | --- | --- |
| Surname | Other Names | Party | Votes | |
| PRESTON | Carmel Joan | Liberal Democrat Party | 1939 | ELECTED |
| MANN | Tommy | Conservative Party | 1542 | |
| COBHAM | David Charles | The Southport Party | 447 | |
| LANGLEY | Muriel Annie | Labour Party | 200 | |
| | | |
| --- | --- | --- |
| Electorate : | 9514 | |
| Turnout : | 4135 | (43.46%) |
| Spoilt papers : | 7 | |
Surname

Other Names

Party

Votes

WEBSTER

Veronica

Labour Party

1169

ELECTED

JOHNSON

Cynthia Margaret

Liberal Democrat Party

507

BRADSHAW

Tony

Conservative Party

329

NUGENT

Joseph

UK Independence Party

209

ATHERTON

Jennifer

British National Party

175

DAVIS

Ian James

Communist Party Of Britain

50

Electorate :

9064

Turnout :

2444

(26.96%)

Spoilt papers :

5
| | | | | |
| --- | --- | --- | --- | --- |
| Surname | Other Names | Party | Votes | |
| LARKIN | Paul Anthony | Labour Party | 1120 | ELECTED |
| NUTTALL | Paul | UK Independence Party | 550 | |
| CROSS | Hilary | Liberal Democrat Party | 208 | |
| PARRY | Ken | Conservative Party | 94 | |
| | | |
| --- | --- | --- |
| Electorate : | 9257 | |
| Turnout : | 1981 | (21.40%) |
| Spoilt papers : | 9 | |
| | | | | |
| --- | --- | --- | --- | --- |
| Surname | Other Names | Party | Votes | |
| BYROM | Leslie Thomas | Conservative Party | 1742 | ELECTED |
| HIBBARD | Bill | Liberal Democrat Party | 845 | |
| FORSTER | Harry | The Southport Party | 481 | |
| COOKSON | Catherine Emily | Labour Party | 326 | |
Electorate :

9964

Turnout :

3408

(34.20%)

Spoilt papers :

14

Result for Ford
| | | | | |
| --- | --- | --- | --- | --- |
| Surname | Other Names | Party | Votes | |
| CLUSKEY | Kevin Eamonn | Labour Party | 1399 | ELECTED |
| CROSS | Noel David | Liberal Democrat Party | 267 | |
| MCDERMOTT | Michael | British National Party | 229 | |
| HOUNSLEA | Jessamine Miles | Conservative Party | 215 | |
| WORDLEY | Phil | UK Independence Party | 119 | |
| | | |
| --- | --- | --- |
| Electorate : | 9463 | |
| Turnout : | 2237 | (23.64%) |
| Spoilt papers : | 8 | |