EMPLOYERS VOICE CONCERN ABOUT THE 'LANGUAGE OF DISABILITY'
A SURVEY published this week reveals that, whilst 4 out of 5 of Britain's employers believe they should make every effort to employ disabled people, many are put off by politically correct 'language of disability'. The survey, conducted for Remploy, the UK's leading provider of employment services for disabled people, shows that more than three-quarters of employers believe firms and organisations, independent of the government, should work toward creating a diverse workplace.

But employers told researchers that there was misunderstanding regarding the language used to describe disability, particularly around the desire to be politically correct and not to cause offence. Employers interviewed in focus groups said they believed the issue was a barrier to employing disabled people. One told researchers: "The benchmark is always moving as are the words that I can say. You don't say that someone is blind, you say visually impaired."

The survey was conducted for the launch of the annual Remploy Leading The Way awards, which recognise the achievement of businesses and individuals who have made outstanding efforts to actively encourage the employment of disabled people.

Researchers also found that one of the main reasons given by businesses for not employing more people with disabilities was that disabled people did not apply for jobs. There was widespread agreement that disabled people are capable of performing most jobs although a few areas, such as construction and the fire service, were not thought suitable.

Beth Carruthers, Remploy's Director of Employment Services said:- "The survey shows very clearly that employers recognise the talents and skills disabled people can bring to the workplace. There is a strong desire in business to hire disabled people, which we see every year in our Leading The Way awards. But we need to overcome the concerns voiced by some employers. The important thing is not the language used to describe disability but that disabled people receive the same respect and opportunities as non-disabled people. The research also shows how disabled people can benefit from job coaching and assistance with writing CVs and interviews."

The awards, which this year are held in association with The Times, are open to companies of all sizes, from small businesses employing less than 50 people, to large national organisations. Previous national winners have included RBS, BT and Northern Rock.

The research was conducted in February and March by Visiontwentyone, which interviewed 403 employers by telephone and conducted 2 focus groups in Manchester and Blackburn.
This May Bank Holiday
IN BRITAIN, May is well renowned for being the time of year when the warmer weather begins to break through and the bare branched trees and flowers finally start to blossom again. The thought of summer is welcoming to many Brits, particularly following the dark and chilly wintertime and with this in mind, many people will take the opportunity to spend May Bank Holiday outdoors to enjoy the sunshine while it lasts! However, don't be fooled into thinking that the early Summer sun isn't damaging your skin…after all, it may be years before you notice any changes!

This Bank Holiday the 'At Ri-SK? Campaign' continues on its pursuit to urge people to be more sun and skin aware and consult their doctor about any new or unusual marks particularly solar keratoses (sun induced skin lesions) which have appeared. These commonly occurring small raised, rough patches develop on the skin and are often ignored even though in some cases they can lead to skin cancer.

To support the campaign, an informative website www.sundamagedskin.co.uk has been developed to assist people concerned about the long term effects of the sun on their skin and to help them identify any signs of damage. The website provides quick and easy access to information about solar keratosis as well as highlighting the risks caused by excessive sun exposure, the signs of sun damage and those who are At Ri-SK. In addition, descriptions and images of sun damaged skin can be viewed on the site so that visitors can gain a strong insight into what they should be looking for before seeking medical attention.
UK'S 1st Floating Homes planned at Princes Dock, Liverpool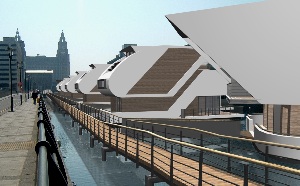 PEEL Holdings have announced plans for a revolutionary new luxury housing development at Princes Dock. Ground breaking proposals for floating luxury homes have been unveiled that will see Princes Dock become home to a prestigious marina style development. Plans have been submitted to Liverpool City Council for 26 floating homes that will sit in the Princes Dock basin. Designed with a nautical theme associated with the marina environment, the style reflects naval architecture and will give the appearance of a row of high quality multi million pound super-yachts.

Liverpool based Architects KKA have taken an exciting, innovative approach to produce a design worthy of the stunning location that benefits from views of the Liver buildings, River Mersey and UNESCO World Heritage site.

Each home will be arranged on 3 "decks" providing a total internal living space of 1850 sq ft. The prestigious homes will also feature an outside deck area that sits immediately above the water, master bedrooms with an impressive external balcony for residents to enjoy the unique atmosphere and ambience of the dock. The top deck will feature a sun deck with a large area for entertaining that will have excellent views of the Pier Head and the fast developing Princes Dock.

Reflecting the very latest in City living in a truly unique location, prices for homes at Flotilla are expected to be in line with top of the range penthouse apartments and as the first development of its kind in the Country, a high level of demand is expected for the water borne luxury homes.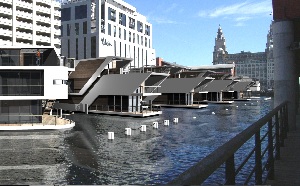 Martyn Green of King Sturge said:- "We are privileged to be in a position to bring these unique homes to the market, and have already had a few enquiries from people who have heard about this project on the grapevine. This will be one of the most talked about developments in 2007." He continued:- "It is fantastic that the first development of this kind in the Country is to be based here in Liverpool. The level of demand for these special luxurious homes is expected to be great, with Flotilla offering a first in prestigious living on the water. A new precedent will be set in luxury living offering unrivalled location, the highest quality interiors and views that are second to none".

Ian Pollitt, of Peel added:- "With the Capital of Culture Year almost upon us and Peel's recent investment plans for the Liverpool and Wirral unveiled recently we thought it fitting to bring forward these unique homes. They are reflective of Peel's innovative and pioneering approach to the re-development of the area".

In excess of £200 million has already been invested in Princes Dock and it has now become recognised as a prestigious location within the City and is already home to many blue chip companies including KPMG, Coutts Bank, RBS and Pricewatercoopers LLP, together with the Crowne Plaza and Malmaison hotels. To register early interest in Flotilla Homes contact King Sturge on 0151 242 6490 or email : flotilla@kingsturge.com.