Its like losing your daughter!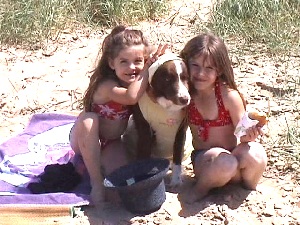 SADIE is a female Red and white Border Collie and about 7.30am Wednesday 2 May 2007 the owners let her into the back garden as usual.

"We've decided that we are going to do our bit for the environment and start riding our bikes to school (Shoreside primary) we live just off Segars lane by the field. At 8.30 we left the house. We didn't see Sadie, or know if she followed us?" said the owner Nicole Reynders.

The dog is very dear to the family, so mutch so that it had been brought over from South Africa 6 years ago at the cost of £4000 to bring to England. It also ment that she had to spend 6 months in Quarantine.

"Its like losing your daughter, can stop the tears. Eva, who is our Eldest Daughter and Sadie's birthday are only 4 months apart they've grown up together.

Sadie is Loved and adored by the local children, she loves to play football, the kids love to play with her!! She's part of the gang here, they are all devastated and out looking for her…" Nicole told us.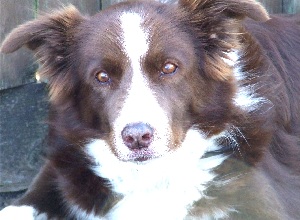 "We have put out a lot of leaflets to find our loved pet, and have had a few calls. 1 lady said she saw Sadie by the Railway pub in Ainsdale she said she remembered cause its unusual to see a dog with a collar, but off a lead, she was crossing the road on her own." husband Shyan added.

Sadie is wearing a green collar and a red heart tag with her name and number, unfortunately , because Sadie is extremely well trained and has never moved out of my sight in the last 10 years the family has forgot to change the mobile number on it.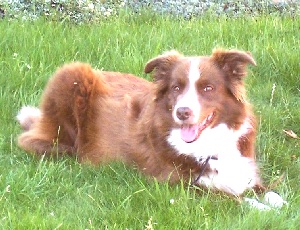 Other reports have said that on the Wednesday have come in saying that last seen Sadie was headed towards the Shell garage.

Later that day a 2nd lady said she saw her by Heathfield Rd and by the Reck Park, at the tennis courts yesterday afternoon. Two other ladies were near her and walking there 2 Jack Russell's.

"Whilst we were looking and also bumped into the ladies from the Freshfields Pet Rescue centre, they said 2 of there dogs had escaped during a raid at there premises last week,,, Were Can they be? One a male border collie cross and a German Shepard." Nicole added.

Help the family find her by call us on 01704 57443 or 07908976966 or Cheyenne on 07903197216 if you know where she is. A reward is being offered.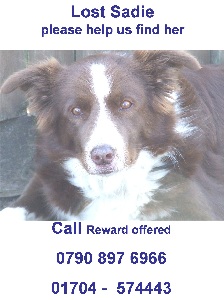 Also if you can print off and put up this poster, the family would be very grateful. PRINT
MUSEUM OF LIVERPOOL STARTS
THE first 'turf' was cut on Monday 30 April 2007 for the new multi-million pound Museum of Liverpool on Mann Island car park, Liverpool Pier Head. The National Museums Liverpool Chairman Loyd Grossman was join by Director David Fleming for the landmark event.

The Museum of Liverpool will be one of the world's leading city history museums reflecting Liverpool's global significance through its unique geography, history and culture.

Building on the incredible success of the Museum of Liverpool Life, the new museum will draw on National Museums Liverpool's vast collections, many of which have never been on public display. As a vital part of the legacy of 2008, when Liverpool becomes European Capital of Culture, it will express Liverpool's confidence as a great 21st century European city.

Bryan Gray, Chairman of the museum's major funder, Northwest Regional Development Agency, welcomed the news:- "This marks the first step in the development of an architecturally striking building that will make a spectacular addition to the Mersey Waterfront. Capturing the spirit of this world famous city, the new Museum of Liverpool will provide a unique cultural attraction that will greatly enhance the tourism offer for the city and the region as a whole."
LIBERAL DEMOCRATS RETAIN CONTROL OF LIVERPOOL
THE Liberal Democrat Leader Menzies Campbell commenting on the local election result in Liverpool, said:- "Congratulations to the Liberal Democrat team in Liverpool, their leadership of the council has delivered improvements for the community and better council services for residents.

I know that they will continue to work hard on behalf of local residents."
Health effects of Climate Change
THE UK will be better able to prepare for the possible impact of climate change on public health, thanks to new research. An updated report of Health Effects of Climate Change in the UK has been published which estimates the possible impacts of climate change on health. This will help the health sector effectively plan development of services to meet the needs of the population both now and in the future, and also highlights areas where more research is needed.

The main findings of the report include:-
There is a 1 in 40 chance that by 2012 South Eastern England will have experienced a serious heatwave.

Periods of very cold weather will become less common - while periods of very hot weather will become more common. Winter deaths will continue to decline as the climate warms.

Flooding is an increasing risk.

Tick-borne diseases are likely to become more common in the UK, but this is more likely to be due to change in land use and leisure activities than to climate change.

Increased exposure to sunshine and ultra violet light will lead to an increase in skin cancers.

The UK population seems to be adapting to increasingly warm conditions.

Public Health Minister Caroline Flint said:- "Climate change poses great challenges and it is important to plan ahead for the health consequences. Actions are being taken across the UK Government and the NHS to reduce emissions contributing to climate change. We are at the forefront of preparing for climate change - the UK's Climate Change Bill is the first legislation of its kind in the world, establishing a long term legal framework to underpin our contribution to tackling climate change, by putting in place a clear and credible emissions reduction pathway to a statutory goal of a 60% reduction in carbon dioxide emissions by 2050.

Mandatory targets for energy efficiency for the public sector are being set and work is continuing across the NHS at a regional and local level to mitigate the projected impacts of climate change. In January we announced a £100m Energy and Sustainability Capital Fund to assist the NHS to meet the target of 15% or 0.15 million tonnes carbon efficiency saving between 2000 and 2010. One of the effects of climate change already encountered in this country is the increased frequency of heatwaves. The devastating heatwave across Europe in 2003 led to us launching the National Heatwave Plan in 2004, in which a Heat-Health Watch system operates in England during the summer months, with 4 levels of response and appropriate advice.

Work is being encouraged at a regional and local level to deal with the possible health effects of climate change. Key areas include adapting the health and social care infrastructure to be more resilient to the effects of heat, gales and floods, and developing local plans to cope with disasters. We are increasing awareness of how people can adapt to changes in climate. Let's not forget that society also has a role to play - we can all do our bit to help the environment through consumer choice, reducing carbon footprints and recycling waste."

One of the authors of the report, Professor Robert Maynard from the Health Protection Agency, said:- "The present scientific consensus is that the climate is changing and that human activity is contributing significantly to this. We have to prepare for the consequences and consider the possible health impacts. Some aspects are positive, for example there are likely to be fewer deaths due to cold weather, but others are potentially negative, including increases in food poisoning and dangers from both floods and droughts."

Environment Minister Ian Pearson said;- "This report underlines the potential impact of climate change on human health. Earlier this year, the Intergovernmental Panel on Climate Change delivered a report which showed that there would be a major threat to health around the globe. And it's not a threat that's exclusive to the developing world. The European heat wave of 2003 shows that developed countries are also vulnerable to climate change. We need to take this threat seriously and start to adapt now to safeguard our future health."
Passengers at JLA get a taste of what Malta has to offer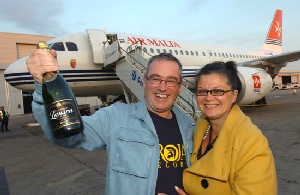 ON Friday 4 May 2007, Air Malta, commenced its new scheduled service from Liverpool John Lennon Airport to the Mediterranean island of Malta.

To mark the special occasion, a host of activities took place prior to the first flight departing Liverpool. Two lucky passengers Jackie Thompson and Mike Corrie from Stockport were delighted to hear that they had triggered celebrations and in return had won themselves a bottle of bubbly to take on holiday with them. Fellow passengers onboard the inaugural flight were also presented with a certificate to show that they were onboard Air Malta's first flight from Liverpool.

Mr Thompson commented:- "We chose to fly from Liverpool because the price of the flight was much cheaper than elsewhere and it is so easy to get to John Lennon Airport now. We even used the Arriva express bus service from Manchester city centre to the Airport to save on the cost of parking."

At the departure gate passengers enjoyed an array of Maltese delicacies whilst they watched eight Maltese entertainers, wearing traditional costumes, perform a composition involving the famous Maltese Cross accompanied by music composed by a young Maltese musician, Ruben Zahra.

Neil Pakey, Managing Director at Liverpool John Lennon Airport, said:- "We're delighted with this new scheduled service to Malta and we will continue to work closely with Air Malta to ensure this route is a success. Today's activities at JLA gave passengers a taste of what Malta has to offer. It's situated in a beautiful part of the Mediterranean Sea and boasts a wealth of history, culture and attractions. This new route will provide more in the way of choice for our passengers and enable them to see for themselves what Malta has to offer."

Ray Borg, Air Malta Country Manager UK and Ireland, added:- "Air Malta operates an extensive regional departure network from the UK to Malta and we are pleased to be able to offer another low cost, full service option for passengers from Liverpool and the surrounding area."

The twice weekly service will depart Liverpool on Mondays and Fridays, providing the ideal opportunity for either a long weekend break or extended holiday. Friday flights depart Liverpool at 20.10 arriving in Malta at 00.40, whilst the return flight departs Malta at 16.45 arriving in Liverpool at 19.20. Monday flights will depart Liverpool at 10.25 arriving in Malta at 14.55, whilst the return flight will depart Malta at 07.00 to arrive in Liverpool at 09.35.