REWARD! Guitar Robbery in Southport
Report by Eric Llyon Taylor.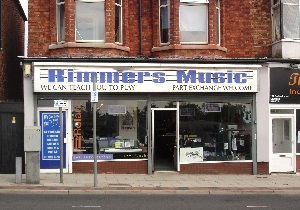 AT 3.15pm on Thursday 3 May 2007, Rimmers Music Store on Eastbank Street Bridge was robbed. The Culprits are described as 2 men and 2 women of middle eastern, Egyptian or Iranian extraction.
One of the men was in his early 30's, one in his mid to late 30's. The younger man was wearing a white t-shirt with dark tracksuit bottoms and dark hair. The older man was wearing a black leather jacket and jeans, he also had dark hair but was thinning. Both women wore black full length coats and had head scarves on.
They were seen leaving in a Green car possibly a Nissan, P registration with a broken rear light. Merseyside Police are now looking at CCTV footage.
The gang stole 2 guitars, a Les Paul Custom and a Les Paul Standard both pictured below, note that the Head of the Custom would actually look like the Head of the Standard on the models stolen. Also they are sold with Les Paul cases, so if they do not have the case, they could be the stolen guitars.


Rimmers is offering a reward for any information that leads to the recovery of the guitars and the apprehension of the gang.
This reward is £250, and any information can be passed on to the shop on 01704 532145 and speak to James or Nat.
Letters to Editor:- "Trying to trace a family."
"DEAR Editor, I am trying to trace a family who left the Lytham St Annes area in approx 1976. The father was called Geoff Lomas and he had a son called Christopher (DOB 5.2.65). They also a daughter who's name I cant remember.

They lived in Molyneux Place in Lytham and moved to 7 Birch Green, Freshfield, Formby.

Email:- markgcowburn@blueyonder.co.uk". Regards, Mark Cowburnl
RESPECT DUE FOLLOWING SUCCESSFUL ENVIRONMENT CAMPAIGN
EVERTON and Liverpool Football Clubs are to be the first ever recipients of Liverpool City Council's environmental award for their efforts in kerbing anti-social behaviour on match days. The Respect Campaign involving a unique co-operation between Liverpool FC and Everton FC was launched in response to complaints of excessive littering, aggressive behaviour and abusive language experienced on match days by residents who live near Anfield and Goodison Park.

In partnership with the clubs the city council encouraged visitors to the areas on match days to "Respect the club, respect the area with" the aim of reducing litter and the incidents of abusive language and aggressive behaviour. Sever penalties were enforced for those who did not comply. A recent survey has revealed that residents identifying littering as a problem dropped by 17% from 48% to 31% after the campaign launch.

Blues' director Keith Wyness will receive their award from City Council leader, Warren Bradley in front of a packed Goodison Park at their last Premiership home game against Portsmouth, this Saturday, 5 May 2007.

The Reds will receive their award at the start of the new season when the Respect Campaign to kick out anti-social behaviour will continue.

Cllr Warren Bradley, leader of Liverpool City Council, said:- "Everton and Liverpool's involvement in this initiative was vital for it to work and we were encouraged when they agreed that this was a problem that merited a serious approach with robust action. It has worked with residents reporting increased standards in the areas around the grounds. But the campaign will go on - the city council and the football clubs remain committed to making sure the lives of these residents are not blighted by a lack of respect and we are determined to build on this during next season."

The campaign was launched on at the Merseyside Derby day at Anfield in February and was supported by Home Secretary John Reid. Players from both teams went through their pre-match warm up routines wearing Respect t-shirts. Leafleting was outlawed ahead of the launch which also included the installation of 50 new litter bins, the replacement of 50 old bins, 50 temporary bins for match days, more frequent bin emptying, enforcement teams on match days and bill boards in and around the grounds carrying the Respect messages.

Keith Wyness, Chief Executive of Everton, said:- "The season may almost be over but Everton will support the continued efforts to educate and enforce the issue of Respect. We are delighted to have helped in making a significant difference to the lives of those who live around Goodison Park and thank the city council for their recognition of our efforts. Feedback has been very encouraging and next season we hope that all our supporters and other visitors to the area will continue to be respectful and keep our area clean."

Surveys carried out with residents a week before and 2 weeks after the campaign launch have confirmed its effect. Residents were asked how strongly they rated the problems experienced on match days with the numbers mentioning litter, falling by 16% from 62% to 46%. Residents also backed the measures taken by the council in tackling littering with ratings up from 71% to 78%, with those rating the efforts as poor reducing by 6%.

Cllr Bradley added:- "The campaign has clearly had an effect on behaviour and residents are not as concerned about anti-social behaviour issues such as abusive, aggressive behaviour as they were. I can assure all residents that all their current concerns will be considered and we will be working hard next season to address these as well."