Are YOU Ready For This Year's Liverpool Military Show?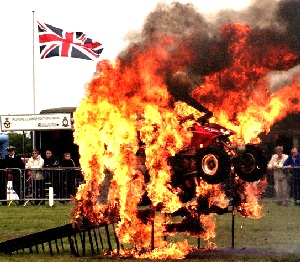 PREPARATIONS are underway for the next action packed weekend at this year's annual Liverpool Military Show supported by the Ministry of Defence as part of the Veterans Day celebrations on 27 June 2007.

The Show takes place in, above and around Walton Hall park over the late May Bank Holiday weekend, 26 May 2007 Saturday to Monday 28 May 2007 and it promises to be bigger and better than ever before.

The Show will be an exciting showcase for all three branches of our armed forces with a truly exciting programme for the whole family. Among this year's attractions are the Red Devil Freefall Parachute Display Team, the Royal Signals White Helmets Motorcycle Display Team, the North West Infantry Band, section attacks utilising a Warrior armoured vehicle and various combat displays.

There will also be a number of static attractions including one of the Royal Armoured Corps Challenger II tanks and Reconnaissance vehicles. For the children there will also be the Para's climbing tower, assault course, an aerial rope slide, flight simulators and paintballing.

The Show organisers are pleased to announce that in celebration of Liverpool's 800 year history they have secured the return of 2 Z Promotions, the country's foremost re-enactors of British and foreign
battles. As part of this year's extravaganza they will be recreating the storming of Liverpool Castle which was built as a direct result of King John's Royal Charter of 1207. 2 Z Promotions will be recreating the sites, sounds and intense conflict that brought Liverpool to the edge in an almost forgotten episode of our city's history in 1644. With over 400 soldiers on the field accompanied by horses and cannons consuming over 240 pounds of black powder we are guaranteed a truly memorable show.

Every year the organisers like to bring something new to the show and for the first time the Show will be hosting a Continental Market. There will be a large selection of German foods including Bratwurst, sauerkraut and steaks and traditional sweets and toffees for those with a sweeter tooth. Visitors will also have the opportunity to sample the authentic German beers and wines.

There will be ample opportunities for members of the public to meet and talk with armed forces personnel and it is hoped that we can improve on the 20,000 visitors welcomed last year.

This year the show is in aid of our chosen charity the Soldiers, Sailors Airmen and Families Association (SSAFA) with all money raised over and above the cost of holding the show going to this
valuable service. SSAFA help and support those who serve in our Armed Forces, those who used to
serve and their families. With 14 million service and ex-service men and women and their dependents eligible for support from UK charities, it is only through an event such as the Liverpool Military Show that worthwhile causes such as SSAFA are able to ensure that our brave men and women and their families are able to receive the help and support they need.

The Show runs from 10:00am to 4:00pm on all three days, with admission £4 on the gate for adults and £2 for children under 14. A programme of events will also be available to help you plan your weekend and learn more about our armed services.

This will be a Bank Holiday to remember with everyone attending the Show leaving in the knowledge that we have incredibly skilled, efficient and modern armed forces with a worthy military heritage which is still the envy of the world. Coming to the Show will be a great way to show your support for all the men and women willing to step forward as our first and last line of defence in maintaining our security at home and abroad.