CHAMPS HELPS KIDS IN CROSBY AND BOOTLE TO SNACK RIGHT
"I am researching my family who were placed into what appear to be private schools in Birkdale/North Meols in the 1880's and want to know more about these schools. I have seen a comment on one web site which refers to the private schools in the area as being like a 'cottage industry' at that time!
To give more information, as gleaned from the 1881 census:-

The school for my male ancestors, Samuel and Alfred Callwood, was at 24 Lulworth Road, Birkdale and for my female ancestor, Bertha Callwood, was at 19 Belmont Street, North Meols. They were all boarders. Their mother had died in 1880 in Manchester where they lived, but by the 1881 census they had moved to your area. The father was lodging at 49 Portland Street, North Meols, presumably to be near his children.

What I would like to know is what type of schools were these?

Did they have to pay?

I would be surprised if they did as the family were not rich and never owned their own home?

They were very small schools - were they educationally sound?

I do know that all three children were highly literate - but so was their eldest brother, Harold, who was a draper's apprentice in 1881 and was presumably educated prior to then in a state school in Manchester.

What did they teach?

What were these schools called e.g. 'pauper schools', I imagine not in that area...., academies, 'dame schools', again, presuming not as I read that there was an Education Act in 1870 that would have done away with these.....?

Do any records of these schools exist?

I would be most grateful if your readers could put me on the right path to find out more.

Thanking you in anticipation." Yours Susan Kay, smkay@btinternet.com.
ALLIED IRISH BANK (GB) GIVES TRANMERE ROVERS SPONSORSHIP BOOST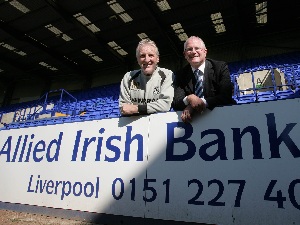 THE Liverpool branch of Allied Irish Bank (GB) is celebrating its 30 year association with Coca-Cola Football League One team Tranmere Rovers by undertaking a commitment to sponsor a range of matches at Prenton Park.
As well sponsoring the matches they are also involved in an advertising deal that sees the Bank's name displayed on the perimeter of the pitch.

Commenting on the relationship Bob Bennett, Senior Manager – Corporate Business at Allied Irish Bank (GB) in Liverpool said:- "Providing the football club with banking support for over 30 years has given us the opportunity not only to witness first hand the rapidly changing face of the game over the years, but allowed us to support the club in a variety of ways.

Our philosophy is to support the local communities where we operate in, and this is done through our business and our sponsorship and advertising commitment to Tranmere Rovers.
This clearly underlines our belief in their progress within the League, its management team and above all, its fans."

Sue Beedles of Tranmere Rovers said:- "The service that the club has received from Allied Irish Bank (GB) over the years has been second to none and we're thrilled that they have committed to a wider sponsorship programme.

Sponsorship is a key revenue generator for our business and it's good to see that our own bank is putting something back into the game and supporting us in this way."
Letters To Editor:- "Researching my family..."
ELEVEN 'green' bottles are now a Official Supplier to the European Capital of Culture 2008, Liverpool-based fashion retailer ethelaustin has clinched the contract to supply a new uniform for the city's 08 volunteers.

And the firm has turned to recycled plastic bottles to ensure more than 2,000 helpers are at the cutting edge of ethical and high street fashion.

A total of 11 plastic bottles are needed for the unique fleeces which the volunteers will wear when working at many of the high profile events the city stages next year.

Working closely with supplier Greenpac, the eco-friendly uniform will also be introduced to a further two thousand ethelaustin employees in 310 outlets across the UK.

Millions of visitors to Liverpool in 2008 will be greeted by the volunteers who will also be wearing organic cotton t-shirts.

The 08 volunteer full kit includes an umbrella, baseball cap, side-strap sports bag and shower proof jacket.

The Liverpool Culture Company currently has 400 people on its books and is processing a further 1,000 – all of which will receive specialised customer training. The new uniform is expected to help achieve the target of 2,000 by the end of 2007.

John Trott, Head of Communications at ethelaustin, said:- "This is a fantastic product and an exciting challenge for our designers. Ethelaustinare extremely-proud to be associated with Liverpool Culture Company.

Quality control trials confirm the product is lightweight comfortable and will keep the wearer warm in Winter, with exactly the same features as a normal fleece, everyone involved is amazed that the garment has been made from recycled plastic bottles!"

The eco-deal was negotiated by the Liverpool Culture Company as part of a dual drive to limit the carbon footprint of the 2008 celebrations and to ensure Liverpool city council becomes one of the greenest authorities in the UK. The council also uses 100% green energy in all its buildings and is currently rolling out a new kerbside recycling service for householders.

Councillor Warren Bradley, Leader of Liverpool City Council, said:- "Our 08 volunteers are pivotal in making the right first impression to millions of visitors coming to the city next year. Liverpool has a rich history as a leader in fashion and social reform. I think this eco-uniform will be a trend-setter and allows our volunteers to play their part, be smart and show the city has a heart."

Councillor Berni Turner, Executive Member for the environment, said:- "Being on a river we are very conscious of the effects of global warming and we are striving to do everything possible to promote what we as a council and individuals can do to reduce our impact. 2008 is a fantastic opportunity not just to showcase our amazing cultural offer but to environmentally educate as many people as possible."

The 2008 European Capital of Culture volunteer uniform is expected to be ready for distribution this October– to coincide with the city hosting The 2007 Turner Prize at Tate Liverpool.
SOUTHPORT BLONDES WARNED AGAINST HITTING THE BOTTLE!
TAKE NOTE!!! 'Bottle Blondes' from Southport are to be given extra protection from dangerous hair dyes that could produce painful skin allergies.

The European Commission says that it is taking scientific advice about plans to restrict the substances permitted in hair dyes sold anywhere in Europe.

Reports in the British Medical Journal earlier this year found that rates of allergy to hair dye have jumped in the UK as more people colour their tresses.

Allergic hair dye reactions are increasing as more people, particularly the young, colour their hair. This can lead to facial dermatitis and in severe cases cause the face and eyelids to swell painfully.

In a report last month the EU's Scientific Committee on Consumer Products (SCCP) claimed that many substances in hair dyes have the potential to sensitise skin. Once a person has been sensitised to a hair dye ingredient then they may go on to develop a skin allergy.

Southport MEP Chris Davies has welcomed this announcement and hopes it will allow people to colour
their hair safely.

He said:- "If the majority of women, as well as many men, are now hitting the bottle to change their appearance we need to ensure that the products they are using will cause no harm."

Hair dye manufacturers are already required by EU labelling requirements to place warnings about potential allergenic reactions on packaging, but they do not have to say how great the risk might be.

Millions of women and men regularly dye their hair and the market for the products is said to be worth around £175 million.l