Southport May 2007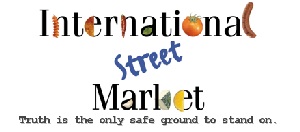 GERAUD Markets Liverpool Limited, has confirmed the Rendez-vous for the first Southport International
Street Market of 2007 on Lord Street and Chapel Street from 17 to 20 May 2007. The new International Street Market for 2007 promises to be bigger and better than ever. The market will consist of over 40 traders from France, Germany, Holland, Italy, Iran, Poland, UK and Spain offering a wide range of Continental goods.

Products on offer include fruit, vegetables, cheeses, craft items, jams and preserves, olives, antipasties, German/Polish/French bread, Dutch plants plus many traditional dishes to take away such as Bavarian Sausage, Spanish paella, garlic potatoes, French crepes, waffles and toasted baguettes.

The market will operate from 9.00am Thursday, Friday and Saturday in Lord Street and Chapel Street and finish at 5.00pm.

On Sunday the opening hours will be from 10.00am to 5.00pm.

Groupe Geraud Chief Executive, Andy Burnett, said:- "The Company is very happy with the progress it has made during its partnership and looks forward to building upon the previous success. This year's International Street Market events are expected to be even better than before and the company looks forward to giving the town it's first truly "International Experience.""
Southport Food & Drink Festival 2007

FROM the 17 May to 20 May 2007 Southport will serve up a real treat with the first ever Food and Drink festival.

Chef demonstrations will take place in a specially constructed festival marquee in front of the Arts Centre and a farmer' s market plus a bigger and better international and continental market along the famous Lord Street and the recently pedestrianised Chapel Street.

Don't miss out on this FREE weekend, for more information and details of the events special offers,
please visit the events website.
Branching out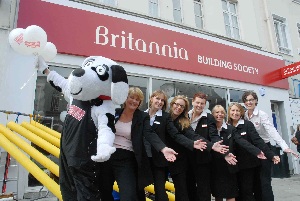 THE Britannia Building Society, Britain's second largest mutual, has relocated its Southport branch and invested £300,000; to celebrate the staff held a party.

'Weapons of Sound' - a unique junk funk band entertained guests with their extravaganza of music and street theatre . Along with this vibrant band, 'Decorating jugglers' also added a splash of colour to the party and brightened up the town with their extraordinary and breathtaking street theatre.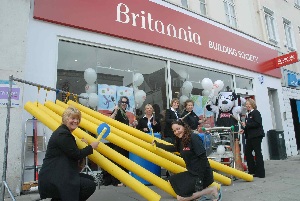 At the party, wine was flowing and guests dined from a buffet. In addition, Britannia ran a competition for one lucky person to win a luxury fine wine and food hamper.

Following Britannia's acquisition of the Bristol & West branch network in September 2005, the Britannia name has appeared in 65 new towns.

Research by the Society shows that while many financial organisations are closing high street branches, Britannia is committed to maintaining and improving its branch network - remaining an integral part of the community.

By the end of this year they will have refurbished 57 branches, relocated the Southport branch and acquired an entirely new branch, taking the total to 253 branches.

Mary Cloherty, Manager of Britannia's Southport branch, explained:- "The party was a great success with people dancing in the street to the music of 'Weapons of Sound'. Britannia's Managing Director of Member Business, Tim Franklin also joined the fun and welcomed the people of Southport into the branch, to meet the staff and see our new branch for themselves."